We have been rather spoiled in Los Angeles over the past few days. The weather has been absolutely gorgeous and LMU students are loving it! Sunnies and smiles are abundant and everyone is looking fashion-forward as we bring in the new semester.
On one of these beautiful days, I spotted Alicia and absolutely loved her California-casual spin on the military trend. Her bubbly personality made her style even more fun. I stopped her to ask her about her simple yet trendy outfit.
Alicia 101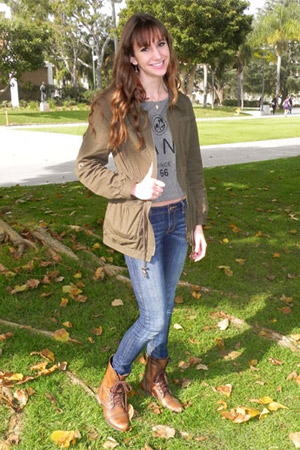 Name: Alicia
Class Standing: Sophomore
Major: Biology
Hometown: San Pedro, CA
Hobbies/Interests: "Music. I love going to shows. My favorite bands are Nirvana, Sublime, The Strokes, and Operation Ivy."
Let's Talk Fashion
Who or what inspires your style? "My roommate and my friends mainly. I also get inspiration from people I see around who are wearing things I like. I try to find things that are cheap and functional – things I can wear many different ways."
Where do you like to shop? "I shop at a variety of places: Nordstrom, Venice beach, thrift stores. I am really easy to shop for – I will look anywhere to see what I can find."
How would you describe your sense of style? "Diverse. It changes often. Some days I wear really girly dresses and other days it might be more casual or rugged."
Why did you choose this particular outfit? "It was just easy. I usually wear jeans and boots and I always wear the same jewelry. My necklace and rings were my mom's when she was my age. The weather has been nice but I threw on this jacket just in case – I got it on sale at Nordstrom."
What fashion advice would you give to other students looking to improve their style? "Buy things that are versatile. It's helpful to pick out pieces that you can wear multiple ways — you'll get more for your money!"
What are your favorite trends right now? "Utilitarian boots, lace shirts, and oversized T-shirts."
If you could rain anyone's closet, who would it be and why? "My roommate – her clothes are really unique. She always gets amazing stuff at thrift stores. It's good though, because I do get to raid her closet!"
Elements of Alicia's Outfit
1. Military Jacket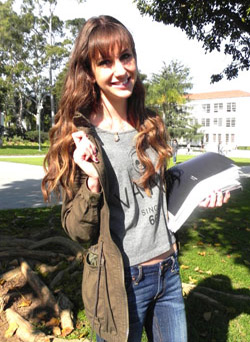 Military jackets have been around for a while now, but they're still as functional and fashionable as ever. Alicia's jacket was one of the cutest I have seen to date – a similar one would act as a great transition piece to bring your wardrobe from winter to spring.
2. Simple and Fun Accessories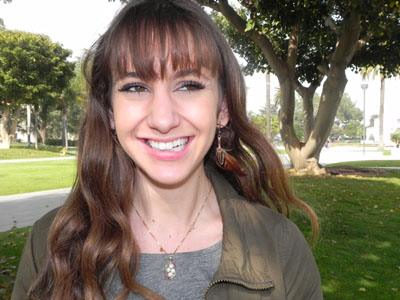 Alicia wore a sentimental necklace with personal meaning (it used to be her mom's) and topped off her outfit with some fun feather earrings. I really loved Alicia's hair, too – her loose waves looked so effortless, and added a feminine touch to her rugged outfit. As Alicia shows us, hair can always be a fabulous accessory!
3. Lace-Up Boots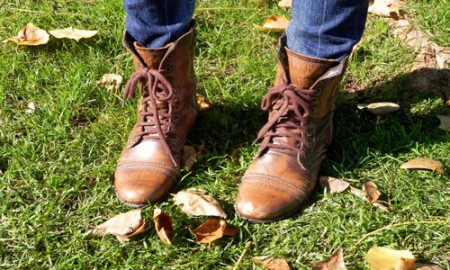 Alicia's cognac lace-up boots were cute and functional, which is what every college girl wants, right? Their edgy vibe really pulled her outfit together and topped off her military look.
Share Your Thoughts!
What do you think about Alicia's style? How would you incorporate this look for a colder climate? Are you loving the military trend too? Share your thoughts with a comment!