It's been two years since I have gotten in touch with Alex, and her style is even more outstanding than I remember. Back in high school, she looked sleek and put-together all the time, but now it has elevated to another level of sophistication.
Now attending Loyola University in Chicago, Alex is majoring in advertising and communications, and enjoys wandering around the eclectic neighborhoods of Chicago for fashion inspiration.
Alex 101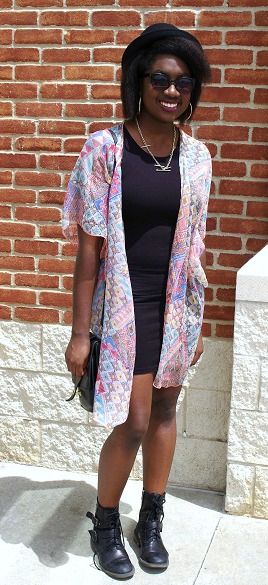 Name: Alexandra
Year: Sophomore
Major: Advertising and Communications
Hometown: Rochester, MN
School: Loyola University Chicago
Let's Talk Fashion
Who or what inspires your style? "Definitely blogs. I like lookbook.nu; it's one of my favorite sites. I'm on Pinterest all the time. I am really into African prints recently, so I guess my culture also influences me. One of my ultimate style icons is definitely Solange Knowles."
Where do you like to shop? "I think my favorite places to shop right now are probably Urban Outfitters and H&M. I also recently began to shop at PacSun; they have really good sales. I shop at Topshop and American Apparel sometimes, as well."
How would you describe your sense of style? "The backbone of my looks [are] usually something black, and I like to add statement pieces that are more vibrant. I like gold, so I usually pair my outfits with gold jewelry. You will most likely see me wearing either black and gold or black and white. I am also into headwraps since I do have an afro right now, so those are usually my statement pieces. I think the main thing is that I like contrast; hence the black and bright, and as well as loose with fitted."
Why did you choose this particular outfit? "I chose this outfit because it's nice outside, so I like to experiment with different looks. I actually purchased this kimono when I graduated from high school, and I was never really sure how I should wear it. Since the trend is so big now, I can now wear it with many inspirations to choose from. I have been really into hats lately, and since sometimes my hair could be a bit hard to manage, I could just do the front and put a hat to cover up the back."
What fashion advice would you give to other students looking to improve their style? "I would say make sure you know how to dress your own body. I know that there are many trends that may look cool but they might not be good for your body type. And definitely not [to] be afraid to step outside of your comfort zone, because if you think you can never pull something off, you will never really know until you try it!"
What are your favorite trends right now? "I love African prints, kimonos, high-waisted shorts, and crop tops. I really like that the '80s-'90s are coming back, such as light washed or acid washed denim. I also really enjoy the matching separates trend."
Do you have any favorite fashion designers? If so, who? "I obviously can't afford any of these people's clothing, but if I could, I would be all over an Elie Saab dress. I like Alexander McQueen's designs because they are so weird and gothic, but also really clean-cut, so I think that's really unique. I do like Michael Kors a lot, also Marc Jacobs. Their watches are beautiful."
What do you do for fun – do you have any unique hobbies or interests? "I am a part of an a capella group at Loyola and that's a lot of fun. That takes a lot of my free time, but I really enjoy it. I have an internship coming up at Harper's Bazaar, so that should be really cool. I really like exploring the different neighborhoods of Chicago when I do have extra free time. And definitely shopping, let's face it; I'm almost always shopping."
If you could raid anyone's closet, who would it be and why? "I would definitely raid either Beyoncé or Solange Knowles' closet, or both of them. Solange just rocks a lot of the trends I currently love, and I would be all over her closet!"
Elements of Alexandra's Outfit
1. Printed Kimono + Black Combat Boots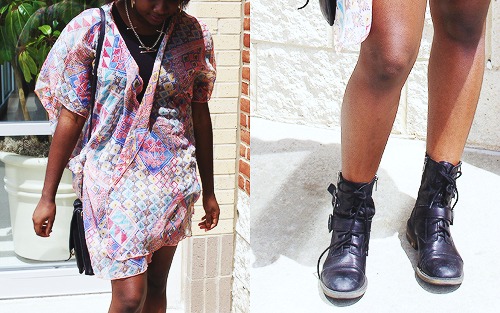 Alex paired this loose-fitting printed kimono jacket from Macy's with a fitted black dress and buckled black Lucky Brand combat boots. These pieces all contrast with each other, but also create balance throughout her look. Pairing these pieces in this fashion also makes her stand out from the crowd – in the best way, of course!
2. Black Bowler Hat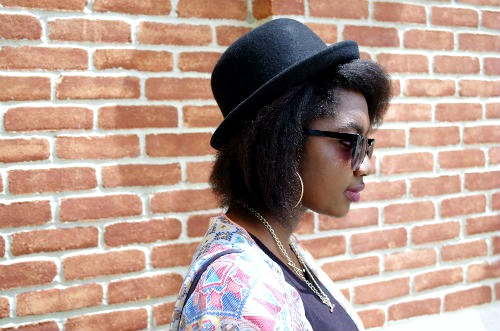 Alex's black bowler hat adds another layer of complexity to her ensemble. The hat goes nicely with her hairstyle while also corresponding with the color of her dress and boots. It's an unexpected element yet it is the perfect complement to the rest of her look.
3. Gold Jewelry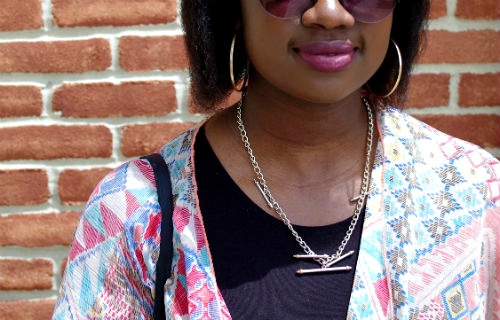 Alex likes to pair gold with black, and she worked that combo into this outfit. Here, she wore a necklace from H&M paired with gold hoops from Forever 21. The touch of gilded gold classes up her look, but still looks understated enough for daytime.
Do you love Alexandra's eclectic look as much as we do?
Do you ever wear kimono jackets? What do you think about her mix-and-match style? Do you love her combat boots? Leave a comment below because we want to know your thoughts!