For the past couple of weeks, I've been attending the Bates Dance Festival at Bates College in Lewiston, Maine. It's been an incredible experience and I've met so many talented dancers. People from across the globe attend this event, so I've been able to scope out unique and graceful dancers who also have an inspiring sense of style.
I saw Alexandra while leaving the dining hall during the festival, and her outfit was on point. The combination of her interesting black dress and colorful hat immediately caught my eye.
Alexandra 101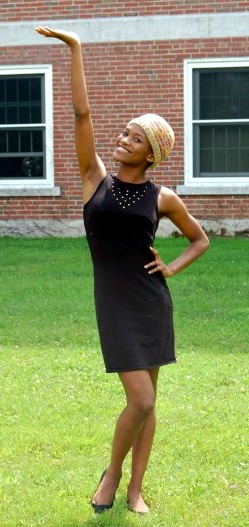 Name: Alexandra
Major: Dance
Year: Senior
University: College of Southern Nevada
Let's Talk Fashion
Who or what inspires your style? "Young Whitney Houston, most definitely!"
Where do you like to shop? "I like thrift shops and yard sales mostly."
How would you describe your sense of style? "I would say it's a mix of vintage and Hollywood."
Why did you choose this particular outfit? "Because [this dress] was the most comfortable thing in my room. I chose my hat because my hair wasn't up to par, so I threw on this beanie."
What fashion advice would you give to other students looking to improve their style? "I would say: don't think about it too much, if it works for you then it's perfect, and if you want to add extra flair, add an accessory!"
What are your favorite trends right now? "Natural hair and Orange Is the New Black!"
Do you have any favorite fashion designers? If so, who? "I do; I like Coco Chanel because she has good quotes. I also like McQueen because he's really creative. I enjoy St. John's because it's very timeless."
What do you do for fun-do you have any unique hobbies or interests? "Singing [and] step. I used to be on a step team. And poetry."
If you could raid anyone's closet, who would be and why? "It would be Carrie from Sex and the City. I need all of her clothes today. Right now."
Elements of Alex's Style
1. Colorful Stand-Out Beanie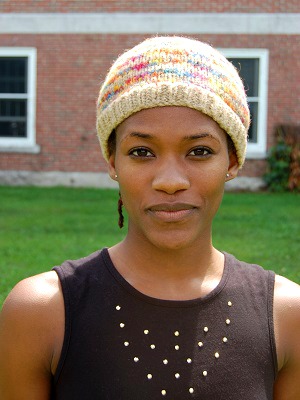 The bright colors and knit texture of Alexandra's beautiful beanie contrasted with her stark black dress in a stylish way. Ultimately, it made her dress more casual, which was ideal for an afternoon spent at a dance festival.
2. Attention-Grabbing Cutouts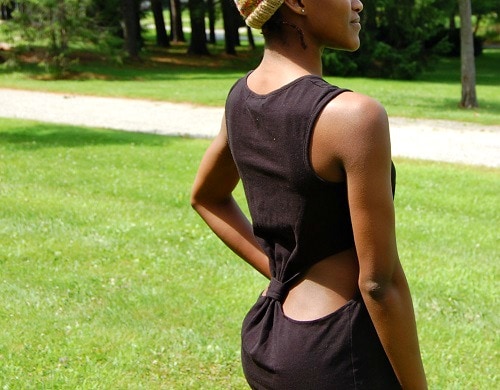 Alexandra's dress, from Nicki Minaj's collection at Kmart, has unique lower back cut-outs. The trendy cut-outs not only flaunt her gorgeous shape, but they really upgraded her classic LBD and turned it into something cool and edgy.
What do you think of Alexandra's unique LBD?
Did she nail the casual summertime look? What do you think about her knit beanie? Do you ever rock cut-outs? Let us know what you think in the comments below!