With the dorms newly opened and students ready for the new school year, it's clear that September is nearly upon us. Incoming University of Georgia freshman, Alexa shows just how ready she is for college in the Classic City by taking a modern outfit and accessorizing it with timeless pieces. Read on to find out more about Alexa's style and personality!
Alexa 101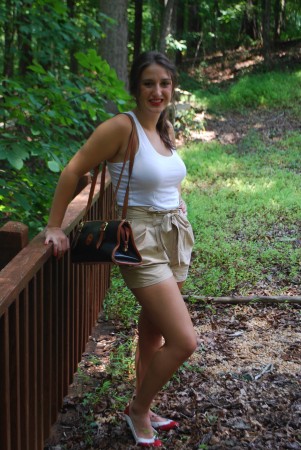 Name: Alexa
College: University of Georgia
Year: 2015
Major: Pre-Business
Let's Talk Fashion
Who or what inspires your style? "Katy Perry. Her style is so unique and has a retro-modern feel to it which is really fun."
Where do you like to shop? "Topshop, H&M, Urban Outfitters, and sometimes, Banana Republic. They are inexpensive and carry interesting pieces. It makes it easy to update your wardrobe without spending a fortune."
What fashion advice would you give to other students looking to improve their style? "A one-of-a-kind piece can enhance your outfit and make it more your own. Look for interesting pieces that stand out from the rest. You don't need to spend a lot of money to make your outfit look polished and complete."
What are your favorite trends right now? "Feathers, sequins, and bright colors. And chunky platforms (I don't have some, but I wish I did!)."
Do you have any favorite fashion designers? If so, who? "Michael Kors is so modern. His pieces are simple but classy. And Chanel is just classic."
What do you do for fun – do you have any unique hobbies or interests? "I shop and read. And I love watching old movies."
Elements of Alexa's Outfit
1. High-Waisted Shorts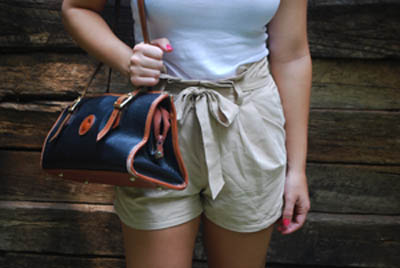 I have a slight obsession with anything high-waisted, so it's no wonder that Alexa's look instantly stood out to me. Her loose tan shorts are the perfect length for strolling around campus during this (unbearably) warm weather, and provide a classier substitute to the Nike shorts many college students reach for. The combination of khaki shorts paired with a basic white tank creates a perfect summery look. The darling bow in front polishes off the shorts' comfortable but feminine aesthetic.
2. Old School Vintage Flats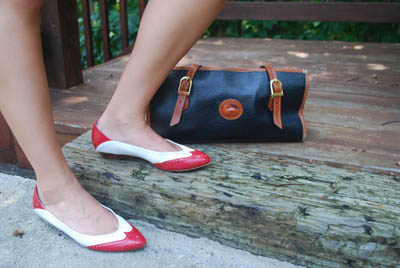 At just five dollars, these vintage flats were simply a steal! As Alexa told me, she found them while exploring a thrift store near her home in Peachtree City, Georgia and added them to her outfit to give it a slightly retro vibe. I love these flats because they have a chic pointed shape, but are still fun thanks to the bursts of red found on the heel and toe. The perforated detailing on the front and sides adds a dash of glamour while maintaining the simple balance of the shoe.
3. Vintage Stud Earrings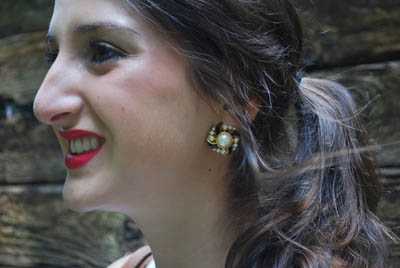 Rather than piling on several other accessories, Alexa chose to keep it simple by donning these large and lovely spiraled pearl earrings. Another thrift store find, these vintage earrings are the perfect way to add a little flair to an otherwise-simple outfit without breaking the bank.
4. Vintage Dooney and Bourke Handbag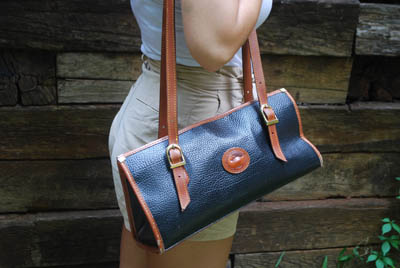 I am a sucker for old handbags, and this one is no exception – the clean cut design of the bag gives Alexa's look an elegant feel. Alexa found this vintage gem while shopping in Little Five Points in Atlanta. Although the designer originally created this handbag in the '80s, Alexa effortlessly pulls it off without looking dated.
What Do You Think?
What do you think of Alexa's outfit? Do you love her vintage-inspired style as much as we do? What's the most exciting item you've found while thrifting? Leave a comment and let us know!