EDIT: Photos have been removed upon request from subject. See more Looks on Campus at Yale here.
It's midterm season, folks! The usual campus haunts (Cross Campus, dining halls, residential college courtyards) are deserted. You could hear a pin drop on Old Campus, a phenomenon that's typically specific to the wee hours of the morning. Students frequent coffee houses and libraries in hordes at all hours. Misery and stress abound.
Now, imagine this: amidst my world of information overload, sleep deprivation, and general gray, a vision of neon blue and pink. This miraculous apparition was Alex, a sophisticated splash of color more invigorating than the three cups of coffee I'd just gulped down.
Alex, a dancer for Yale Dancers, member of Kappa Alpha Theta, model for YCouture, and volunteer for the Coop Dance Initiative is only a sophomore, but already a prominent figure on campus. In desperate need of caffeine herself – you would never guess from how put-together she looks, but she had stayed up until sunrise to finish a paper – she was more than happy to share a bit about herself and her love of fashion.
Alex 101
Name: Alex
Age: 19
Year: 2013
Major: Double Major in Literature and Art
Hometown: Palo Alto, California
Let's Talk Fashion
Palo Alto and New Haven are such different worlds – the weather, the people, the lifestyle… Has coming here for college has impacted your style? "I've always liked androgynous fashion, but I wore mostly muted colors in high school, like black, gray, cream, brown… Since coming to Yale, I've become obsessed with pairing less vibrant colors with ridiculously vibrant ones, like electric blue or bright pink. Yale has also enticed me to fall in love with Ray Bans."
Imagine this: your dream mall. What stores would you find there? "Uniqlo, Topshop, American Apparel, and Villains, a fabulous store in San Francisco. However, most of my clothes come from sort of random stores that I find whenever I travel."
You are step into American Apparel. What do you do? "I always like to shop in the guys' section; button-downs, blazers, and boyfriend jeans are sooo comfortable/fun. Otherwise, I am very systematic. I look at everything and enjoy trying many things on."
What is your favorite thing in the entire world, something that you couldn't do without? "Hmmm. My favorite thing in the entire world is probably the feeling I get when I see something that I think is really beautiful or read something that resonates with me. Consequently, I am probably majoring in art and literature."
Random fact about yourself? Indulge us. "I've been dancing all of my life, mainly ballet. I was part of a small group in my high school and a company outside of school as well. I love dancing! Also, for good luck, I like to pink up pennies when I see them on the street, and occasionally wish on stars."
What is your favorite thing about college? Any favorite classes at the moment? "The best part about college is the independence I feel. It's a bit overwhelming sometimes, but it is definitely my favorite part. Favorite class right now is either Game Theory or Basic Drawing."
You have an entire free day to yourself. What do you do? "I'd probably sleep… and then chill with friends, see a movie, go shopping, take a trip to NYC. The usual."
Elements of Alex's Outfit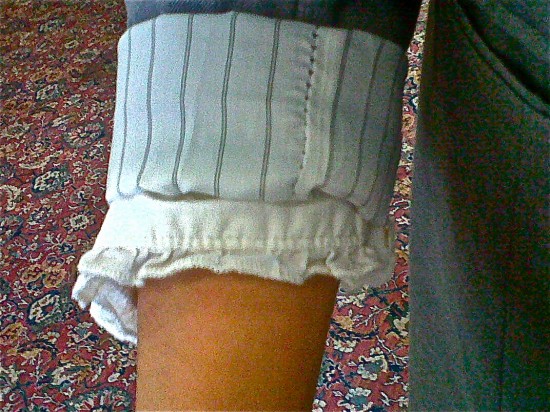 About the sleeves (I thought the pattern/texture contrast was interesting): "I wish I could say I thought about it beforehand, but no. Thanks for noticing, though!"
About the shoes: "It was so rainy outside today – I needed some color in my life! Plus, they're comfortable and very functional; I'm not afraid to ruin them. I love the way they contrast with the jacket. Business-casual, you know?"
About the necklace: "One of my favorites. My Mom made it for me."
Share Your Thoughts
I love the way that Alex strikes the perfect balance between professional (the blazer, the button-down) and fun (the watch, the shoes, the necklace). With her necklace, she even throws a bit of sentimentality into the mix. What do you think? Is this a fall ensemble that you could see yourself wearing? Do you rock brightly-colored sneakers on campus? Let us know your thoughts with a comment!