I first noticed Alex's style when we met backstage at the recent Mom's Weekend Fashion Show our school put on. She looked so put together even though she was just helping out as a dresser. Alex said she loves to dress up and wears this kind of outfit all the time around campus, especially now that the Oregon weather is cooperating. Read on to meet her!
Alex 101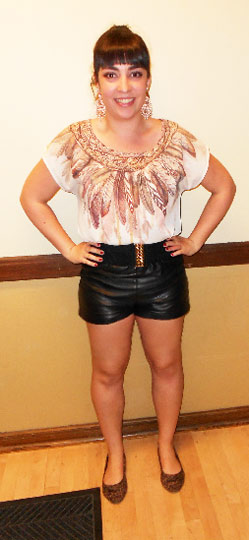 Name: Alex
College: Oregon State University
Major: Psychology
Year: Freshman, class of 2015
Let's Talk Fashion
Who or what inspires your style? "I'm inspired by street style – If I see something I like, I think of ways I could do it my way to mix it up."
Where do you like to shop? "Forever 21 and thrift stores are my mainstays."
How would you describe your sense of style? "A little on the edgy side. I love studs and jewelry is an obsession of mine. The things I wear aren't what most people would wear every day but when they see it, they often like it too."
Why did you choose this particular outfit? "Practical reasons, actually. I put my hair up so people could see the feathers on my shirt, but also because I knew I'd be running around backstage. Shorts, because I knew I would get hot; and high-waisted ones because they are flattering. Flats, because I wore heels the other day, and I knew these would be more comfy."
What fashion advice would you give to other students looking to improve their style? "Buy interesting, bold pieces, and they MUST be flattering and comfortable so that getting dressed in the morning isn't difficult. That way you can just grab whatever and still look good."
What are you favorite trends right now? "High-waisted shorts and intense wedges."
Who are your favorite designers? "One of the student designers, Jennifer Truong, after seeing her corsets at the fashion show!"
What do you like to do for fun? "Fashion shows are fun to do but so is just hanging out with my friends. I need time by myself, as well, to just relax."
If you could raid anyone's closet, who would it be and why? "Rihanna, because everything she wears is edgy, sexy, and different."
Elements of Alex's Outfit
1. Ombre Hair and Silver Earrings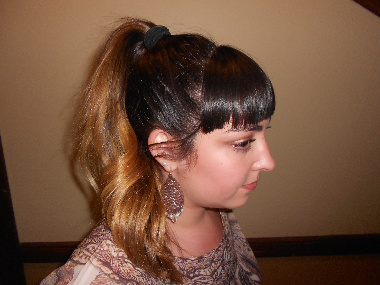 As you can see, Alex is sporting the ombre hair trend in a classy ponytail, which suits her style really well. Dangly, statement-making silver earrings add some flash to the look.
2. Pleather Shorts and Feather Print Top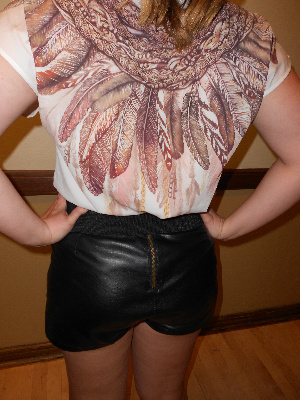 I love how Alex's look combines three spring trends we've talked about recently on CF: Digitally printed graphics, leather shorts, and high-waisted shorts. It's clear that this girl knows her trends! At the same time, she doesn't look like a fashion victim because all of these trends reflect her edgy sense of style.
3. Cheetah Flats
Animal print shoes are a wardrobe must-have – they pair well with literally everything and are a fun way to add a little extra pizzaz to any look. In addition, printed flats like Alex's are perfect for staying comfy while running around campus.
What do you think?
What do you think about Alex's style? Would you wear black pleather shorts? What would you pair with it? What do you think about ombre hair? Let us know with a comment!