With how windy it's been the past week in downtown Pittsburgh, it's a courageous feat to wear a dress or skirt, given the risk of pulling a Marilyn Monroe circa Seven Year Itch. Akasha, however, is pretty fashion fearless. She's not afraid to blend girly with edgy and she always accessorizes with a smile. I just knew she'd make a fabulous Looks on Campus candidate.
Akasha 101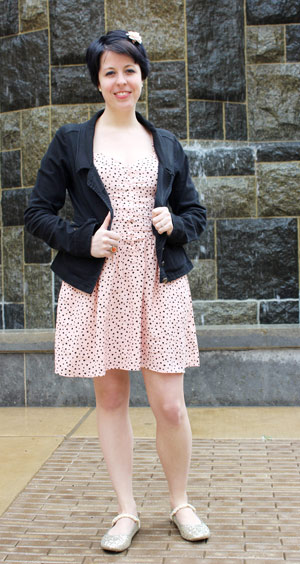 Name: Akasha
School: Point Park University
Year: Sophomore
Major: Journalism and Multimedia
Hometown: Carlisle, PA
Favorite interests or future goals? "I have this fervent and weird desire to join the roller derby when I turn 21. So, in the near future, my goal is to start skating more and to become thicker-skinned. I also want to start a successful blog on women's issues. Hopefully, the summer will give me time to get going."
Let's Talk Fashion
Where are your favorite shop spots? "H&M, Goodwill, Forever 21, Sephora and Internet window shopping on ModCloth."
Describe your personal style: "My style is all over the place! Lately, I've been into being super girly and I've been buying a lot more light pink and pastel colored clothing. I love wearing dresses because they're super easy. Put on a dress and some matching accessories and you're good."
Why did you choose this particular outfit? "I actually just bought this dress at H&M. I really like the way the corset-style front flatters my figure. I wore the black jacket to fight the breeze on my commute to school, so it was a more practical thing. The shoes are just so fun and I couldn't wait to wear them out. I just bought them at Goodwill for $5 and I am telling everyone about it! It may smell like a dusty library, but never diss the Goodwill."
Who or what inspires you to wear what you do? "This is kind of hipster-y and stereotypical of me, but I love everything that Zooey Deschanel wears. She is super girly and quirky in a way that is still somehow empowering. She chooses to look super cute for herself and not to impress anyone else. I would definitely love to raid her closet for all her vintage dresses."
What are your favorite trends right now? "Usually, I hate being trendy but I've really been lusting over pairs of platform wedges lately. They seem to be everywhere and I really want to get a pair. I have my eye on a pair online that are platforms but oxford style. They were very mod."
What fashion advice would you give to students trying to develop their own look? "Wear whatever you feel like. You don't have to fit into a certain stereotype. Sometimes, I like to wear little pink dresses. Other times, I get more tattoos and piercings and chop my hair off and dye it black overnight. You don't have to fit into one box or category. Mix it up and have fun with it."
Elements of Akasha's Outfit
1. Pixie Cut and Blue Liner
I'm envious of Akasha's ability to change up her hair so daringly and with such confidence. This confidence carries over into her makeup, too, with her bright blue cat-eye shaped liner. And her little rose clip and matching earrings are so precious.
2. Printed Corset Dress
This pale pink, heart-printed dress from H&M is lightweight and comfortable. Like Akasha said, it's great for layering or just flaunting alone. And it has pockets! We love pockets.
3. Floral Ring
I will always and forever be a floral fan, so this statement rose ring brought in some bonus outfit points for me.
4. Glitter Flats
And last, but most definitely not least, these sparkling flats with rope detailing are so cute! That's the beauty of thrifting: You can find standout pieces at affordable prices, even though, okay, Akasha's right… you might have to endure a slight tinge of dusty library smell. It's worth it.
What do you think?
Do you love Akasha's style as much as we do? How would you wear a pair of glitter flats? Have you ever made a dramatic change to your hair? Share your style stories or suggestions in a comment!