Although College Fashion is mainly a site for us girls, we still like to take time to pause and appreciate the fashion sense of the opposite gender. As most of us know, it's rare to see a guy on campus that is effortlessly put together on a regular basis. For that very reason, I had to ask Aing about his wardrobe when I saw him. Continue reading to learn more about Aing's take on fashion!
Aing 101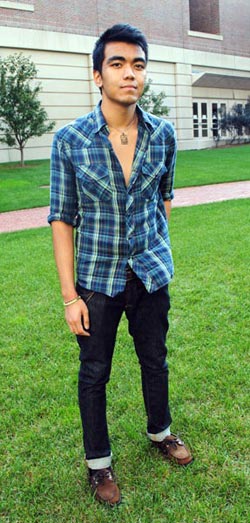 Name: Aing
College: Boston University
Hometown: Tennessee
Age: 20
Year: Junior
Major: Psychology
Let's Talk Fashion
Who or what inspires your style? "Every day Boston inspires me. Basically, my style is laid-back with a settled bohemian touch. I'm not a fan of people who try too hard because when you're in an urban setting, you can look your best [just] by looking effortless. Just keep it simple."
Where do you like to shop? "Urban Outfitters, but you'll see me at Gap, H&M, and Express, too."
Why did you choose this particular outfit? "I chose this outfit because I like skinny jeans. I don't like anything that constricts my neck, so you'll always see me in button down shirts or V-necks. The only time you'll see me in a sweater is if it's zero degrees outside."
What fashion advice would you give to other students looking to improve their style? "If you're going to try to improve yourself, don't go for a style that's too over-the-top. The biggest turn off is when you're trying too hard to look good – just keep it simple and rock it!"
What are your favorite trends right now? "Low V-necks, boots and moccasins."
What do you do for fun? Do you have any unique hobbies or interests? "I'm in a band and I play the guitar. I also like green tea and smoothies."
If you could raid anyone's closet, who would it be and why? "None, I'm happy with mine!"
Elements of Aing's Outfit
1. Rock the Plaid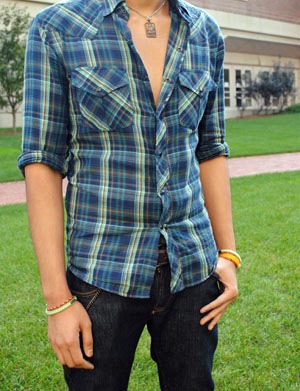 I really like Aing's plaid shirt because it's versatile and super simple. On days when you don't feel like putting too much thought into an outfit but still want to look put-together, a plaid shirt can be the perfect compromise. Also, for girls, we can search the guy's section for an oversized flannel as another great option for an outfit.
2. Boat Shoes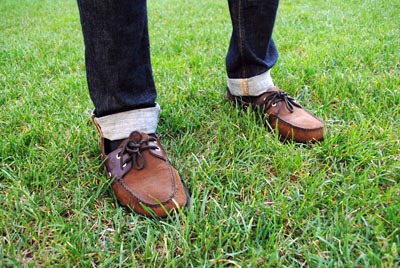 How cool are Aing's boat shoes? They're sophisticated yet casual and can be dressed up or down… meaning they're perfect for college students. Boat shoes also resonate with Aing's philosophy of looking effortless but still fashionable. (And for our Gossip Girl fans, Chuck Bass seems to agree!)
3. Guys Can Accessorize, Too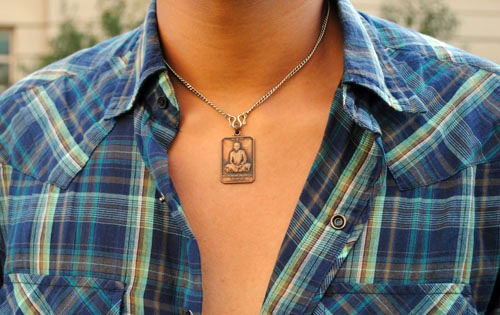 To complete his outfit, Aing added a bold chain necklace. Even for guys, necklaces are a great way of accessorizing to show off one's personal style. For the most part, learning how to accessorize to the right degree can turn one's style from basic to stylish.
What do you think?
Do you like Aing's outfit as much as we do? Any guys out there – would you wear this outfit? Is plaid part of your wardrobe? Have you added boat shoes to your shoe rack yet? How do you accessorize? Let us know with a comment!