These first few weeks of my sophomore year have been intense, but I'm finally getting back into school mode. I was relaxing in the Commons Plaza at VCU after a hard day of dance when I saw Aidan walking around. Her look is so unique and such a cute example of "comfy college style." I couldn't resist approaching her to talk fashion and to take some photos of her laid-back look.
Aidan 101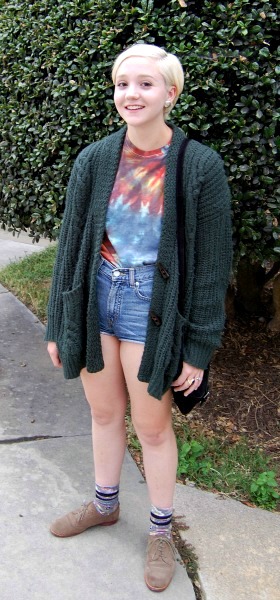 Name: Aidan
Major: Cinema and Psychology
Year: Freshman
University: Virginia Commonwealth University
Let's Talk Fashion
Where do you like to shop? "American Apparel, thrift shops, anywhere that's cheap!"
How would you describe your sense of style? "It changes every day. Sometimes it's very sleek and sometimes it's very comfortable. It just depends on my mood."
Why did you choose this particular outfit? "I have a three hour class, so I wanted to wear something warm, so I decided to wear this sweater."
What fashion advice would you give to other students looking to improve their style? "Wear what makes you happy and don't worry about what anyone else thinks of it."
What are your favorite trends right now? "I really like high-waisted pants and shorts. I'm really a fan!"
Do you have any favorite fashion designers? If so, who? "I love Marc Jacobs and Chanel – but Chanel when she was alive, she did a lot of innovative stuff."
What do you do for fun – do you have any unique hobbies? "I like to play guitar and sing."
If you could raid anyone's closet, who would it be and why? "It's going to sound weird, but 1965 Bob Dylan. I'd wear anything he'd put on because he had a really good sense of style."
Elements of Aidan's Outfit
1. Modern Twist on '60s Style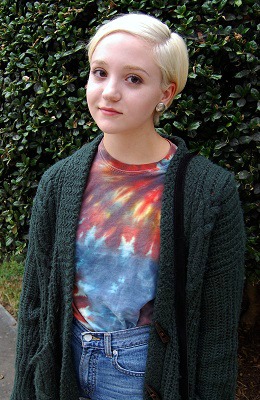 Aidan's tie-dye shirt instantly caught my eye when I spotted her on campus. She paired this classic '60s piece with elegant jewelry (handed down from her mom) and a cute cardigan.
In addition, her edgy and contemporary haircut complemented her outfit perfectly. Aidan blends retro elements with on-trend touches for a look that can only be described as mod meets modern!
2. Funky Socks and Shoes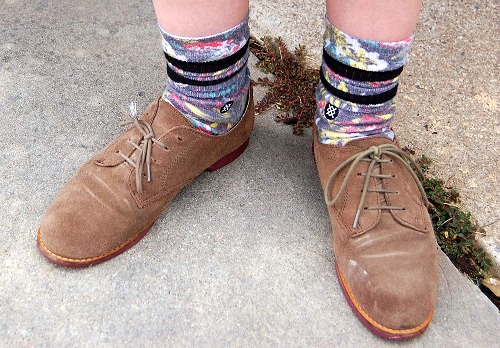 The floral print of Aidan's PacSun socks looked fantastic with her on-trend brown oxfords. I love how she highlighted the socks by pulling them up above the shoe as a dramatic statement; it's such a fun look that's sure to turn heads.
What do you think of Aidan's mod girl look?
Is this an outfit you would wear? Would you wear tie-dye? What do you think of wearing oxfords with floral print socks? Let us know what you think!