I am a huge fan of colorblocking, especially when it's done with unexpected colors. FIT student Adrienne sports the look perfectly, and was an unexpected pop of color among a sea of neutral November outfits on campus. Keep reading to learn how to achieve her bold, daring look!
Adrienne 101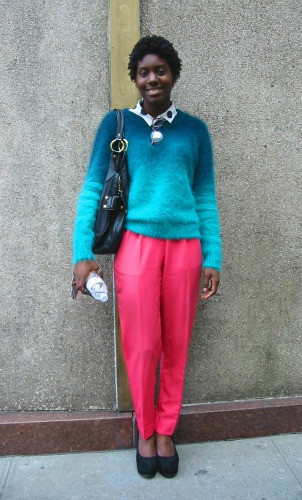 Name: Adrienne
College: Fashion Institute of Technology
Year: Sophomore
Let's Talk Fashion
How would you describe your style? "Well sometimes I'm very grungy, and the next day you'll catch me in Gap. But today I am really colorful. I usually wear neutrals, though – you'll usually see me in all black or all white, but today I guess I'm eclectic and really groovy/funky with my fuzzy blue sweater."
Who or what inspires your style? "Things like photographs – that's where I get most of my inspiration from. And blogs. I love fashion blogs – that's my new thing. And yeah, just seeing everybody here [at FIT] is great. I get a lot of inspiration from people here."
What are your favorite current trends? "I don't know, I don't really follow trends! Umm, I guess these fuzzy sweaters are coming back. And I love big grandma sweaters too. They're my favorite. They're comfortable! Sometimes I see an old man on the train and think to myself, I want his sweater so bad.'"
What stores do you usually shop at? "I'm really into Buffalo Exchange right now. I don't know why, but it's great because you can also sell your clothes there. I also go to H&M because it's cheap and still fashionable. I love Zara's clothing, but I'm broke and they're sometimes expensive, so I'll usually go to Forever 21."
If you could raid anybody's closet, who's would it be? "Rihanna. I love her clothes. Her style is amazing. Her or Tavi G. who is only about 14, but she's an awesome fashion blogger and I love her. Her clothes are crazy! She has these shoes from Comme Des Garcons that have toes painted on! She's so cute, I love it."
Do you actually need those glasses? Because glasses are making a comeback, too. "I actually need glasses, but these don't have prescriptions in them – I am blind. And I am too scared to put contacts in, so I just walk around not being able to see. When I took the test for my driver's license, they actually told me to never drive again because my eyesight is so horrible!"
What are your favorite hobbies? "Photography. Photography is a big hobby of mine. I've been studying films now, too, and I started making films with my friends."
What fashion advice would you give to other students? "Wear what you want and be confident about it. I mean, if people sense that you're not confident, then it kind of downgrades your outfit. But also remember to have fun. That's all there is to it, really."
Elements of Adrienne's Outfit
1. Fuzzy Ombre Sweater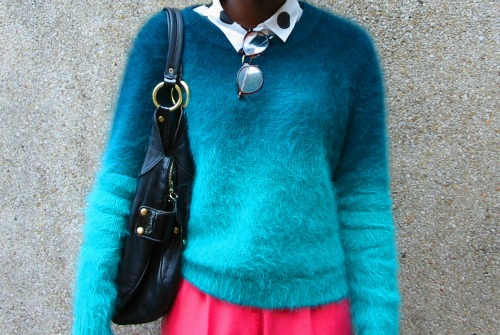 The texture of Adrienne's gradient sweater lends a stylistic twist to her outfit, and makes it more trendy than, say, a basic knit sweater would. She's wearing a polka dotted collared shirt underneath, which adds a fun pop of print to the look, and is a great way to keep warm without looking bulky.
2. Bright Slacks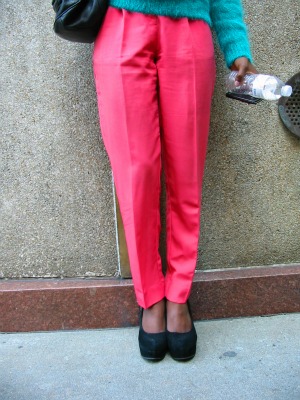 Adrienne's bright pink slacks bring a nice contrast to the blue sweater she's wearing, yet the two bright, contrasting colors balance each other out, creating a look that's just bold enough.
3. Wedges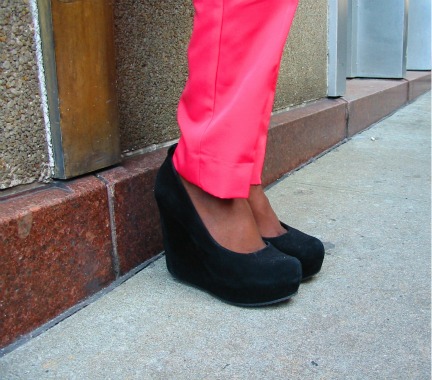 I absolutely love Adrienne's platform wedges – they instantly elevate her ensemble to the next level. However, they could be easily swapped with flats to make the look more casual, or with heels to make it more formal.
4. Cool, Unique Rings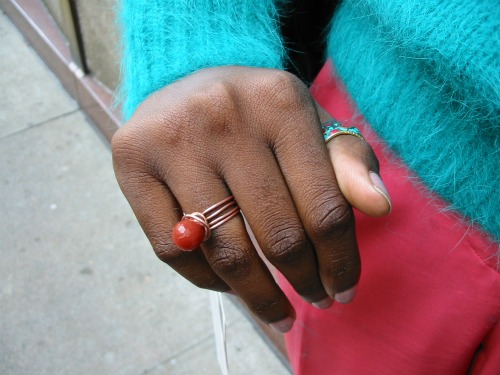 "I just noticed in class that the colors of my rings go with my outfit, but that was just an accident. I actually just bought these rings not too long ago at this Indian store a couple of blocks away, and I wear them every day. I really don't tend to match a lot," Adrienne says.
What do you think?
Do you like Adrienne's outfit? Have you tried color blocking yet? How are you keeping warm this November? Do you love Adrienne's wedges as much as we do? Let us know with a comment!