With my first months at UCLA behind me, I'm still in awe at the sheer number of fashionistas and trendsetters I see each day. This school is filled with unique individuals rocking every style imaginable. This week, I interviewed Adriana, an international student from Korea who mixes Vogue-inspired looks with Asian pop culture trends. Read on to learn more about her!
Adriana 101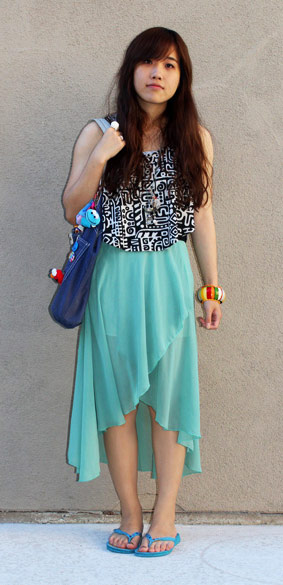 Name: Adriana (Korean name: Myung-A)
College: UCLA
Year: Freshman
Major: Business-Economics
Hobbies/Interests: Listening to music and fashion
Let's Talk Fashion
Who or what inspires your style? "Well, I like some of the famous models in Korea. One of my favorite models is Soo Hyuk Lee. I also really like G-Dragon. He is the leader for a Korean boy group called Bigbang! I don't exactly copy his looks, but I pick out certain pieces I like and use them within my own outfits. People walking on the street often inspire me; they usually have some interesting styles."
Do you have a particular style? "I'm just really into fashion and I like trying on different styles. So, I pretty much wear anything. I like stuff that is unique. I like dressing kind of out-of-the-box."
Where do you like to shop? "Back in Korea, I really liked to shop at this place called ALAND. But, over here I like Forever 21."
What inspired your look today? "The weather was warm today and this was a fun and comfortable outfit to wear. I didn't put much thought into it; I just wear what I like."
What fashion advice would you give to other college students? "I think if you want to dress well, you should study magazines. When I first started [getting into fashion], I read a lot of magazines, such as Vogue. For those people just beginning to experiment with their look, I think it would be easier to just copy or get inspiration from magazines and then you can gradually develop your style by changing little bits and pieces of your look."
What are your favorite trends right now? "I really like the studded look on jackets and shorts right now. So far, that's the only fall trend I really like."
Do you have any favorite fashion designers and why? "I like Jeremy Scott because he's different."
What do you do for fun and do you have any unique hobbies or interests? "I like listening to music a lot, but fashion is my main interest; I love playing around with various styles."
If you could raid anyone's closet, whose would it be and why? "I would raid G-Dragon's closet. He has a lot of cool stuff and interesting outfits."
Elements of Adriana's Outfit
1. Printed Top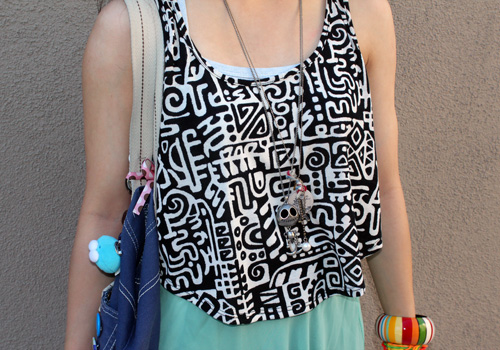 Adriana's bold, black and white printed top makes a serious statement. The print's monochromatic color scheme and thick lines and shapes add interest to her cool and breezy outfit.
2. Mint-Green Midi with an Asymmetrical Hemline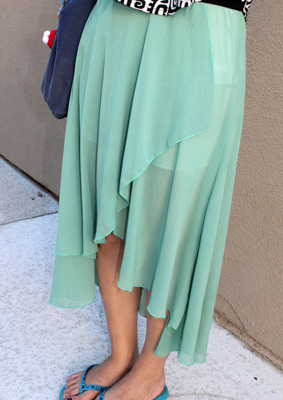 Adriana's skirt creates a calming effect when worn next to her busy patterned top. The mint-colored, chiffon skirt is perfect for hot weather, like what we're experiencing at UCLA right now!
3. Pin-Adorned Tote Bag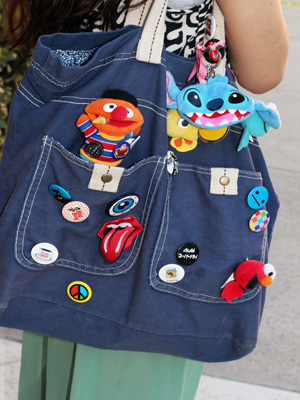 Adriana's tote bag symbolizes her wide range of interests. From Lilo to Elmo, and from eyeballs to peace signs, the cute pins and patches seem to cover all aspects of Adriana's eccentric yet cute sense of style. She isn't afraid to show off her inner child, which we love!
4. A Handful of Accessories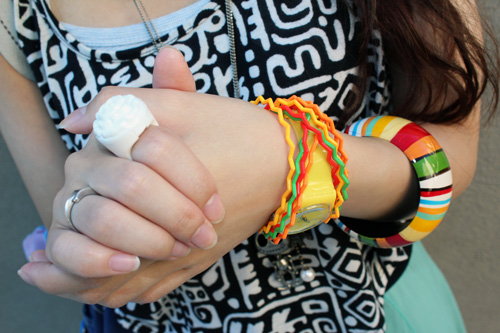 I'm such a fan of unique color combos so I was naturally obsessed with Adriana's jewelry. Her collection of multi-colored wrist-candy and rings adds a quirky vibe to her otherwise relaxed look.
What do you think?
What do you think of Adriana's outfit? Do you like wearing colorful accessories? Are you inspired by artists from abroad? Do you like to decorate your tote bag with pins and patches? Let us know with a comment!