Adelyn and I are both members of Point Park's newspaper staff and she has always come to story meetings with interesting ideas, an ever-present smile and the most adorable outfits. She always rocks pieces I've never seen on anyone else and combines her clothes in the cutest ways. Her style is attuned to her personality. Addie proves that dressing for how you feel is what makes fashion fun.
Adelyn 101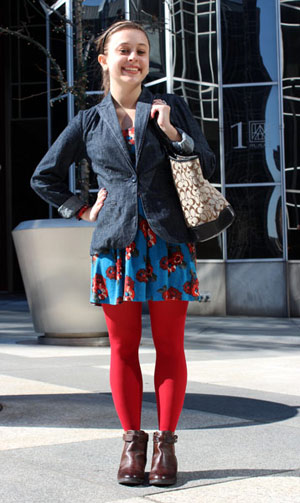 Name: Adelyn
School: Point Park University
Year: Senior
Major: Journalism with a minor in English

Hometown: Carnegie, PA

What do you do for fun? "I teach dance and I love to take ballet! I am also an avid hockey fan. I always find myself navigating back to nhl.com. I can't get enough of it."
Let's Talk Fashion
Who or what inspires your style? "My style, I guess, goes back to my mom. When I was growing up and even now, she always loved to shop and pick out accessories. She got me addicted to hair, makeup, and shoes! I'm also inspired by anything different like quirky jewelry, especially animal-themed pieces."
Why'd you choose this particular outfit? "Honestly, I picked this because I'm tired of jeans and pants! I love the trend of really bright colored tights right now and have been waiting for the chance to try them out more often."
What are some of your other favorite current trends? "I love that bright colors are back in stores. I've always been a fan of super bright things and I'm excited that it's now acceptable and encouraged to mix all kinds of brights and patterns. I think fashion should be about enjoying yourself and representing who you are, so with all the happy colors and patterns, I'm like a kid in a candy store."
If you could raid anyone's closet, whose would you choose and why? "Can J.Crew just be the answer to this question? I love the laid-back J. Crew style and the new colored Sperry Top-Siders. I could live in their new spring catalog forever. It makes me want to just hang out on a boat."
What advice would you give to students hoping to establish their personal style? "I would just say to wear what you think is fun! It doesn't have to exactly match, just pick out something that reflects how you're feeling that day, or something that gives you confidence."
Elements of Adelyn's Outfit
1. Bold Red Tights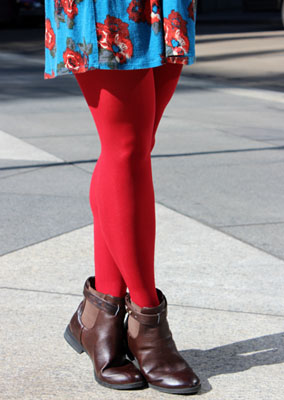 As a dancer, Adelyn's used to showing off her lean legs, but bright red is a bold choice for legwear. (We've seen the bright red tights trend on other college campuses lately, too!) By pairing her red tights with a floral dress and coordinating red hues, she evens out the shock factor. Also, her brown ankle boots don't cover too much of her leg, allowing the colorful tights to be the main focus.
2. Matte Gray Nails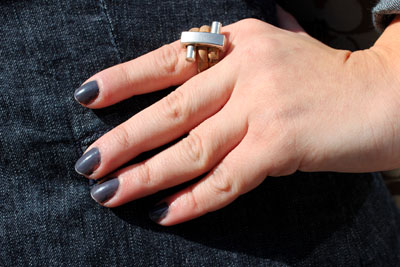 I really love the subtle deep gray color on Adelyn's nails. It's softer than a black polish, but still gives off that urban, yet sophisticated feel.
3. Dark Denim Blazer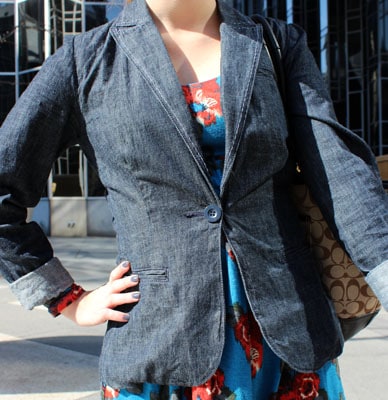 As the weather enters that awkward in-between time (chilly in the shade and warm-ish in the sunlight), you might be inclined to grab your usual light jacket and head out. But instead of hiding your outfit under a jacket, why not toss on a blazer that accentuates it like Adelyn did? The stitched lapel is one of my favorite things about this blazer and I also love the way her long-sleeved dress just barely peeks out at the edge of the sleeves.
What do you think?
What do you think of Adelyn's street style? What do you turn to when you're tired of jeans and pants? What do you think about dark gray nails? How will you mix brights this spring? Let us know with a comment!