As I was walking around UCLA on yet another sunny day, I spotted Abby. Her lace crop top thrown over a sundress caught my eye, as it seemed like the summer version of sweaters over dresses. After speaking to her, it came as no surprise that this girl with an interest in languages is a true trendsetter.
Abby 101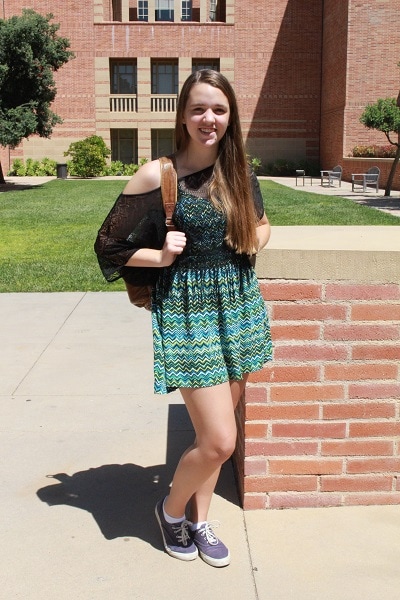 Name: Abby
Hometown: La Mirada, CA
School: University of California, Los Angeles
Major: Linguistics
Year: Freshman
Let's Talk Fashion
Who or what inspires your style? "Gosh, I watch a lot of YouTube! So, that and Pinterest. I feel like they have a lot of boho looks and I like to wear a lot of dresses."
Where do you like to shop? "I actually love thrift stores and Target and anything on clearance. I like Kohl's too, and then of course, Forever 21 and H&M."
Why did you choose this particular outfit? "I hadn't worn this dress in a while and the shoes matched the color scheme. Then I decided to throw this lace crop top over top because I feel like having the double strap (bra and dress) makes an outfit unclassy. I also like how it's slouchy and adds an extra layer to it."
What fashion advice would you give to other students looking to improve their sense of style? "The biggest advice I can give is to know what looks good on your body. Even if you love something, don't wear it if it doesn't look good on you. Just wear what you are comfortable in and don't worry about what everyone else is wearing."
What are your favorite trends right now? "Dresses and florals. I also like wearing leather jackets with those because I feel like the edginess brings something new to the otherwise girly look. It's kind of hard to wear a leather jacket in this weather though. I had one on this morning and I was just like 'Oh, it's so hot!'"
If you could raid anyone's closet, who would it be and why? "Oh, Blair from Gossip Girl obviously! Her, and I really like this one YouTuber, Meghan Rienks and her best friend Marissa. I love both their styles. They are a little more boho and super California."
Elements of Abby's Outfit
1. Lace Crop Top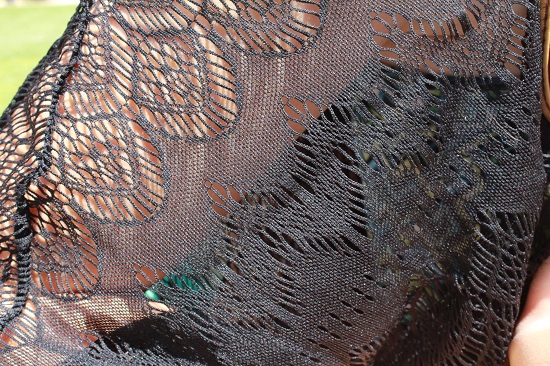 This crop top definitely brings out Abby's trendy side, as it incorporates both lace and fringe. I love how she managed to add extra layers even though the weather was crazy warm. She's definitely a natural when it comes to innovative looks.
2. Blue Sneakers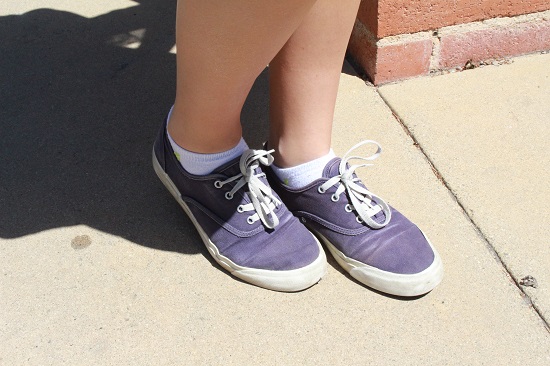 UCLA's campus is huge and Abby took that into consideration when choosing her outfit. These cute, dark blue sneakers kept her comfortable while running from one class to the other and were the perfect complement to her zig-zag print dress.
3. Leather Backpack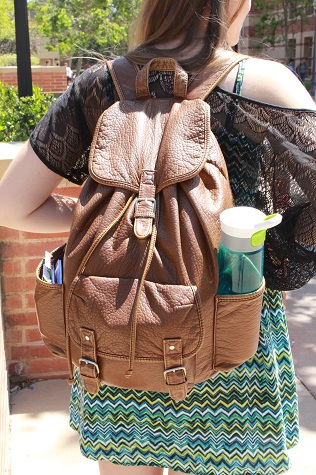 Backpacks have been all over the place this season and this leather one is the perfect blend of fashion and function. This backpack is roomy enough to hold all of Abby's belongings. It even has space for her water bottle!
What do you think of Abby's boho style?
Would you wear her look? What do you think about dresses and sneakers? Comment below and share your thoughts on her gorgeous backpack!