When walking around Gonzaga's campus, it is hard not to notice Abbie's fantastic outfits. Every time I see her, she's rocking a fantastic outfit – complete with amazing heels – and I always want to ask where she gets her clothes! I recently got the chance to speak to Abbie further about style, summer trends, and her experience shopping abroad. Keep reading to learn more about Abbie!
Abbie 101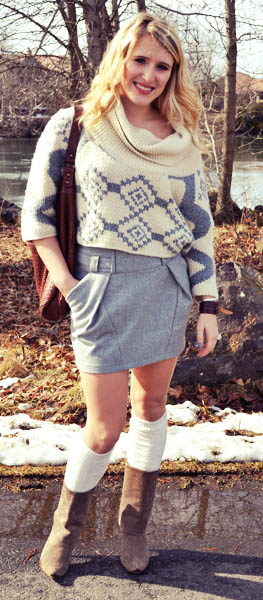 Name: Abbie
School: Gonzaga University
Major: Applied Communication with a minor in Dance
Hometown: Butte, Montana
Hobbies/Interests: "I like cooking, cheerleading, and I'm an avid reader."
Let's Talk Fashion
Who or what inspires your style? "I like when people embrace their femininity. When I traveled abroad in Italy last semester, I really admired Italian women because they had bold styles but weren't afraid to be womanly."
Where do you like to shop? "I love boutique shopping. But I'm always kind of shopping, even when I'm walking down the street – I'm always keeping my eye out for unique pieces. For stores, I like Urban Outfitters and H&M, and I've fallen in love with Topshop."
Do you do a lot of online shopping? "Yes, I love to shop online. I'm always careful, though, to shop at places with an easy return policy. Since you can't try on things before you buy them, it's important to be able to return something if you don't like it.."
Describe your style in three words. "Flirty, adventurous, and put-together."
What are your favorite trends right now? "I'm really excited to buy a coral skirt or shorts for summer. I also swore I'd never buy a pair of clog or loafer heels, but I now own three pairs! So I'm loving that right now."
Do you have any favorite fashion designers? If so, who? "I like Donatella Versace. I love that she's not afraid to really dress the female form. I also appreciate the simplicity of Calvin Klein, and when I was studying abroad I became obsessed with Italian designer Pinko."
What fashion advice would you give to other students looking to improve their style? "Two things: Jumping in head-first, or going full-out with lots of trends, can be a bad idea – it's often too much. Also, no outfit is complete without confidence."
Do you have any tips for shopping in Italy/Europe for college students planning to study abroad? "Markets are an awesome place to pick up some unique pieces. Almost every major European city has a market that is very accessible. Countries usually specialize in certain products so it's fun to shop according to that! Florence, Italy has awesome scarves and leather, and Scotland has the most wonderful cashmere. Find out the specialty of the country or city you're going to and keep your eyes peeled for it!"
Elements of Abbie's Outfit
1. Versatile Bag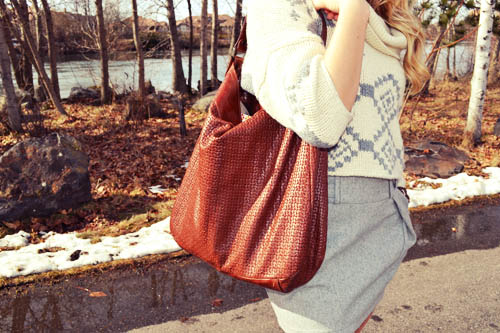 "I got this at one of the leather markets in Italy," Abbie said about her brown leather bag. I love her purse because it is the perfect size to carry a light amount of books and school supplies during the week, or basic essentials for the weekend. The classic brown hue basically matches everything, making it versatile for multiple occasions.
2. Heeled Boots and Socks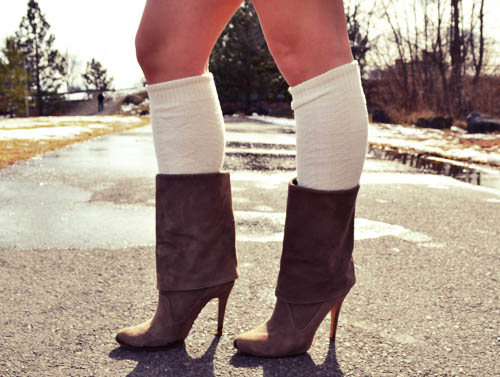 While heels may not be everyone's go-to shoe for class, I think Abbie pulls the look off well. Heeled boots are usually much more comfortable and easier to walk in than pumps. Also, tall knit socks worn underneath the boots help dress her look down a bit while keeping it on-trend. Knee socks are also a great piece to wear during the transition to spring as they add a light layer of warmth on semi-chilly days.
What do you think?
Do you like Abbie's style? Do you like the knee socks with boots trend? What are your tips for shopping abroad on a college budget? Let us know with a comment!