The moment I saw Abbey's outfit I thought, "I wish I had that in my closet!" This, of course, meant I had to interview her. Every part of her look made me want to go home and recreate it myself. As I fawned over her style, she told me that she "just loves dressing up." Read on to meet Abbey and learn about her fashion sense!
Abbey 101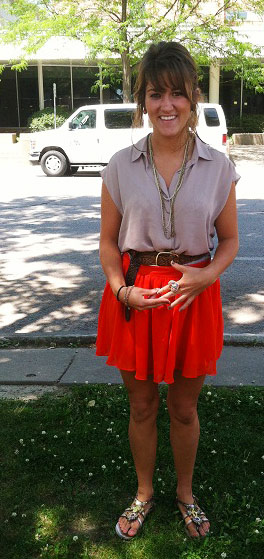 Name: Abbey
College: University of Iowa
Class Standing: Senior
Major: Journalism and Business
Let's Talk Fashion
What inspired your outfit today? "Pinterest! I really like going there for outfit inspiration. I like trying different stuff, so I try to mix and match to create my outfits."
Who are your style icons? "Rachel Bilson, Lauren Conrad, and Emily from Revenge. I like how they stay classic, but how they can also step outside the box by mixing patterns. It's very "girl next door." But I also look to [classic icons like] Audrey Hepburn and Coco Chanel. I would still dress like that if I could."
What fashion items could you never live without? "Accessories. I love the way accessories can change an outfit. You can dress up a vintage tee by pairing it with pumps or keep it casual by adding something different."
Where do you like to shop? "I get pretty much everything at Forever 21. It's cheap and I figure out ways to make new outfits, so it never looks like I'm repeating!"
What are your extracurricular activities? "I am interning for Verum Media Group as a promotional intern. I am also the music editor for Verum Magazine, and I get to interview different bands that come to Iowa City. I just started bartending on campus, too!"
Elements of Abbey's Outfit
1. Simple Ponytail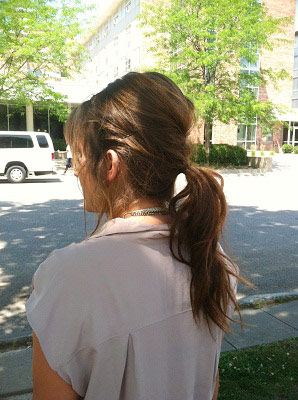 When the temperature is soaring to almost 100 degrees, the best option in summer is to put your hair up. I love that Abbey chose to do a chic ponytail with this outfit.
2. Bright A-Line Skirt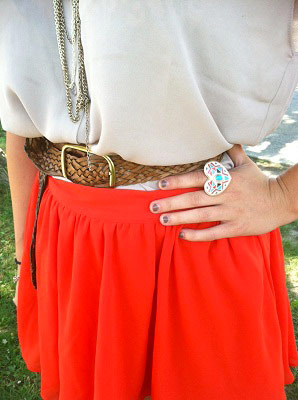 I'm obsessed with Abbey's skirt, not only because of its a-line shape, but also because of how bright and playful it is. She paired it with a a sheer blouse, which is an easy closet staple that can be dressed up or down. Abbey's addition of a brown belt ties the whole outfit together.
3. Metallic Gladiator Sandals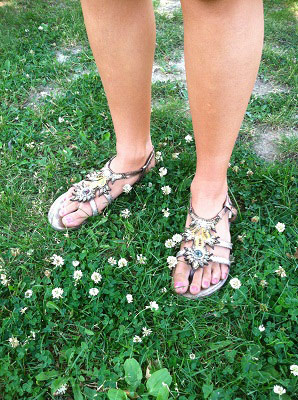 While the rest of her outfit is fairly simple, Abbey's fabulous metallic sandals add some much-needed sparkle. In addition, I love how versatile they are – we've talked before about how metallics can act as neutrals, and these sandals would truly go with just about every summer look.
Your thoughts?
What do you think of Abbey's look?Do you love her bright skirt as much as we do? Do you rock the classic ponytail, like she does, when it's hot outside? Let us know by leaving a comment!