Spring is upon us which typically means more sunlight and warm weather. London seems to have forgotten this and instead has been becoming even colder every day. Regardless of the cold weather and strong winds, you'll always end up seeing someone who somehow manages to avoid looking windblown and half frozen to death.
I saw Juli at school after class and she is the epitome of the person I mentioned above. Flawless clothes, check. Perfect eye makeup, check. Flowing hair that doesn't look disheveled, check. She looked so comfortable, but at the same time her simple outfit made heads (including mine!) turn, so I couldn't resist the urge to approach her and discuss her style.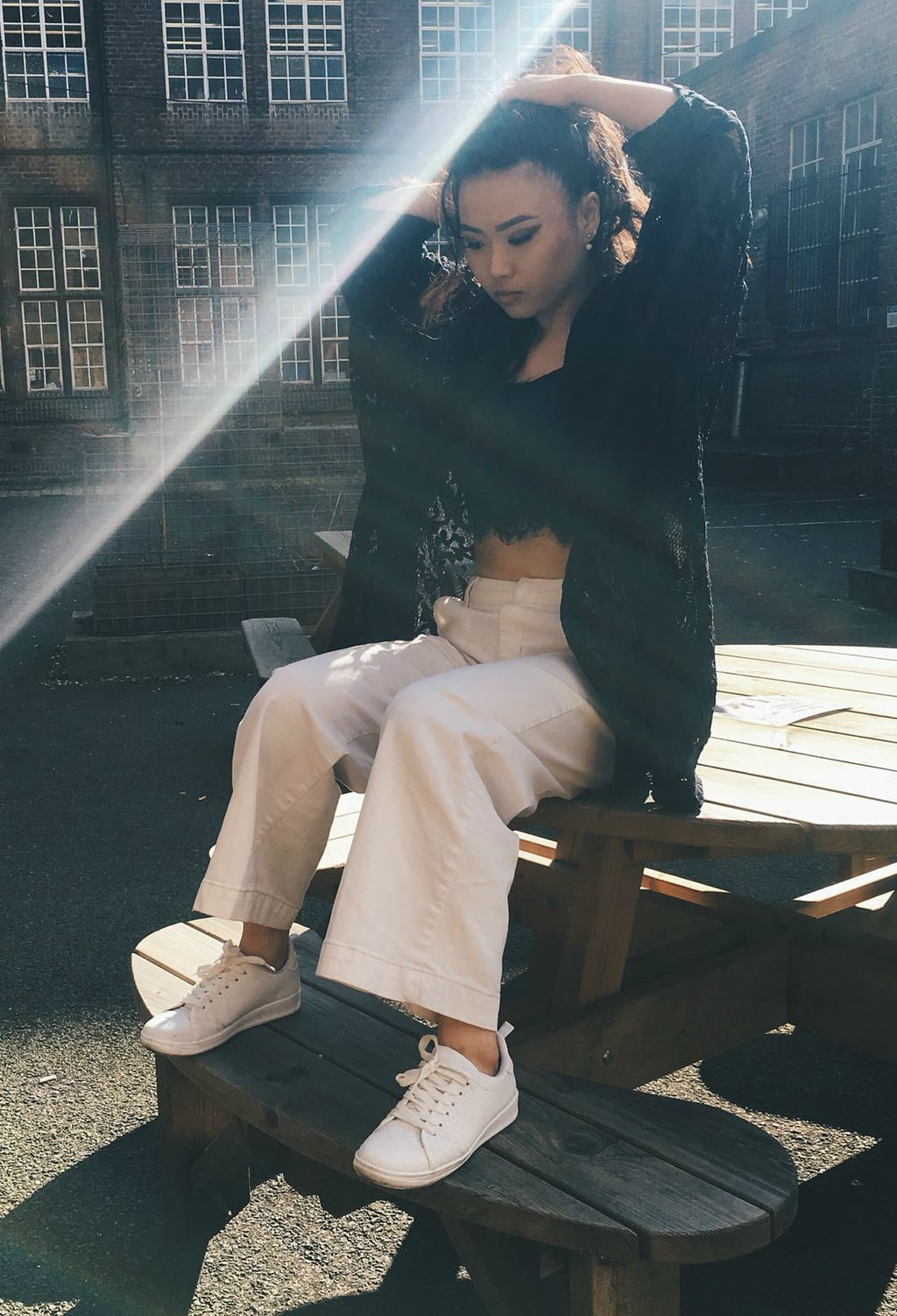 Juli 101
Name: Juli
Year: Freshman
Major: Fashion Business
Hometown: Kuala Lumpur, Malaysia
School: London College of Fashion, University of the Arts, London
Let's Talk Fashion
What are you wearing today and where are they from? "Today I'm wearing a crop top from H&M which I've layered with a lace kimono from Zara, and along with that I'm also sporting these wide leg white trousers from Zara and white sneakers from Primark."
Who or what inspires your style? "I'm not a big fan of magazines and [because of that], I don't follow trends like most people. But truth be told, my style, I would have to say, is very much inspired by what I see people wearing in the streets and how the general public dresses."
Where do you like to shop? "I'm a huge fan of Zara for its high quality, yet affordable clothes, as well as Primark which is a lifesaver for its inexpensive basics. And when it comes to my online retail habits, I rely on Boohoo."
How would you describe your sense of style? "To put it in a simple way, I'd say that it's a cross between looking classy yet androgynous."
What advice would you give to students looking to improve their style? "I would definitely tell them [first] to find out what body type they are and then dress according to what suits their body type as well as their own personal identity because this greatly affects how clothes look on you and even helps to accentuate parts of your body that you love."
What are your favorite trends right now? "I'm a huge fan of [the] menswear-inspired look, so my current favorite trends are definitely trainers, [which] are finally being introduced into so many high-end fashion brands, and wide leg trousers, which as you can see I'm a huge fan of. I mean they are literally made for me!"
Do you have any favorite fashion designers? If so, who? "I don't really have a favorite fashion designer but Raf Simons would have to be one if I had to pick. I love a good white button-up and Simons does exactly that but with a [simple] yet feminine and boyish way."
What do you do for fun – do you have any unique hobbies or interests? "In my free time I like to socialize with friends either by having a nice homemade meal or eating out or even just chilling together. I also enjoy walking around in parks, which isn't a really hard thing to do with the fact that I live in London since there's a park at every corner of the city."
If you could raid anyone's closet, who would it be and why? "I'm only saying this because she has a closet full of expensive and luxurious clothes that I would love to own, but I would have to say Kendall Jenner. I am by no means a huge fan of hers, but I do love her sports luxe style as well as her beautiful wardrobe."
Elements of Juli's Outfit
1. Juxtaposition with Clothes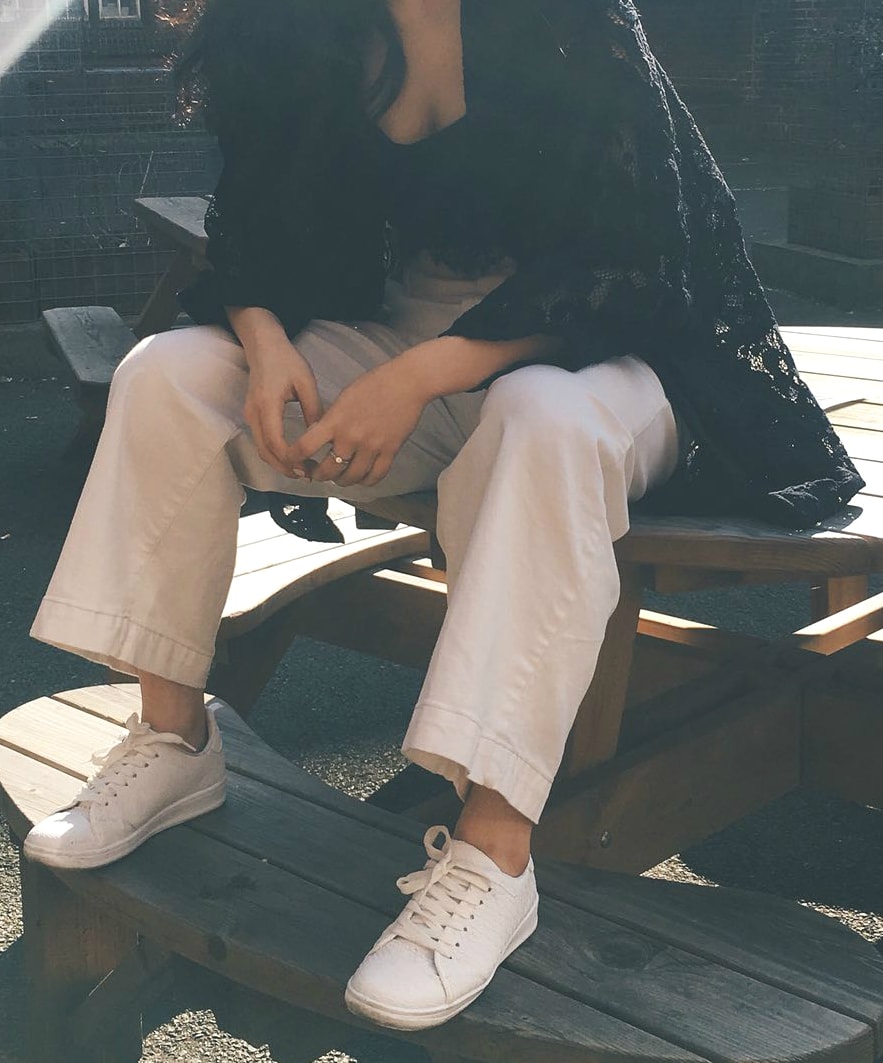 One thing that Juli is great at is putting together well-executed looks, evidenced by how she effortlessly pulls off mixing menswear-inspired pieces with feminine garments. The items in her look are neither too loud nor too basic. Layering a lace kimono over a similar crop top creates a cool texture mix, and sticking to neutral tones keeps the look polished.
2. Glam Makeup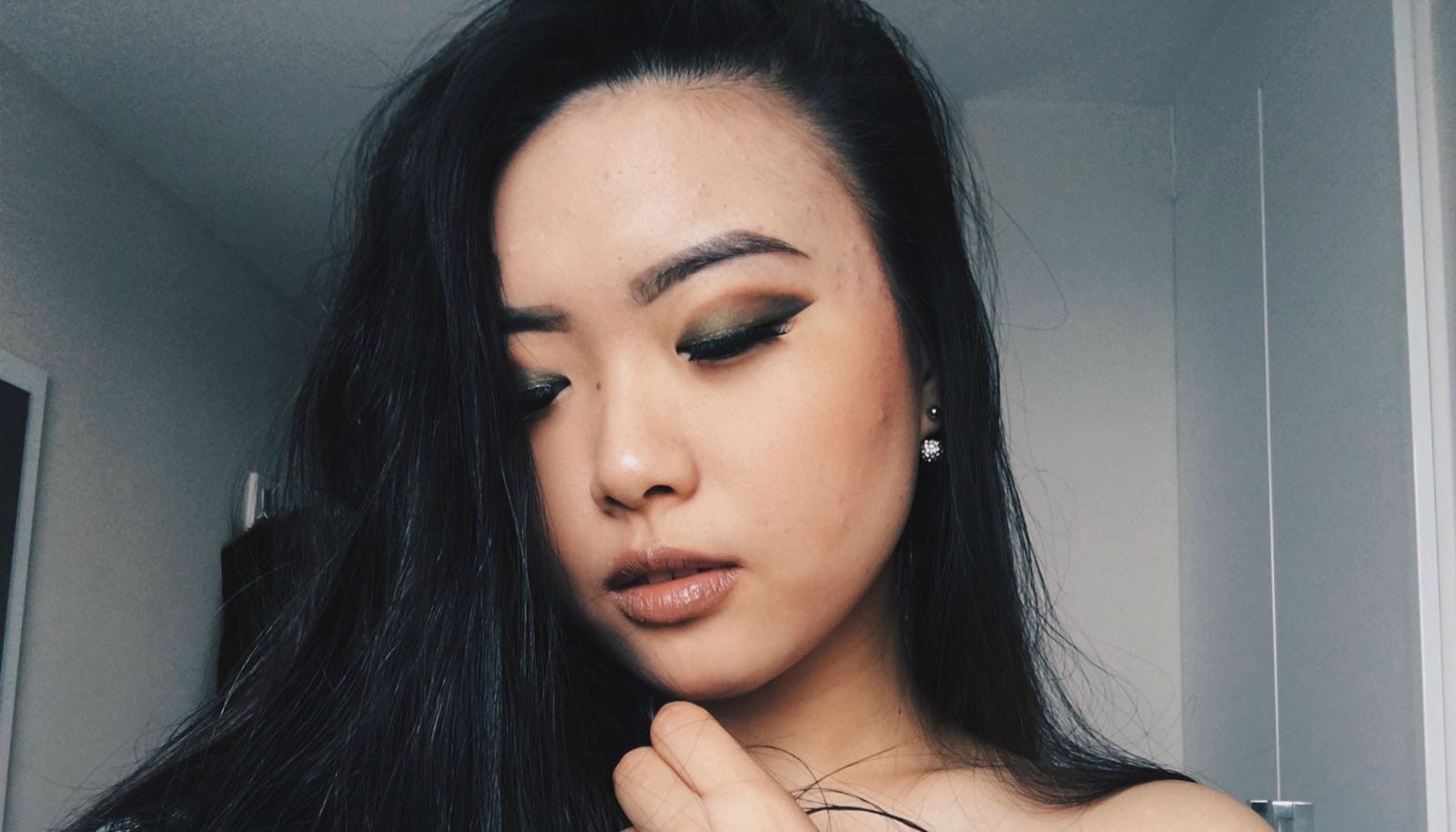 I couldn't resist mentioning Juli's amazing makeup skills – she later sent me this pic of her work and I had to post it up. The girl really knows a thing or two about "on fleek" makeup. I love how it doesn't take away from her natural beauty and instead accentuates it. With the simple, clean lines of her outfit, a dramatic smokey eye works without overpowering her.
Do you love Juli's outfit?
Are you inspired by her makeup? Do you love her lace crop and kimono? Comment below and share your thoughts!