When you put unpredictable winter weather and packed schedules together, you'll start to find students trying to balance looking stylish and not freezing to death, which in truth, takes a lot of practice.
When I spotted Dyon on the street, I saw that he had perfected the art of dressing warmly without looking like he had layered on everything he owned at once. His ability to look ultra-stylish and winter-appropriate is great inspiration for us all.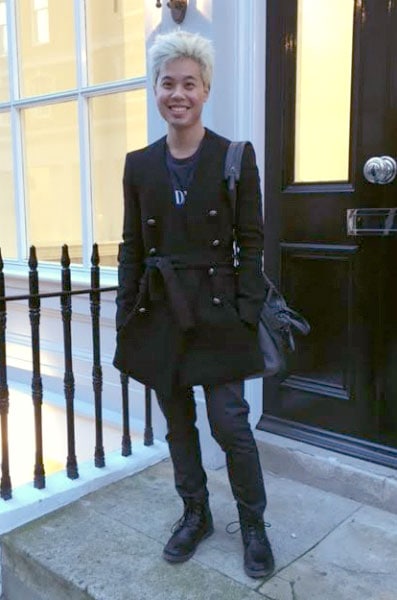 Dyon 101
Name: Dyon
Year: Freshman
Major: Fashion Media
Hometown: Singapore
School: London College of Fashion, University of the Arts, London
Let's Talk Fashion
What are you wearing today and where are they from? "Well, I'm wearing a kimono-inspired coat from Balmain's collection with H&M, a shirt from Rodarte, jeans from A.P.C., boots from Doc Martens, and my bag is from Givenchy."
Who or what inspires your style? "My style isn't really inspired by anyone or anything in particular, but I would say that it is rather similar to the dressing of Parisian Bobo boys; which is this very nonchalant way of dressing, [it's] very edgy yet casual-chic."
Where do you like to shop? "I'm not religiously attached to any one brand or retailer, but I've realized that I like to invest in quality basics and high-end outerwear, especially with London's erratic weather which you always have to be prepared for. And to get these basics I usually go to places like A.P.C., Acne Studios, and Club Monaco."
How would you describe your sense of style? "I would say that my style is a variant on what people call 'Parisian Chic'. I believe that there's no need to be loud in the way we dress to look good, so I dislike wearing loud articles of clothing altogether and prefer to instead include subtle statements in my everyday wear. I also feel that classics play an important role in the way I dress, as [they] allow me to be minimal in my dressing, but yet I'm able to add in curated accents that bring my looks together without making it look overpowering."
Why did you choose this particular outfit? "I was going for a sleek and unique but sophisticated look today that was comfortable as well since I'm out doing errands. In addition to that, I also wanted to play around with different shades [of] dark tones to create a subtle statement."
What fashion advice would you give to their students looking to improve their style? "One very important aspect of fashion and style in general that I think students have forgotten about is the fact that we should dress for ourselves and that we should dress only to impress ourselves, not anyone else; as well as dress to fit our own personal aesthetic to show the world who we are as individuals. We should also not blindly follow trends and instead be inspired by them and assimilate them to fit our own style identities. When it comes to how we wear brands, we should not dress to fit a brand but instead to build our own identity and style. And even if you do buy branded items, you should invest only in pieces that the brands are known for [like] their cult products to ensure that you're getting the quality that you're paying for."
Do you have any favorite fashion designers? If so, who? "I would say that A.P.C.'s designer, Jean Touitou is definitely someone who's aesthetic I look up to. I find his minimalist designs that have clean lines and simple patterns very intriguing and sophisticated, and [his] style is also very similar to Yves Saint Laurent's Hedi Slimane's style. But most of all what draws me to them is the fact that they don't follow trends and instead decide to go against or ignore them altogether."
What do you do for fun – do you have any unique hobbies or interests? "For fun I love to take photographs, curated photographs, not in-the-moment kind of ones. I love the idea of using photography to tell a story or a mood and I enjoy coming up with concepts for them."
If you could raid anyone's closet, who would it be and why? "I feel like I'd most definitely raid Lucky Blue Smith's closet and it's not the fact that we have matching icy blond hair! I love his sleek and minimalist way of dressing that very much mirrors the way I already dress. I wouldn't mind getting my hands on some of his amazing clothes."
Elements of Dyon's Outfit
1. Coat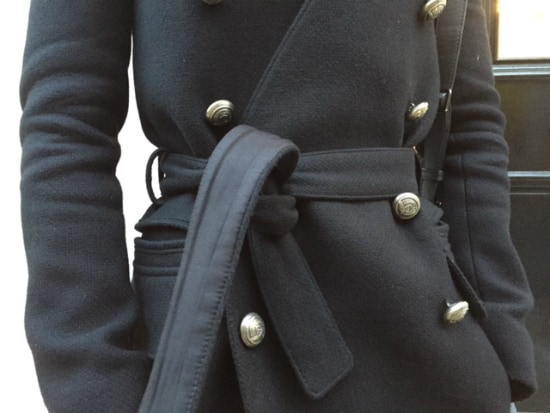 Dyon loves subtly unique clothes and this coat definitely echoes that sentiment. The kimono-inspired design of this H&M x Balmain coat is very different from all the other coats on the market and it is what drew me to him. The coat could also be styled in two different ways, either by buttoning it up or tying it with the belt. As well as making him look regal and stylish, the coat's wooly fabric helps keep Dyon warm and toasty.
2. Bag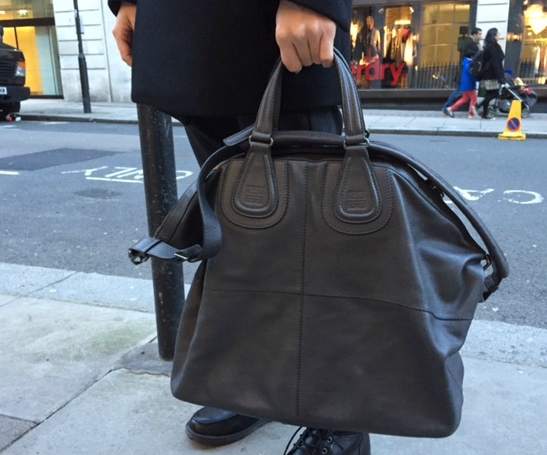 It's not every day you see a guy sporting a tote bag on the streets, let alone a bag that is wanted by almost all fashion fanatics. Dyon's Givenchy bag doubles as a roomy tote to hold all his belongings as well as a statement piece that doesn't overpower his overall outfit, which makes it a handy accessory to spruce up any outfit.
What do you think of Dyon's outfit?
Do you love his simple, minimal color scheme? What do you think of his style? Comment below and let us know!