With the new school term back in full swing, I've noticed students putting the whole notion of dressing up on the back burner. (Yes, this even happens at the London College of Fashion!) Let's face it; when you're pulling all-nighters, dressing up can seem rather thought-consuming and energy-wasting.
When I saw Camila in class, she stood out from the rest, even in a fairly simple outfit. She dressed to impress in an easy way, which is something we can all aspire to during the busy semester.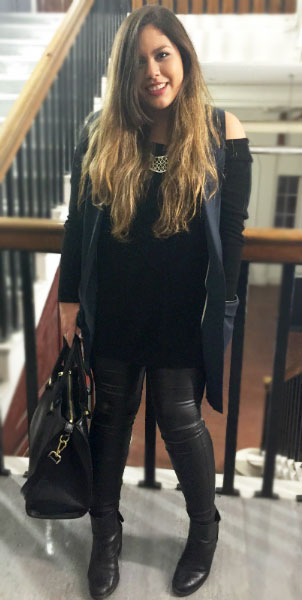 Camila 101
Name: Camila
Year: Freshman
Major: Fashion Journalism
Hometown: Miami, FL
School: London College of Fashion, University of the Arts, London
Let's Talk Fashion
What are you wearing today and where are your pieces from? "Today I'm wearing a Topshop gillet (vest), a jumper (sweater) from Primark, my pants [are] from New Look and so is my necklace. These boots and this purse are from H&M, [and] my ring is vintage."
Who or what inspires your style?"I mostly just get my style inspiration from street style, however I do also look up to a couple of fashion bloggers and YouTubers like Helen Anderson. But overall I always try to go for for a dark and edgy look."
Where do you like to shop?"A couple of my favorite places to shop at are New Look, Zara, Topshop, and ASOS."
How would you describe your sense of style? "I would say it's more of, like, a rebel-chic look that's also edgy. And lately I've noticed that I've been wearing quite a lot of black and leather, making my style a bit more rebel-like, as I would say."
What fashion advice would you give to students looking to improve their style? "Just mostly [to] be yourself and wear whatever makes you feel confident and cool. I believe that you don't always have to keep up with the latest trends to improve your style; being one-of-a-kind and creating your own look is the best way to go. Your confidence will definitely shine through, thus improving your style a lot more."
What are your favorite trends right now? "Some of my favorite trends at the moment are definitely the leather pants and skirts that are all the rage on the high street, the '70s-inspired suede, and also some fringe which is slowly making its way into my closet."
Do you have any favorite fashion designers? If so, who? "Recently I've been loving Balmain and Givenchy's [new] collections, so I would say that they are some of my favorite[s]. Also, John Galliano and Elie Saab have been striking my interest quite a lot over the years."
What do you do for fun – do you have any unique hobbies or interests? "For fun I usually practice some fashion journalism on my own time. I also did dance for 5 years, which was great, but I would say yoga is starting to become my new hobby. Oh and of course shopping. I mean what fashion student doesn't [love to shop]?"
If you could raid anyone's closet, who would it be and why? "Not to sound so typical, but I would definitely say Kim Kardashian. I mean, her style truly intrigues me, and this is because I feel like if had the same body as her and once I become a bit older, I would definitely have the same style as her. And though the Kardashians don't really have the absolute best reputation, they definitely are rocking the fashion world whether we like it or not."
Elements of Camila's Outfit
1. Faux Leather Pants + Boots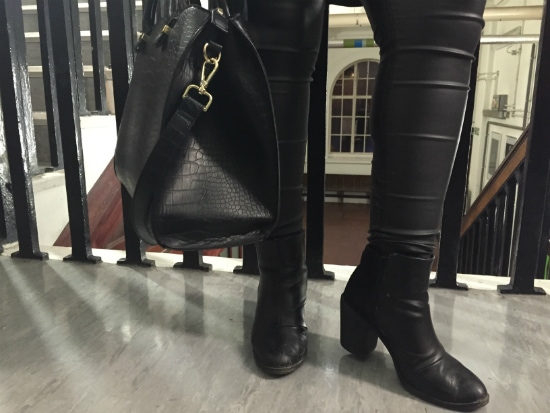 Camila loves wearing black and is especially fond of black faux leather, which is obvious in her pairing of this purse, boots, and pants. (It's tough to see but her pants are faux leather and her boots come just above her ankle.) This combo could easily look overdone but in Camila's outfit, it comes off as a chic match made in heaven.
2. Necklace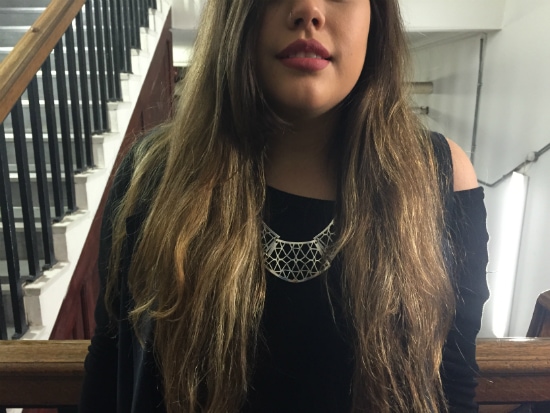 Camila's outfit looks simple at first glance, but after taking a closer look, you realize that she has actually put thought into the small details of her look, like this cool necklace. I love its intricate pattern and how its length works perfectly with her sweater's neckline.
What do you think of Camila's outfit?
Do you love her black-on-black-on-black look? Would you rock faux leather pants during the day? Comment below and let us know!