While we may be digging through our closets and heading to the store to find spring and summer clothes, in many places it's not yet warm enough for sundresses and tank tops. Clever layering and styling comes in handy during this tricky time of year.
When I saw Aatiqah sporting this perfect transitional look last week, I knew I had to stop her and have a quick chat. Aatiqah understands the art of transitioning one's wardrobe between seasons. Below, she spills her secrets.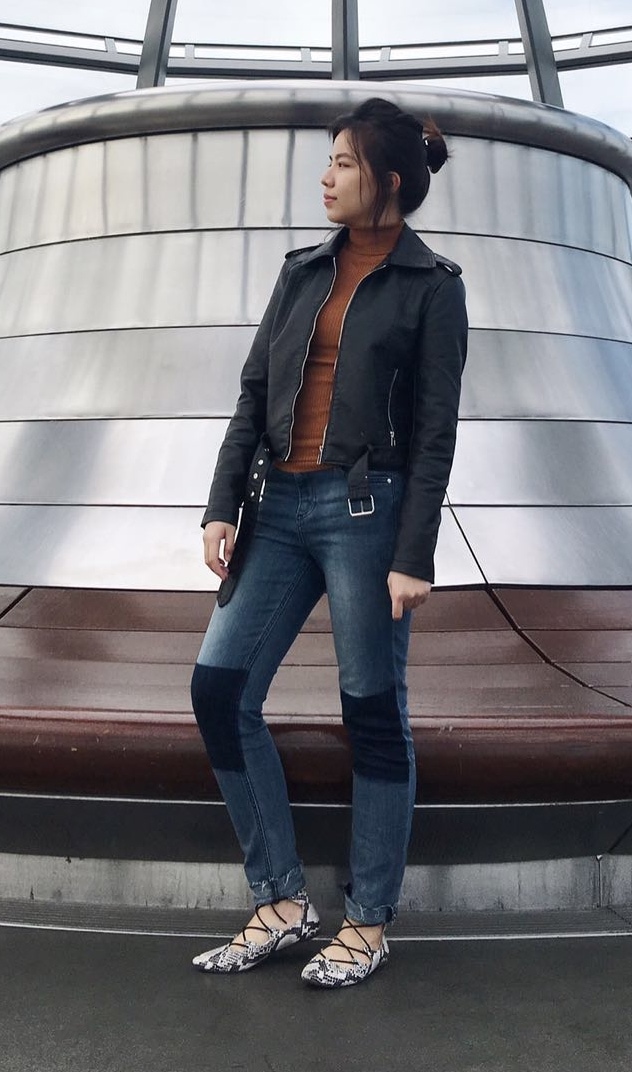 Aatiqah 101
Name: Aatiqah
Year: Freshman
Major: Fashion Design (Womenswear)
Hometown: Putrajaya, Malaysia
School: London College of Fashion, University of the Arts, London
Let's Talk Fashion
What are you wearing today and where are they from? "Today I'm sporting a faux leather biker jacket from New Look, a turtleneck from Primark, H&M jeans, and Primark flats."
Who or what inspires your style? "My style is inspired by what I see people wear on the streets of London, as well as what I see my fellow peers are wearing because everyone is always dressed to the nines at school."
Where do you like to shop? "I shop a lot at high-street places like Primark, Zara, and H&M, who sell quality products at somewhat affordable prices, especially when there are sales."
How would you describe your sense of style? "In short, I'd say that my style is simple, clean, edgy, and feminine at the same time."
What fashion advice would you give to their students looking to improve their style? "I would definitely tell other students to not blindly follow trends, but to also not be afraid to switch up your look once in a while because you might just be surprised at what you end up with."
What are your favorite trends right now? "I really love bomber jackets which are very 'in' at the moment, and I recently purchased one the other day actually! But other than that, I also love pointed [toe] shoes, regardless if they're on or off trend."
What do you do for fun? Do you have any unique hobbies or interests? "For fun I love to visit museums, of which London has plenty to offer, as well as [just exploring] and [trying] new food. I also have a love for crime shows like NCIS, Law & Order, and other shows like Reign, which I watch in my spare time."
Elements of Aatiqah's Outfit
1. Lace Up Snakeskin Flats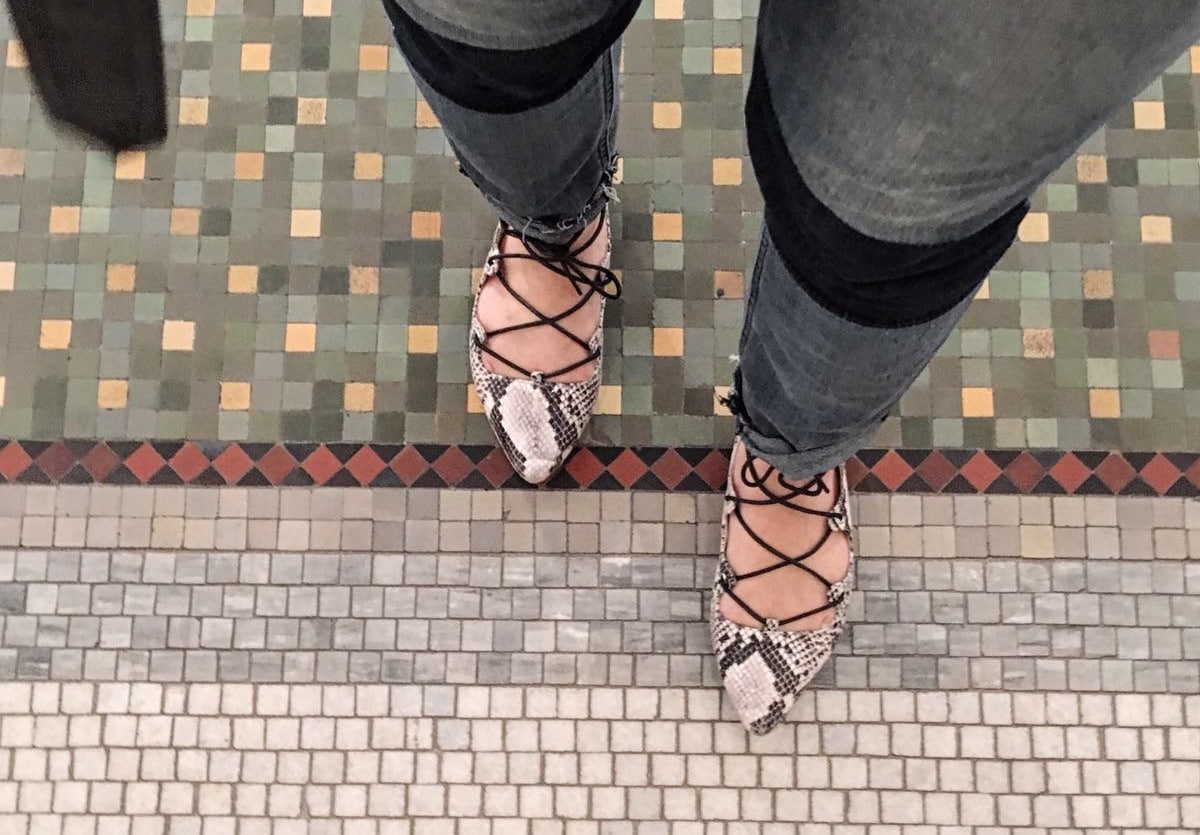 Lace-up flats have been a hot trend in London lately. Here, Aatiqah is sporting a pair of flats with an edgy faux snakeskin pattern that breathes new life into the trend. I love how the print doesn't compete with the rest of her outfit, but instead adds a little extra "kick" to it.
2. Patchwork Jeans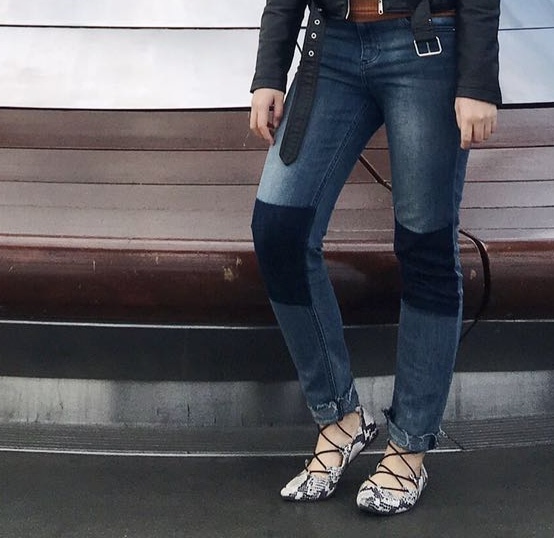 Aatiqah's patchwork jeans are my favorite part of her look. They are a simple and clean take on the over-the-top distressed patchwork jeans we've been seeing all over London. I really love how the patchwork is mainly on her knees and not elsewhere; because of this, the jeans are flattering and sleek.
Turtlenecks in spring, yay or nay?
Would you wear her look? What do you think of her patchwork jeans? Let us know below!