While walking through campus a few weeks back, I spotted Kira, a sophomore at Indiana State University who has quite a unique style. She was one of the few students who opted for a fashion-forward look shortly after the polar vortex swept across the Midwest. What made Kira's style stand out to me was her chic pixie cut, as well as the fabulous leather bag she was using to tote her books to class.
Kira 101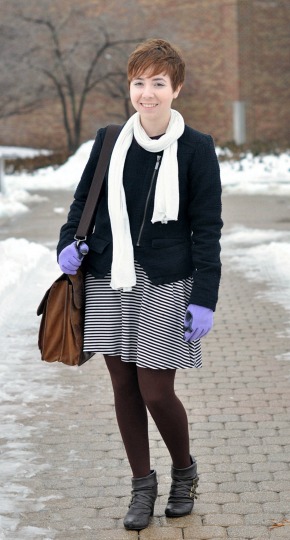 Name: Kira
Year: Sophomore
Major: Language Studies
College: Indiana State University
Let's Talk Fashion
Who or what inspires your style? "I follow current trends on Pinterest."
Where do you like to shop? "I like shopping at really inexpensive places like Goodwill."
How would you describe your sense of style? "I tend to lean towards skirts and things; I don't particularly like to wear jeans."
Why did you choose this particular outfit? "I chose this outfit because it's cold and I was tired of wearing my rain boots."
What fashion advice would you give to other students looking to improve their style? "I would recommend wearing clothing that fits their body type."
What are your favorite trends right now? "I really like the tulle skirts that are high-waisted."
What do you do for fun – do you have any unique hobbies or interests? "I like taking photos."
If you could raid anyone's closet, who would it be and why? "Emma Watson. I like her clothes because they are really modest, but they are still really fashionable."
Elements of Kira's Outfit
1. Structured Tweed Jacket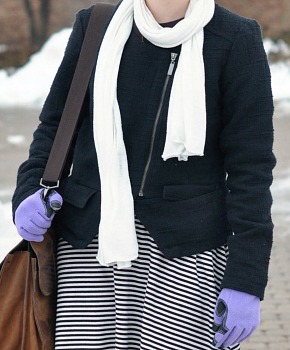 Kira's structured tweed jacket from Rue 21 has a bold feature: an asymmetrical zipper. While the style of the jacket is inherently professional, the zipper is a stand-out element. This black staple can easily be dressed up or worn in a casual manner, like Kira demonstrated here.
2. Brown Booties and Tights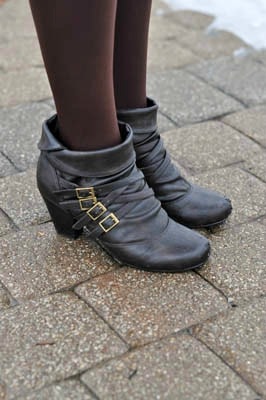 The brown booties and tights Kira chose to wear contrasted perfectly with the black elements of her outfit. I love it when people are not afraid to break the old school "fashion rules" by wearing brown with black, wearing white after Labor Day, and mixing metals. By combining brown and black in this outfit, Kira shows just how cutting-edge her style is.
3. Leather Bag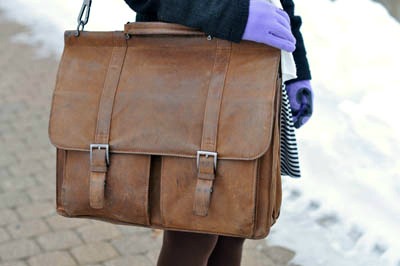 I don't know about you guys, but this bag had (and still has) me drooling! The worn appearance adds a vintage touch, while the color pulls together the various brown accents in her look. In addition, the size makes it the perfect alternative to a regular backpack.
Have you been dressing up through the cold like Kira has?
Do you have any clothing with asymmetrical zippers in your closet? Do you ever mix brown with black? What do you think about Kira's trendy cold-weather outfit? Let us know your thoughts by leaving a comment below