The sun finally decided to make an appearance here in Southern Indiana, and students on the campus of Indiana State University took advantage by spending time outside.
As I made my way to the commons in the 42-degree weather, I spotted Brittany walking behind me. This sophomore has a great sense of style and a bubbly personality that showed through her look. Brittany's outfit was well put-together and extremely trendy. She is a shining example of how students should dress on campus.
Brittany 101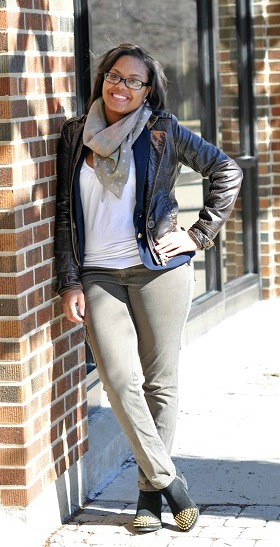 Name: Brittany
School: Indiana State University
Year: Sophomore
Major: Health Sciences with a concentration in Psychology
Let's Talk Fashion
Who or what inspires your style? "I am different, so I like to try different things. I think I get stuff from myself, and have my own ideas."
Where do you like to shop? "I like shopping at a lot of different stores; there isn't one particular store that is my favorite. I'm a bargain shopper, so I like finding nice quality things for an inexpensive price."
How would you describe your sense of style? "I am very unique. I like to switch up my look and spice things up often."
Why did you choose this particular outfit? "I chose this outfit because I looked out and the sun was shining. I wanted to dress for the nice weather."
What fashion advice would you give to other students looking to improve their style? "I would just say be yourself and be comfortable. Don't overdo it; you are going to class, but the most important thing is to be comfortable, look cute, look a little professional, but a little spicy at the same time!"
What are your favorite trends right now? "I like crop tops and harem pants. They are comfortable yet stylish."
Do you have any favorite fashion designers? If so, who? "I like Christian Louboutin. I really like his shoes and [his] different sense of style. I also like Vera Wang."
What do you do for fun – do you have any unique hobbies or interests? "I do a lot of things for fun! I sing, dance, and I enjoy reading."
If you could raid anyone's closet, who would it be and why? "Janelle Monáe. Her style is business [and] classy, with a little spice. I love her choice of blazers, pants, and her shoes."
Elements of Brittany's Outfit
1. Printed Scarf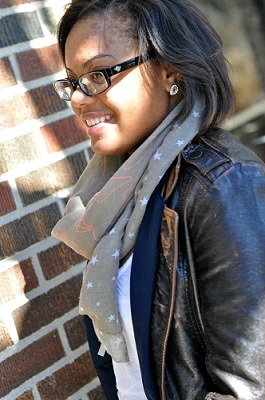 Despite the shining sun, the wind continues to be brisk, so Brittany accessorized her outfit with this stellar scarf. The starry print brings a young and fun vibe to her look while actively keeping her warm. It polishes off her ensemble perfectly! The colors of her scarf mix well with the navy blazer and brown leather jacket she chose to layer.
2. Chain-Link Watch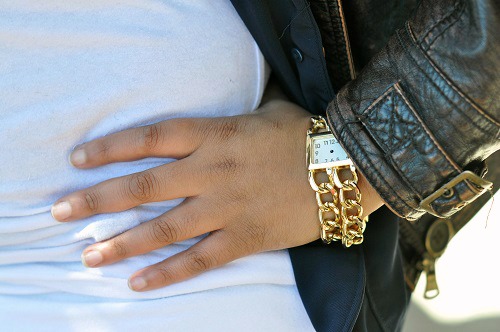 Brittany's Rue 21 watch was another great accessory choice. This gold watch adds to the professional look Brittany likes to portray with her outfits. It is cute and trendy, but the budget-friendly price point makes it ideal for her college budget.
3. Stud-Toed Booties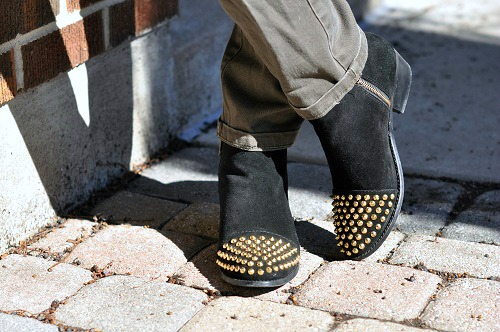 Brittany's Steve Madden booties caught my eye as soon as she walked onto the commons. The black suede and gold studs definitely catch the eye, and are extremely on-trend. They are perfect for the chilly weather we are experiencing here in Indiana.
Do you love Brittany's layered look?
What are your favorite items to layer in the seasonal transition between winter and spring? Do you think Brittany's studded booties are as cute as we do? Drop us a line below, because we want to know what your thoughts!