I couldn't help but notice Lara as she was walking the Brooklyn bridge in the opposite direction towards me, standing out from the crowd in her faux fur jacket. Her outfit looked effortless and sophisticated, yet warm enough for a chilly January day.
Even though her outfit mostly incorporates blacks and neutrals, Lara shows us how different textures can be combined to create a minimal look that is anything but boring.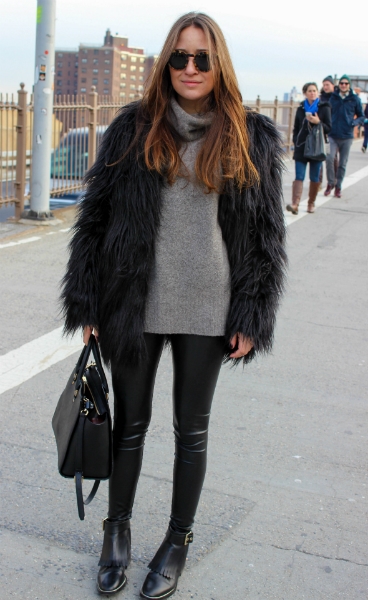 Lara 101
Name: Lara
School: Fashion Institute of Technology
Major: Advertising and Marketing Communications
Let's Talk Fashion
Who or what inspires your style? "I like a lot of models' off-duty blogs just to see casual things that they wear; a lot of fashion bloggers and a lot of alternative bloggers [too]."
Where do you like to shop? "I like shopping online at ASOS, Zara, Aritzia, and vintage shops, but honestly anything random that I find [in terms of a store], I like to shop at."
How would you describe your sense of style? "Pretty diverse. One day I can be really hippie, one day really blogg-y, another sporty, so it really depends on what I'm in the mood for. But overall I'd say pretty causal."
Why did you choose this particular outfit? "Because the sweater is really warm and it's really cold today; this coat is from New Years and I've been kind of obsessed with it lately so I thought I'd wear it."
What fashion advice would you give to other students looking to improve their style? "Don't listen to other people's fashion advice. You can mix black and navy [and] you can wear brown and black together. Don't listen to any rules like that. Anything can look good."
What are your favorite trends right now? "I love really warm turtlenecks and sunglasses."
Do you have any favorite fashion designers? And if so who? "I love Alexander Wang because his stuff is mostly black and black is a New York staple, and Elie Saab for more red carpet looks."
What do you do for fun? Do you have any unique hobbies and interests? "I love traveling so I'll usually travel whenever I can, but I also like surfing. And eating, cause there's so many different kinds of places to go eat in New York."
If you could raid anyone's closet who would it be and why? "Leandra Medine because she has the craziest accessories and overall crazy yet simple looks."
Elements of Lara's Outfit
1. Tortoise Shell Cat-Eye Sunglasses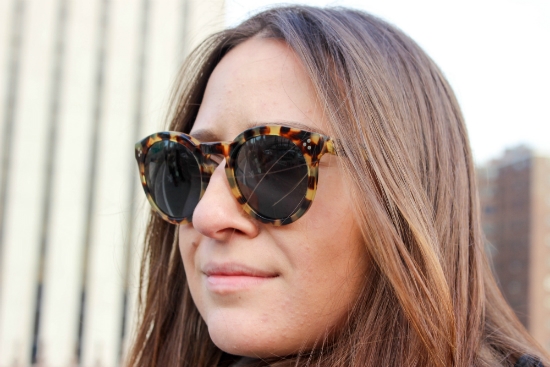 I love Lara's sunglasses because they add a fun yet unexpected vibe to her outfit. The tortoiseshell print adds more neutral tones to her look and the cat-eye style adds an extra touch of modern New York glam.
2. Black Satchel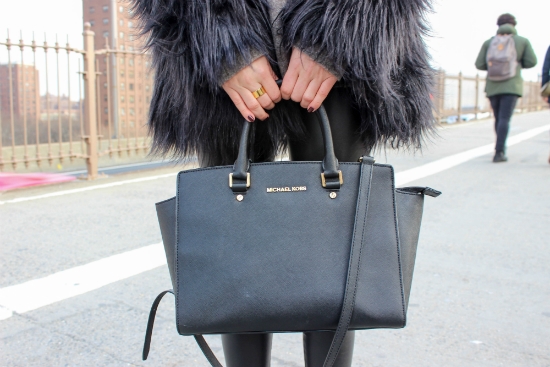 This black Michael Kors satchel has a simple look that's both trendy and easy to wear with everything, yet the actual bag is somewhat small. This bag is great because you still get a sophisticated work-bag look without having to lug around a huge tote.
3. Gold Ring + Oxblood Fingernails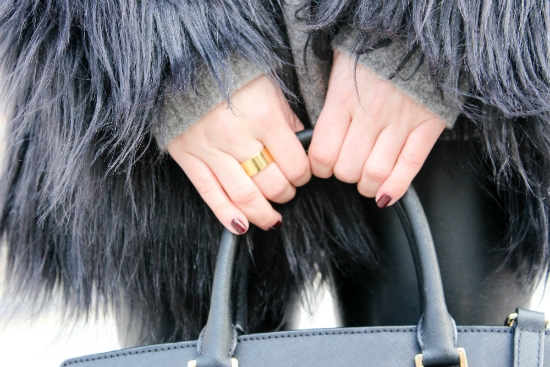 It wasn't until I took this close-up shot of Lara's gold ring that I noticed her oxblood fingernail polish. It added the perfect pop of color to her outfit. As for the gold ring, it was the only piece of jewelry she was wearing and looked amazing next to her nail polish color.
4. Boots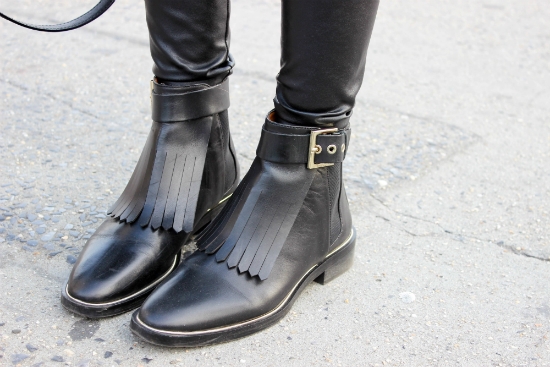 The gold hardware on these fringe Chelsea boots matches Lara's gold ring and the hardware on her satchel. This just goes to show that no detail is ever missed on an outfit and by matching your jewelry with the hardware on your bag or shoes, you can really tie a look together.
Would you wear Lara's outfit?
Do you love her shoes and furry coat? Do you ever dress in all neutrals? Let us know below in the comments!