On busy Thursdays, many college girls opt for Nike shorts and t-shirts. However, a cute romper like Sarah's is a more polished, yet comfortable, alternative for those of us in warmer fall climates. Just that little bit of effort makes a large difference!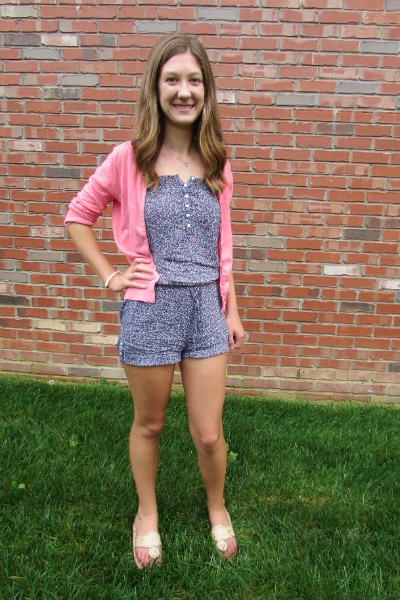 Sarah 101
Name: Sarah
School: Elon University
Year: Sophomore
Major: Public Health, minor in Chemistry
Let's Talk Fashion
Who or what inspires your style? "I'm very inspired by my older sister's style. She's thirteen years older than I am, so I grew up looking up to her. Sometimes she even gives me her clothes!"
Where do you like to shop? "I love shopping at Francesca's and local boutiques. I also like J. Crew for basics and sometimes Nordstrom."
How would you describe your sense of style? "My style is somewhat preppy but without trying too hard."
Why did you choose this particular outfit? "Rompers are comfy for going to class, but you still look presentable [in them]. I love them!"
What fashion advice would you give to other students looking to improve their style? "Don't only shop at the popular and trendy stores. Branch out to local boutiques as well. You can find great quality stuff that's sometimes less expensive."
What are your favorite trends right now? "I love tassel bracelets and necklaces and, of course, rompers. Although I hope rompers are actually here to stay."
Do you have any favorite fashion designers? If so, who? "I love Tory Burch and Kate Spade. I especially love Kate Spade's use of fun and motivational quotes."
What do you do for fun – do you have any unique hobbies or interests? "I'm a captain in LEAD, our leadership program, and I also work at the Center for Service Learning and Civic Engagement."
If you could raid anyone's closet, who would it be and why? "Definitely Blair Waldorf's. I love cardigans and she's the cardigan queen. Her style is so classic."
Elements of Sarah's Outfit
1. Floral Romper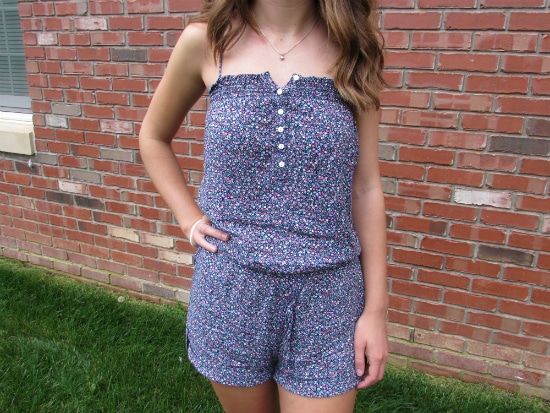 Sarah's romper from Francesca's is comfortable but adorable. The floral print and buttons makes it more visually interesting. Rompers are easy to throw on without thinking about matching a top to bottoms; they're perfect for busy student life!
2. Dainty Necklace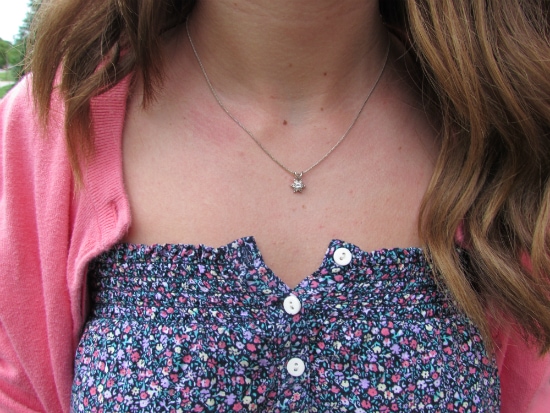 Sarah told me that her necklace is a resetting of a ring that was her mother's. She loves being able to wear a piece of jewelry with family history.
3. Woven Sandals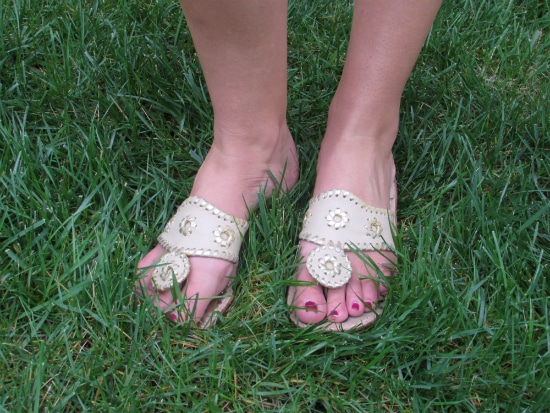 Sarah purchased her Jack Rogers sandals at a boutique in Raleigh. They contribute to the preppy feel of the outfit, while still being comfortable.
Do you ever wear rompers?
What do you think of Sarah's sandals? Would you wear this outfit? Comment below and let us know!