Megan's outfit is perfect for December because it's comfy but still fashionable. Her layers allow her to adjust to any unanticipated weather changes, while her boots mix style, warmth, and function. Her look inspired me to push the boundaries with some funky leggings every once in awhile. Aren't they fab?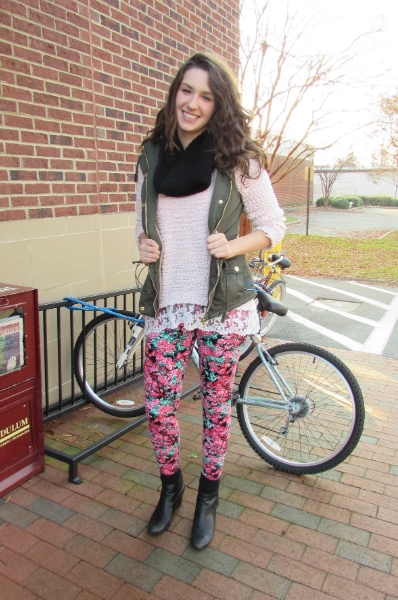 Megan 101
Name: Megan
School: Elon University
Year: Freshman
Major: Journalism
Let's Talk Fashion
Who or what inspires your style? "My new friends at Elon definitely have influenced my style. But my major rule is that everything has to be soft."
Where do you like to shop? "Anywhere with cheap clothing. I love thrift stores, but also this store in Vermont called Bob's."
How would you describe your sense of style? "Can I just say soft? Seriously though, it varies a lot. 8AM Megan is not the same as 3PM Megan."
Why did you choose this particular outfit? "I wanted something with lots of layers because the weather in North Carolina is so unpredictable."
What fashion advice would you give to other students looking to improve their style? "No one is going to think your style is cool if you dress like everyone else. Don't be afraid to be different!"
What are your favorite trends right now? "I've finally warmed to the leggings-as-pants trend. I resisted it for a while, but now I love that pants are no longer mandatory."
If you could raid anyone's closet, whose and why? "One of my friends is an art history major and I love everything she wears. But also Emma Stone because she has really cool clothes."
What do you do for fun? Do you have any unique hobbies or interests? "I work for our TV station, Elon Local News, as a reporter. I'm also the weather girl on our radio station. I'm a part of I Am That Girl, which is a female empowerment club. But I also just love singing and playing guitar."
Elements of Megan's Outfit
1. Sweater, Scarf, & Vest Combination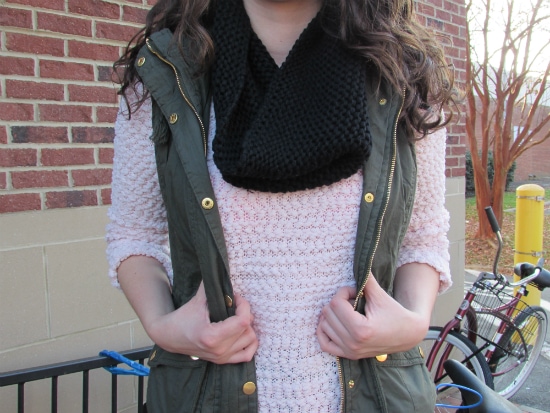 Megan's sweater and vest from Bob's pair well with her scarf, which she found in a thrift store. Vests are such great layering pieces because they add a layer without big, bulky sleeves. The gold buttons on her cargo green vest pop and add an extra detail to her look.
2. Lace Details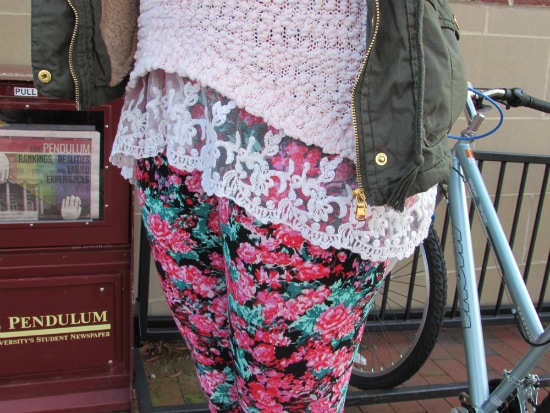 The lace detailing on the bottom of Megan's sweater is a unique element. It provides the perfect feminine touch to tie together her cozy sweater and her bold leggings.
3. Boots and Socks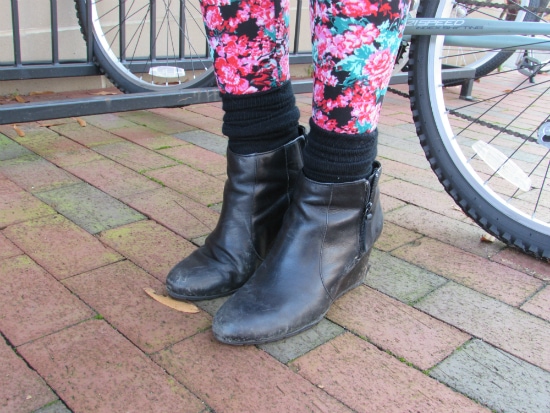 Megan's boots balance style and comfort. The wedge heel adds height while still allowing Megan to run to class if needed. With the addition of some cute socks, these boots are good to go all day.
What do you think of Megan's outfit?
Would you wear her leggings and vest? Let us know below in the comments!