A bright outfit like Bethany's brings a little cheer to a dreary day. Her yellow necklace and purple pants pair well with her muted chambray shirt, while her cowboy boots show off her love of all things country.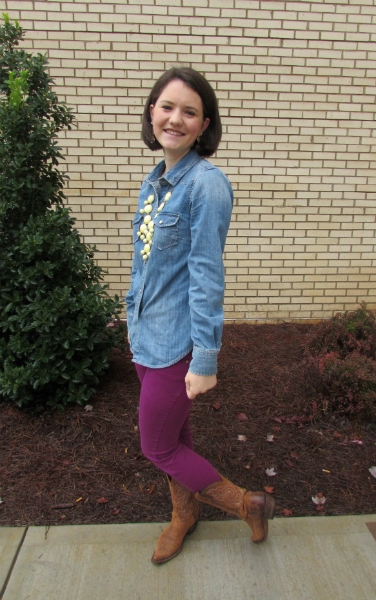 Bethany 101
Name: Bethany
School: Elon University
Year: Sophomore
Major: Biostatistics and Public Health
Let's Talk Fashion
Who or what inspires your style? "My sister told me when I was younger that I needed to develop a 'uniform,' or a go-to outfit. Mine is a plain shirt with a statement necklace. I'm also very inspired by the country lifestyle. I love horseback riding so I wear my riding boots a lot."
Where do you like to shop? "I don't like to shop actually! So I typically just go wherever has clothes that fit me, like Target or local boutiques."
Why did you choose this particular outfit? "Because it's raining and you need some sunshine in your life! So I wanted to wear bright colors today and I just always love wearing my cowboy boots."
What fashion advice would you give to other students looking to improve their style? "Wear what makes you feel comfortable and, like my sister said, develop a uniform."
What are your favorite trends right now? "I'm not really into trends. But I do find the equestrian trend funny, because I wear that kind of clothing for riding."
What do you do for fun – do you have any unique hobbies or interests? "I work at the Center for Leadership and I'm in a sorority. I love horseback riding and I'm passionate about service and global engagement."
If you could raid anyone's closet, who would it be and why? "Either Carrie Underwood's or my big sister's. I love Carrie Underwood's style, especially her dresses and boots."
Elements of Bethany's Outfit
1. Bright Necklace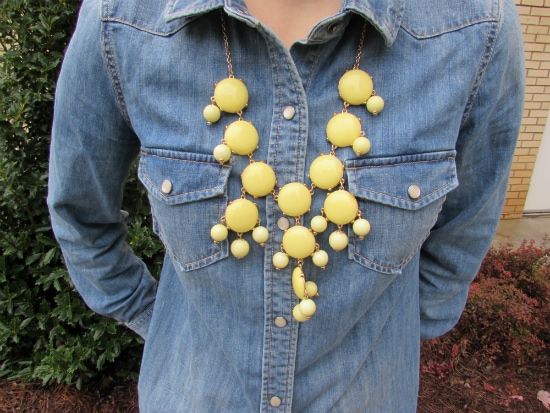 This bright yellow necklace from a boutique in Bethany's hometown pops against her J. Crew chambray shirt and brings her outfit together.
2. Cowboy Boots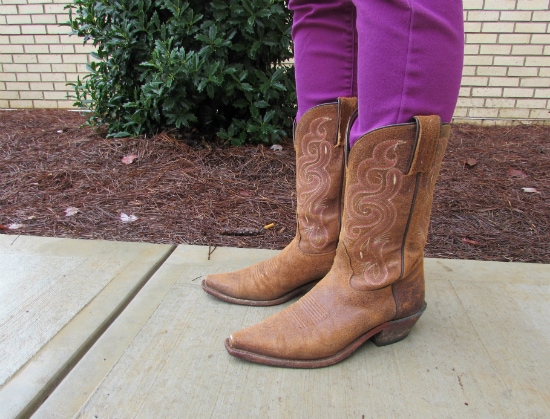 Bethany's cowboy boots bring more personality to her outfit and reflect her love of horseback riding. She said that she got these boots when she was 16 years old for a competition and still loves wearing them. Talk about investing in pieces you adore that will last!
Do you love Bethany's daily uniform style?
Comment below and let us know what you think of her chambray top! What about her purple pants and yellow necklace?