As the temperatures fall, students are reaching for warmer clothes. Amy's graphic tee, jeans, and jacket keep her warm while also looking stylish.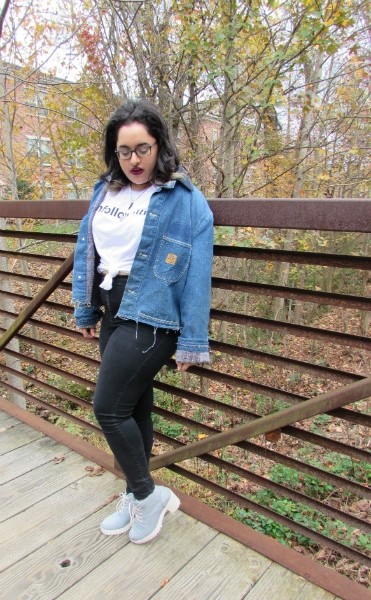 Amy 101
Name: Amy
School: Elon University
Year: Junior
Major: Strategic Communications with a minor in Music Production
Let's Talk Fashion
Who or what inspires your style? "My friends definitely inspire my style. I'm a big music person and a lot of my inspiration comes from my favorite artists and performers. Their style tends to be more 'out there' so I love recreating [their] looks or making them more wearable."
Where do you like to shop? "I love online shopping because you can get great deals. I love Topshop and Zara for special pieces and Forever 21, H&M, and American Eagle for more filler pieces."
How would you describe your sense of style? "Sort of effortless, but full of effort at the same time! A little bit grunge, a little nostalgic, but also very modern. I love combining feminine and masculine silhouettes. I guess my style is full of contradictions."
Why did you choose this particular outfit? "I really wanted to wear this shirt. It's merchandise from the artist Mitski and I went to her concert on Friday. But I wanted to make the outfit a bit tougher with the other pieces I picked."
What fashion advice would you give to other students looking to improve their style? "Some people say that 'less is more,' but I don't believe it. Go to thrift shops and find cheap pieces that you like. Have a variety of clothing because you don't know who or what you'll want to be every day."
What are your favorite trends right now? "I am obsessed with fringe on everything. I also love chunky boots and big outerwear, like ponchos and shawls. And A-line skirts in corduroy with buttons or zippers down the front."
Do you have any favorite fashion designers? If so, who? "I have a lot: Valentino, Chanel, YSL, Henry Holland, and Nick Grimshaw for Topman."
What do you do for fun – do you have any unique hobbies or interests? "I have a radio show called Undeclared where I mostly play pop music. I'm on the Music Stage Committee of the Student Union Board, so I help organize and set up our concerts. I also do digital marketing for our TV station here at Elon. I'm very into music reviewing, going to concerts, and producing music."
If you could raid anyone's closet, who would it be and why? "I would love to have Harry Styles's whole wardrobe. Also Nick Grimshaw, Andie Clark (or as she's better known, St. Vincent), and Cara Delevingne."
Elements of Amy's Outfit
1. Boots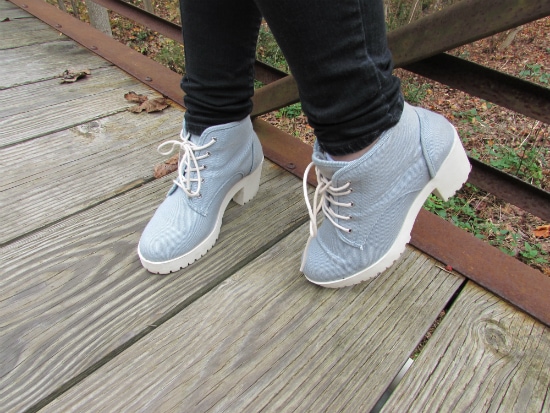 Amy's Zara boots provide a bit of color while also giving her some added height. They just scream "winter is here!" Their grip makes them perfect for trekking around campus on cold days while being a far cry from the average combat boots you see everywhere.
2. Graphic Tee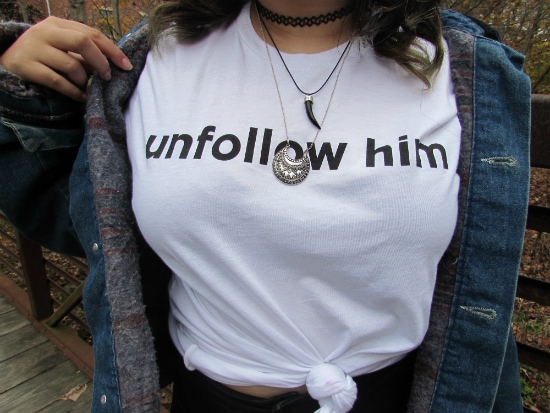 This graphic tee, which says "unfollow him," is merchandise from a concert Amy recently went to. She's expertly paired it with two necklaces and a jean jacket from Urban Outfitters. Let's be honest: Amy's look is just plain cool.
What do you think of Amy's outfit?
Would you wear her tee? What do you think of her boots? Comment below and let us know what you think!