While enjoying my summer break, I decided to take advantage of my surroundings and explore the beautiful and intimate campus of CSU-Dominguez Hills. It was along my sunny stroll that I noticed Asia also taking in the day. Asia's casual and cool outfit is perfect for any fun summer activity:
Asia 101
Name: Asia
School: CSU-Dominguez Hills
Year: Senior
Major: Communication & Public Relations
Let's Talk Fashion
Who or what inspires your style? "Pretty much anybody or anything around me. Like, anything that inspires me will probably inspire my style. If I like something someone's wearing I'm always going to stop and tell them. I like to let people know that their style inspires me."
Where do you like to shop? "I like to shop at places that not a lot of people like to shop at. I'm a big thrifter – I can definitely say that. And I like little urban stores. I like shopping at Fairfax and Melrose, places like that."
How would you describe your sense of style? "I'm kind of an urban hipster, I guess. I'm definitely kind of hippie-ish, so my style can tend to be on the hippie side, but it's also urban as you can see. I like comfort definitely, but I know how to dress up, too."
Why did you choose this particular outfit? "I choose this outfit probably because these Dr. Martens are my favorite boots at this time and I can just put them on with whatever. A t-shirt and some shorts. It was just the easiest thing to throw on – I really like comfort!"
What fashion advice would you give to other students looking to improve their style? "Be inspired by everybody else, but don't try to be like everybody else. Really try to have your own style, get to know what you like, and don't just look at what others like. Mix in a little bit of everything and that's how you come up with your own style."
What are your favorite trends right now? "I'm definitely very into tattoos and piercings right now. I don't plan on going overboard with mine but as you can see I definitely have some. I'm really into watches. It's definitely a trend I'm into right now, the different watches I can find. And high-waisted shorts. Who doesn't like a pair of high-waisted shorts?"
What do you do for fun – do you have any unique hobbies or interests? "I play basketball, intramurals, and I like to party definitely. I'm in my party phase of college right now so that's probably one of my biggest hobbies – just hanging out with friends."
If you could raid anyone's closet, who would it be and why? "Rihanna. I hate to be so basic but that girl has got some style."
Elements of Asia's Outfit
1. Statement Snapback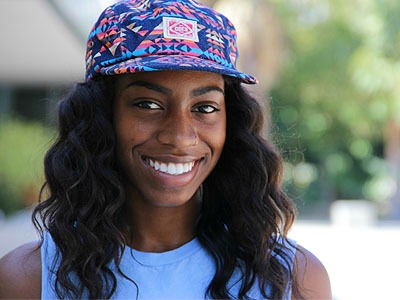 Asia's Obey hat from Urban Outfitters is, without a doubt, the most eye-catching bit of her ensemble. Its playful pattern speaks to Asia's urban style.
2. Beaded Shorts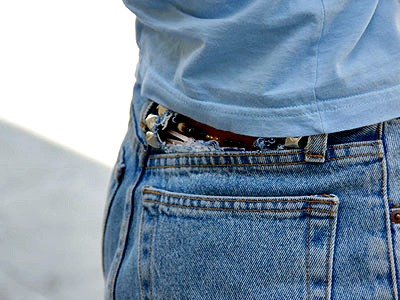 The beaded detail on Asia's American Apparel shorts makes them stand out from your typical high-waisted bottoms and adds some more personality to her outfit. She clearly has an eye for the details that make a memorable ensemble!
3. Leather Watch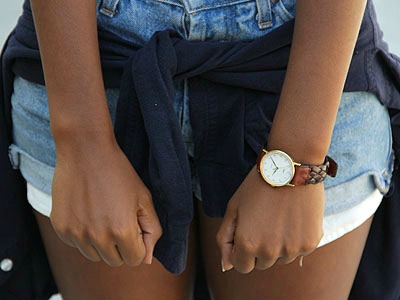 This practical, yet stylish watch really adds to Asia's casual and cool style. The braided leather adds a touch of that hippie inspiration Asia mentioned.
4. Peek-A-Boo Socks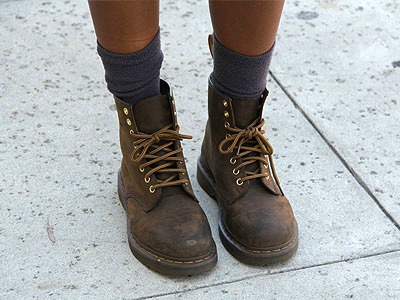 I gushed with Asia about her Dr. Martens, but what really makes them stand out is how she styled her socks. That effortlessly cool peek-a-boo look is yet another detail that really makes Asia's outfit stand out.
What do you think?
What do you think of Asia's outfit? Are you inspired by urban style? What kind of hats are you sporting these days? Do you love Dr. Martens too? Let us know in the comments!