Ithaca is known for its frigid winters and down-to-earth vibes. First year student Winnie exemplifies Cornell's atmosphere. With the knowledge that her campus will shortly become a snow-covered tundra, she chose to dress for the warm and sunny weather. Her bohemian look is perfect for the remaining warm days and showcased her comfy, laid-back style as well as her awesome tattoo.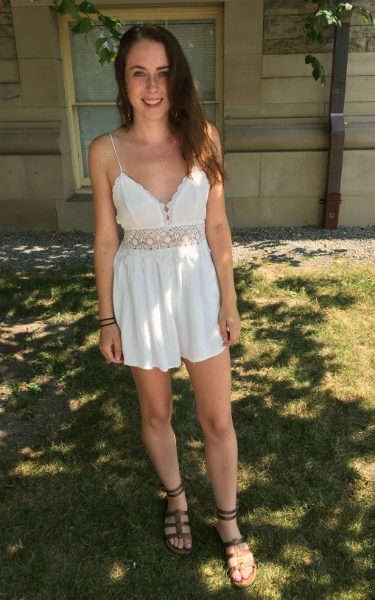 Winnie 101
Name: Winnie
School: Cornell University
Year: Freshman
Major: Undecided
Let's Talk Fashion
Who or what inspires your style? "The seasons. I like to wear clothes that fit the vibe of the season like dark clothes in the winter and airy, breezy things in summer. I find fashion from people walking down the street or a friend rather than the runway."
How would you describe your style? "Comfort-based and makeshift. I like finding pieces and pairing them with basics or finding a statement piece and pairing it with cool things. I wear whatever I'm feeling. Kind of eclectic."
Where do you like to shop? "Online at stores like Tobi, Forever 21 for simple basic layering stuff, thrift stores, and consignment shops like Salvation Army."
Why did you choose the outfit you're wearing today? "It's effortless but looks as if I tried hard and honestly I chose it because I don't have to wear a bra with it. Also, I don't have that much time to wear summery things before winter hits."
What fashion advice would you give to other college students interested in improving their style? "It's important to wear clothing that complements you rather than distracts from you. Be comfortable. Look at what other people are wearing and if you like it, wear it. Be brave. If there's something you like but don't think you'll ever wear, force yourself to wear it once and you'll love it. If you see something you like that's expensive, try to find a similar thing that's cheaper. "
What are your favorite trends right now? "I like that looser jeans are coming back. I think that people look their best when they are comfortable and confident and again, I do like the trend of being able to wear shirts without bras. I love cutouts and monochromatic outfits with different textures."
Do you have any favorite fashion designers? "I don't really have one but I really like this one store based out of Australia called Spell. It's two sisters who design and sew boho clothing. It's really expensive but I really like it."
What do you like to do for fun – do you have any unique hobbies or interests? "I make jewelry. I don't have a studio but I've done it in summer programs. I also like making granola. I made a special recipe and I'm really proud of it."
Elements of Winnie's Outfit
1. Lace Dress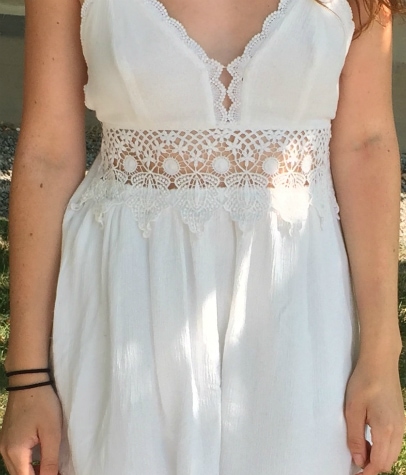 Winnie's flowy boho dress is not only comfortable, but the intricate lace detailing and delicate scallops add character and charm. Dresses are perfect for class because they can easily be slipped on when you're rushing to leave your dorm.
2. Earrings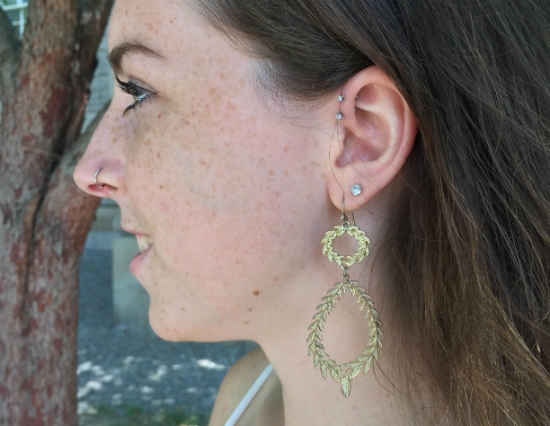 Winnie's long garland earrings are from a store in her hometown. They give her outfit a Grecian vibe and pair perfectly with her dress.
3. Gladiator Sandals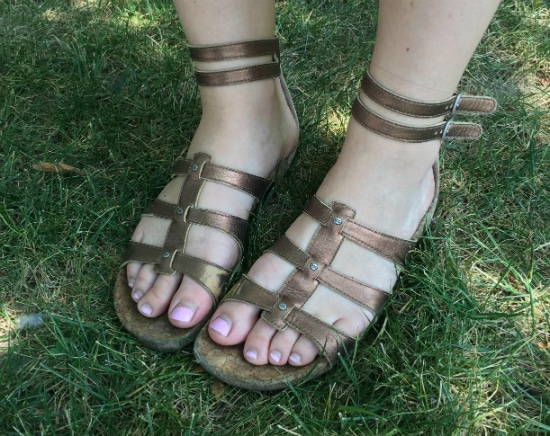 These hand-me-down strappy sandals are ideal for summer and show off Winnie's pink pedi. They add shimmer to her comfy and casual ensemble.
4. Moon Tattoo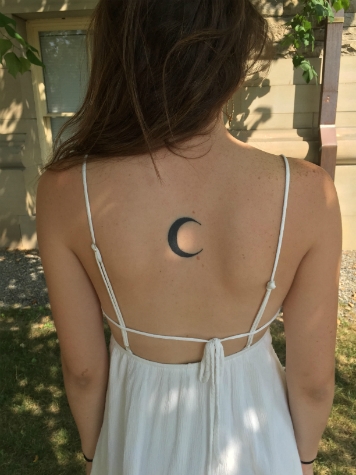 Winnie's dress puts her minimalist moon tattoo in the spotlight. She said that she got it because she appreciates its aesthetics. Though perhaps a controversial opinion, Winnie encourages others to get a tattoo if they like how it looks, even if it doesn't have a deeper meaning to them.
Would you wear Winnie's casual dress?
Do you like her boho sense of style? What are you wearing in these final days of summer? Comment below and let us know what you think!