I spotted Rachel on an unusually warm March afternoon as she was walking across the Arts Quad. She was dressed for the balmy 40 degree weather (at least, balmy by Ithaca standards), but the thing that really caught my eye was her fearless style.
Rachel's look screamed self-confidence, but it also reflected her friendly, easy-going personality.
Rachel 101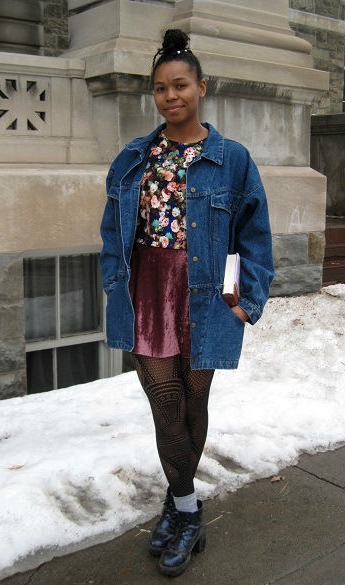 Year: Senior
Major: Industrial and Labor Relations
Hometown: Illinois
School: Cornell University
Let's Talk Fashion
Where do you like to shop? "I really like ASOS, which is online. Physical stores? Goodwill and Salvation Army."
How would you describe your sense of style? "I've really never thought about this. I don't know, I just like very… I guess kind of punk-ish sometimes. I literally don't know. Yeah, I would just say, like, basically whatever you want. I like a lot of colors and a lot of patterns so, like, [my style is] very much not about rules. Anti-rules. Maybe that's it! Anti-rules!"
Why did you choose this particular outfit today? "Well, I got this jacket this weekend at Salvation Army and it's warm out, so I wanted to have a little bit of leg out, but not too much. And I love velvet, so I just put all this together and it became an outfit."
Where did each piece come from? You said the jacket's from Salvation Army… "Tights are probably from H&M, the dress is from Forever 21… I'm pretty sure. The shirt is from ASOS and then the shoes are also ASOS."
Tell me more about your shoes. "They're pretty great. I have worn them all winter. They're gonna be like, done, 'cause I literally have worn them like every day this winter. The salt is, like, eating them. But then, you know, I like worn things."
Do you have any favorite trends? "I don't really have, like, a trend that I'm really into, but in terms of people that I really like, I'm really into Solange. She's probably my style icon. But, like, I'm not really into the whole trend thing so much."
You said that Solange is your fashion icon. If you could raid anyone's closet, would it be her? "Yeah, it'd probably be Solange. I mean, I'm thinking there are, like, lots of options, but it'd probably be Solange. Like, she has some great stuff."
What do you like to do for fun? Any hobbies, interests? "Usually sleep! That's definitely my hobby when I have time for it! Other than that though, I just like listening to music and like singing, so I just love being around music in general."
What kind of music? "I'm also not very good at describing it, but right now I'm super into this guy Coultrain. But I'm really into hip hop instrumentals, especially with jazz samples."
Elements of Rachel's Outfit
1. Denim and Velvet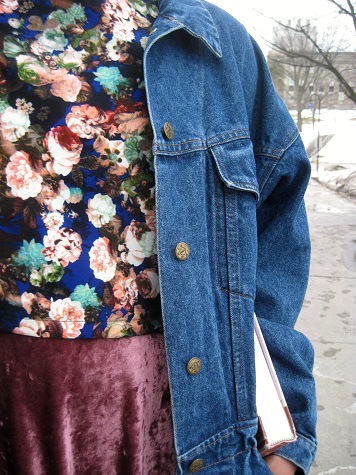 Rachel built her look around this loose-fitting denim jacket. Pairing it with the velvet dress was an inspired choice; it created an interesting contrast of colors and textures, and the floral bodice tied the two pieces together perfectly.
2. Weather-Worn Boots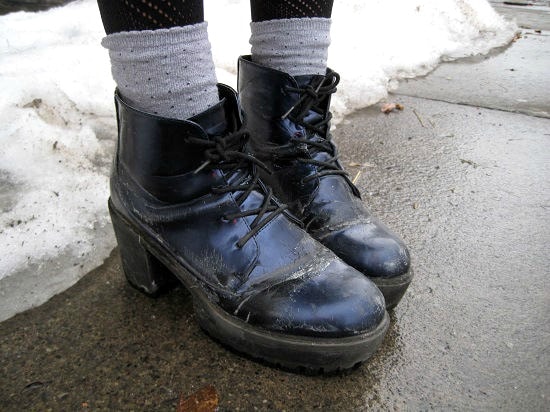 After talking to Rachel, I was seriously tempted to buy a pair of these boots for myself. She told me she'd worn them every day this winter and it's obvious why: even with all the wear and tear of an especially harsh winter, they still look super-cute. In fact, the worn-down look was a perfect fit with Rachel's comfy denim jacket.
3. Hair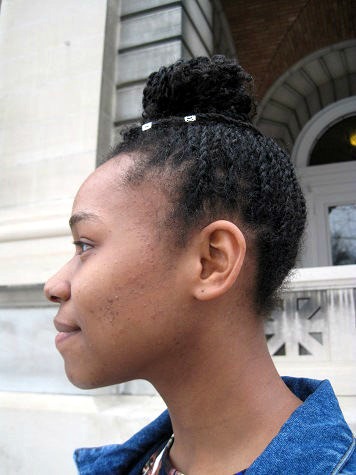 This simple, elegant hairstyle suited Rachel's face shape perfectly, and the silver clips were a fun little detail that added some extra visual interest to the look.
Would you wear Rachel's outfit?
What do you think about the mix of textures in her outfit? Do you love her boots? Comment below and share your thoughts!