With midterms upon us, I saw Jess as we were both hunkered down in the library. I loved her classic style paired with small personal touches. Once I spoke to her about her fashion choices, my appreciation for her interest in one-of-a-kind pieces grew.
Jess shows us how you can be budget-friendly while still developing a style that is uniquely yours.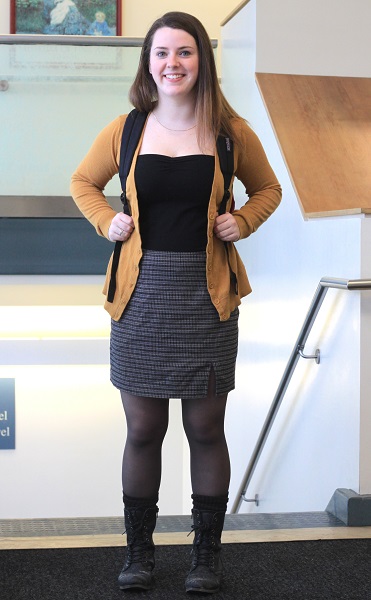 Jess 101
Name: Jess
Major: Psychology
Year: Junior
College: UMass Boston
Let's Talk Fashion
Where do you like to shop? "I like to shop at Forever 21, H&M, and thrift shops. I don't have too much money to spend on clothes right now. I'm ballin' on a budget."
How would you describe your sense of style? "More often than not I dress simple. Most my clothes are dark and earth-toned. I try to find pieces that will go with multiple outfits and have a classic look to them."
Why did you choose this particular outfit? "Since it is finally starting to warm up, I always get random urges to wear skirts and dresses. I love this dark plaid skirt I have, but also wanted to add color with a sweater."
What fashion advice would you give to other students looking to improve their style? "I would tell students to branch out and try new stores. I feel like it is so easy to limit where you shop once you find a store you like. But you'd be surprised what you might find at a local boutique or a consignment shop. For example, I bought this skirt off a clothing account on Instagram."
What are your favorite trends right now? "I really like that people are wearing more denim, whether it be jackets or high-waisted shorts or anything else. Trends like that usually reminds me of Rachel from Friends or Topanga from Boy Meets World, and both those characters had awesome styles. I also really like seeing skirts and dresses being paired with knee-high socks."
What do you do for fun? Do you have any unique hobbies or interests? "Whenever I have free time I enjoy doing crafts. Currently, I am into making cross-stitches and things like that."
If you could raid anyone's closet, who would it be and why? "Definitely Chloë Sevigny. She has this way of looking classy, casual, and edgy all at the same time. She makes fashion seem effortless."
Elements of Jess's Outfit
1. Mustard Cardigan + Plaid Skirt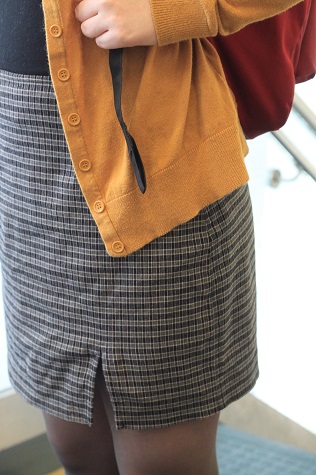 Jess caught my eye with her vintage skirt. The asymmetrical hemline is on-trend and plaid is the perfect print to rock on campus. I also love how she layered on a mustard yellow sweater. Her practical Jansport backpack provides an additional pop of color.
2. Earrings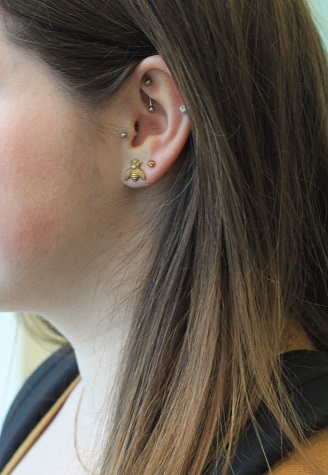 Jess accessorized this outfit with gold and silver jewelry, including a classic gold chain necklace and bumble bee earrings. Wearing mixed metals is in, and Jess' multiple piercings look cool and trendy.
Would you wear Jess's outfit?
Do you love wearing mustard yellow? What do you think of her bumble bee earrings? Share your thoughts in the comments section below!