As the weather in Missouri started heating up, so did the fashion here at Mizzou. Miranda fully embraced the first week of spring with a fun sundress and sandals.
Miranda 101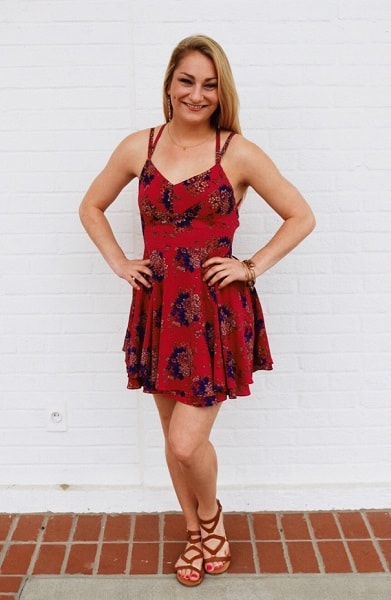 Name: Miranda
Year: Sophomore
Major: Journalism with an emphasis in Strategic Communication
Hometown: Wildwood, MO
Let's Talk Fashion
Who or what inspires your style? "I am constantly inspired by those around me and what I see in magazines. I love looking online and seeing what my favorite stores are getting in."
Where do you like to shop? "I love to shop at Urban Outfitters, Tobi, Lulu's, Forever 21, and Lululemon."
How would you describe your sense of style? "I would say my style is very girly. I love dresses, cut-outs, crop tops, and high-waisted shorts. I never leave the house without earrings on, and I love lipstick."
Why did you choose this particular outfit? "I just purchased this dress over the weekend and could not wait to wear it. I love throwing on a simple sundress in the spring, and I am in love with the back of this dress. Also, the Steve Madden sandals are my favorite. I felt so confident in this outfit. It embodies my style."
What fashion advice would you give to other college students looking to improve their style? "Just because everyone else falls into the typical shorts and a baggy t-shirt look, it doesn't mean you have to. You can throw on something else in the same amount of time and look like you care a little more about dressing nice for class. Everyone notices and compliments you on the little extra effort you put into your outfit. Why blend in?"
What are your favorite trends? "I love high-waisted shorts! I have way too many pairs, but I wear them all the time. I also have recently started to like rompers."
Do you have any favorite fashion designers? "I love anything and everything Kate Spade. Purses, jewelry, watches… I love it all."
Do you have any unique hobbies or interests? "I danced for 16 years, but now I am really into hot yoga. I love to go shopping and hiking with my friends. I am currently the New Member Coordinator for my sorority and am honored with the responsibility of sharing my passion for my chapter with them. I volunteer with children at the Crossing Church in Columbia, and am excited to serve with Mizzou Alternative Breaks this spring break in South Carolina working with animals."
If you could raid anyone's closet, who would it be and why? "Honestly, I'd rather just raid Pinterest! Why narrow it down to one person's closet? But if it has to be a person, probably Selena Gomez. I love her fun, edgy style."
Elements of Miranda's Outfit
1. Bright Colors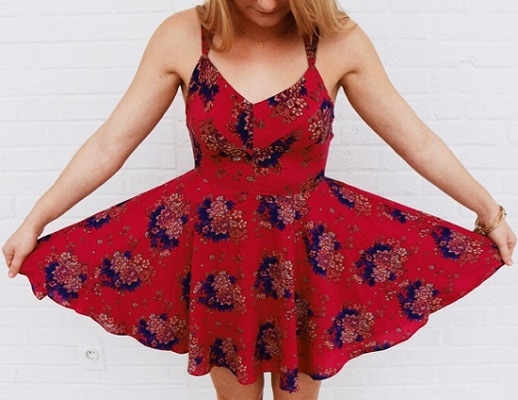 The rich jewel tones of Miranda's Urban Outfitters dress pop against the winter foliage here at Mizzou. The ornate floral pattern is perfect for spring and makes this dress stand out from the rest on campus.
2. Bracelets & Bangles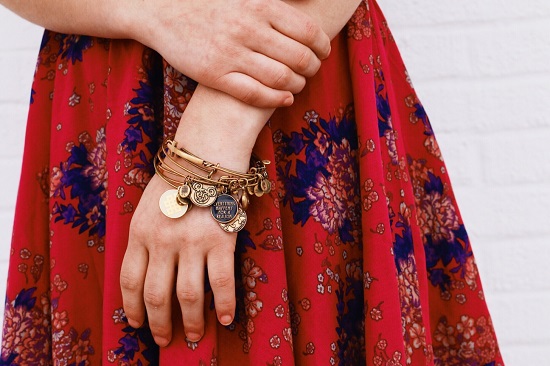 Miranda had quite the arm party going on, and she told me the significance of each Alex and Ani bangle:
"The first one I got says 'everything happens for a reason.' I always have said this with my mom. It's our saying. I have a cross and the endless knot because I am a Christian constantly looking to improve my faith. The Cancer zodiac sign is one of my favorites. My zodiac sign describes me perfectly; emotional, loving, caring, moody. I also have my birthstone and the Disney princess one. I've always loved Disney and my family goes there all the time."
3. Back Cutout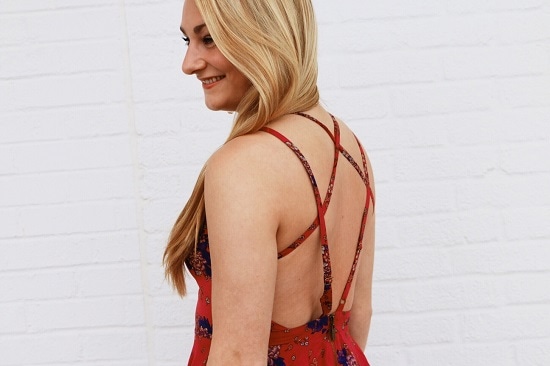 Miranda's dress features a strappy, cutout back, which adds another interesting element to her outfit. A sundress like this can make an easy transition from spring to summer. We're sure Miranda will be wearing her new dress a lot this season!
Would you wear Miranda's spring-centric outfit?
Do you also love her sundress as much as we do? What do you think of her bangles? Comment below and share your thoughts with us!