I've always admired Joelle's sense of style. Whenever I spot her on campus, her outfits always look incredibly cute, yet also completely effortless – it's kind of unfair. The day I spotted Joelle in her trendy high-low dress, I had to take the opportunity to chat with her about her fashion favorites as well as her California style.
Joelle 101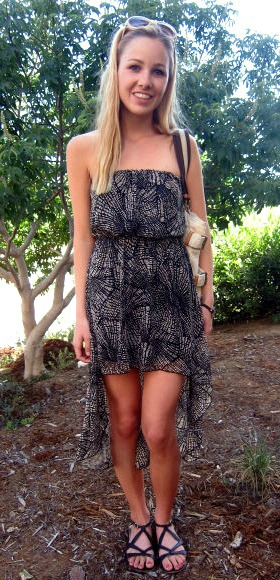 Name: Joelle
College: California Polytechnic State University San Luis Obispo
Major: Business
Year: Sophomore
Let's Talk Fashion
Where do you look for fashion inspiration? "I really like looking at Pinterest for fashion inspiration. I also find inspiration in the things my mom, sisters, and cousins wear because I get their hand-me-downs."
How would you describe your sense of style? "Comfortable, California, and cute. I love casual basics like Rainbow sandals, jean shorts, and tank tops."
Where do you like to shop? "I really like shopping at the San Diego Buffalo Exchange and my sister's closet."
Why did you choose this outfit today? "It was very warm outside today so I wanted to dress appropriately (and soak up some sun)."
What fashion advice would you give to other students looking to improve their style? "Always add girly touches to whatever you're wearing."
What are your favorite fashion trends? "I really like high-low skirts and cute beaded headbands."
What is your favorite part about spring? "I like having an excuse to wear a bathing suit (spring is the beginning of bathing suit season around here) and knowing that summer is coming soon!"
What is your spring staple piece? "My Rainbow sandals!"
What do you like to do for fun? "I like to go to the beach, go swimming at the pool, and watch movies on Netflix."
Elements of Joelle's Outfit
1. High-Low Dress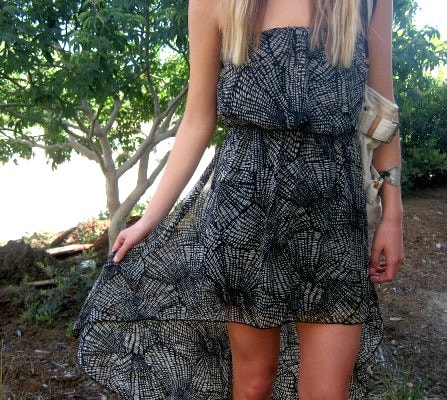 The asymmetrical hemline on Joelle's dress is right on trend this season and is a light and breezy choice perfect for rising temperatures. The dress' elastic waistline flatters Joelle's shape by cinching her body at the narrowest part. Both the pattern and flowy material of the dress are sure to catch eyes around campus.
2. Statement Jewelry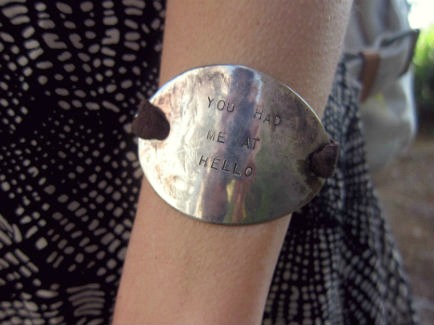 Joelle's unique bracelet gives her outfit an unexpected pop of hardware detailing. The engraved message gives her accessory personality, plus it's a great conversation piece!
3. Louis Vuitton Tote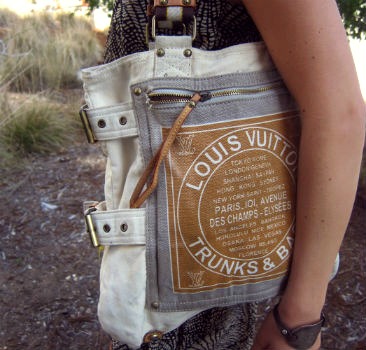 The size and shape of Joelle's LV bag make it perfect for carrying notebooks to class. The bag's casual appearance contrasts with Joelle's dressy outfit to create a well-balanced look for campus life. Also, a tote is an ideal carryall for the transition from spring semester to summer break — it can go straight from toting textbooks to carrying a towel and sunblock for the beach!
What do you think?
How do you like Joelle's outfit? How do you style high-low skirts? Are you inspired by California style? Let us know in the comments below!