I loved talking with Morgan about her unique sense of style. Not only did she have a creative eye for fashion, but her positive and outgoing personality made for a fun interview! Morgan's passion for thrifting, love of shoes, and affinity for mixing girly elements with masculine pieces is continuously present in her style.
Morgan 101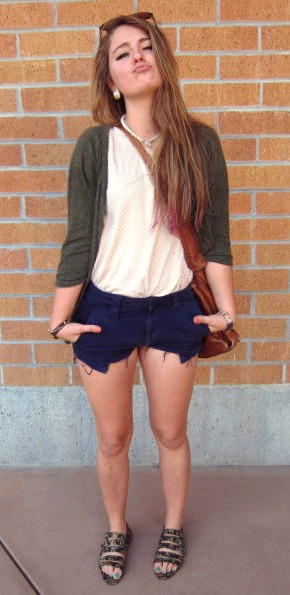 Name: Morgan
College: California Polytechnic State University at San Luis Obispo
Year: Freshman
Major: Agricultural Business
Let's Talk Fashion
How would you describe your sense of style? "It's very different. I'm not worried about what other people think of my outfits. I just go with it and change it often. I will go from wearing a Hawaiian shirt to a classy black dress to soccer gear. It all depends on my day. But I always base my outfit on the shoes I am wearing that day."
What sparked your interest in fashion? "I used to care a lot about what other people thought of me. However, during my junior year of high school, I was dating a guy who was crazy out-there and helped bring me out of my shell. To stop caring how other people view your fashion is very hard. I whipped out my overalls and was criticized like no other. People definitely noticed and thought 'of course Morgan would wear that.' Even teachers were noticing. That year was when I decided to change my wardrobe and I developed a confidence in what I wore. And now, I legitimately wear whatever. I never feel uncomfortable in my clothes."
Where do you like to shop? "Thrift stores, Buffalo Exchange, Anthropologie, Urban Outfitters, and Nordstrom Rack. But mostly thrift stores!"
What are your favorite trends right now? "Trends are interesting. I started cutting off Hawaiian shirts because I saw a girl on a little blog wearing one. Girls don't typically wear those, so I liked that. I wore heart glasses a lot because they look really flattering on girls. But, I stopped wearing them after so many people started following the trend because of music festivals. I also like Doc Martens and am hoping to invest in a pair of those. When I pick up a trend, I don't like to follow it anymore if it becomes too popular. I just don't like to be put into a box."
What fashion advice would you give to other students looking to improve their style? "Confidence! You can pull off a trash bag if you have the confidence to match it. If you don't like your outfit one day, just put in a pair of headphones, listen to good music, get your mood up, and just rock it! Walk like you love what you're wearing and people will see your confidence."
What are your spring fashion must haves? "Floral shorts, nails painted always, and some rockin' shades."
What are you looking forward to most about summer? "I can't wait to whip out a bathing suit, my pair of cutoff overalls, and just hit up the beach. I am looking forward to wearing more dresses and summer beach hair."
What do you like to do for fun? "I am a barista at a coffee shop downtown. I am addicted to coffee! I also play on an intramural soccer team, watch a lot of movies, go on doughnut runs, scooter with friends, and listen to a lot of good music."
Elements of Morgan's Outfit
1. Thrifted Book Bag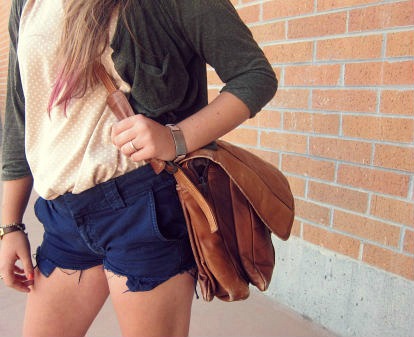 Morgan's oversize bag is perfect for carrying books and a laptop around campus, while adding a vintage, collegiate element to her classic shorts-and-shirt combo. Leather accessories are an easy way to give any outfit an instantly edgy upgrade.
2. Mix and Match Jewelry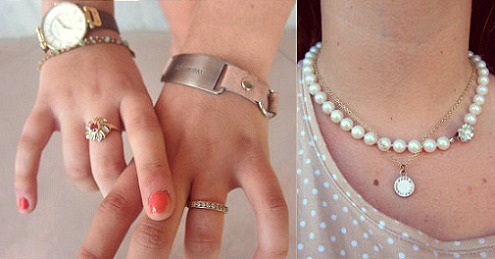 Each of Morgan's accessories has a different style. Her feminine earrings and pearl necklace are thrifted, her classic rings and bracelet are from her mom, and her oversized watch is from Macy's. By layering them together, she creates a fun look that complements her carefree personality. Stacking multiple pieces gives her outfit dimension and makes it more interesting to the eye.
3. Printed Sandals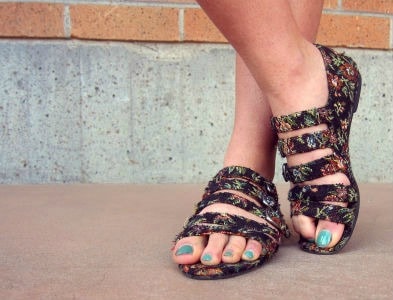 Morgan styles outfits around her shoe of the day and she picked up this pair from a boutique in San Diego. Patterned sandals are a fun, stylish alternative to your go-to flip flops. The tiny heel on the shoe is comfortable enough for walking to and from class, while the open toe area allows Morgan to show off her bright spring pedi!
What do you think?
What do you think of Morgan's outfit? Do you shop thrift stores? Do you love Morgan's patterned sandals as much as we do? Tell us your thoughts in a comment!