During the SLO transition between spring and summer, the sun is scorching hot by lunch, but later in the evening temperatures drop dramatically as the coastal winds fly through campus. The spontaneous weather may put some girls in a fashion rut, but not this fashionista.
Kayla's outfit is perfect for the transitioning weather while still sporting the season's hot trends. Her girly-meets-rugged style makes for a comfortable outfit while still looking chic!
Kayla 101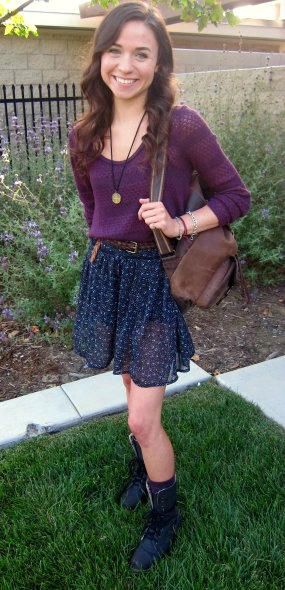 Name: Kayla
College: California Polytechnic State University at San Luis Obispo
Major: Biochemistry
Year: Sophomore
Let's Talk Fashion
How would you describe your sense of style? "A mixture! I like balancing girly, light and airy with rugged or military styles. But the most important thing is being comfortable!"
What are your summer fashion must-haves? " This summer, my must-haves are Ray-Bans, boat shoes, lace shorts, and military-style clothes."
What fashion advice would you give to other students looking to improve their style? "Don't be afraid to try on something different or come out of your comfort zone. It might surprise you and look better on than it did on the hanger."
What are your favorite trends right now? "My favorite trend right now is boat shoes. I also like the cuffed pants look, especially because I'm short. It comes in handy when pants are a tad long. I like how it can be kind of preppy and showing your ankles makes the pants more flattering."
What do you do for fun? "I like going hiking and exploring. I also like trying new restaurants with interesting concepts."
What are you looking forward to most about summer? "This summer I am living away from home and working as an intern at a biotech company in San Francisco!"
Elements of Kayla's Outfit
1. Floral Print Skirt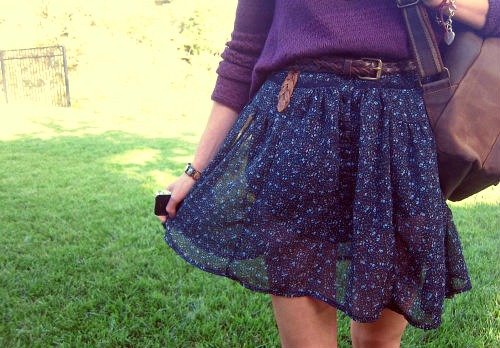 Kayla's flowy skirt from Charlotte Russe is the perfect material for the hot afternoon. The small floral print and the sheer design add girly touches to her ensemble. Kayla wears her skirt high-waisted and cinched with a thrifted belt to emphasize her narrow waist under her Forever 21 sweater.
2. Lace-Up Combat Boots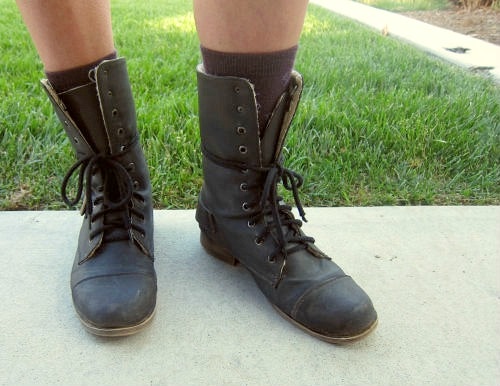 Mixing masculine elements with feminine ones is a hot trend right now, and Kayla plays with it by pairing her LC Lauren Conrad combat boots with girly elements. The contrast between the styles makes the outfit appear more interesting and fun.
3. Leather Backpack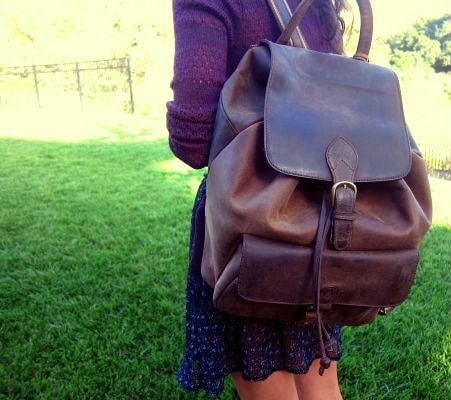 To carry books around campus, Kayla grabs her backpack, which she purchased from a handmade leather store in France. The oversized nature of the bag allows Kayla to pack everything she needs for classes and labs without it looking overstuffed. The bag's neutral color also makes this a chic addition to nearly any outfit.
What do you think?
What do you think of Kayla's outfit? How do you incorporate masculine elements into your style? What are you doing this summer and how will you dress for that occasion? Let us know in the comments below!