When Michaelmas term ends, Oxford becomes a different place entirely. For two weeks, the city is filled with nervous teenagers here to interview for a spot at this beautiful university. It can be a confusing and nerve-wracking process, so help is at hand in the form of current students, who look after the candidates during their stay in Oxford.
One such helper is Nabila, whose effervescent personality and friendly manner would reassure even the most nervous of applicants. Her style is quirky, laid-back, and low-maintenance, so I caught up with her to talk about her fashion inspiration.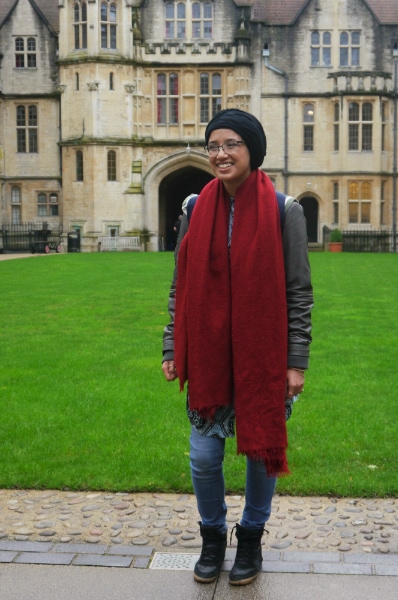 Nabila 101
Name: Nabila
Hometown: Oxford, England
School: Brasenose College, University of Oxford, England
Year: Junior
Major: Biochemistry
Let's Talk Fashion
How would you describe the outfit you're wearing today? "This is what I would wear if I had more than five minutes to get ready; if I got up at 8:00 and not 8:45. I very much pick things that I just see and like, and that I'm comfortable [in]. I rarely wear nice things just because they're nice. They have to be comfortable."
How would you describe your style? "Probably a bit of a mish-mash. Like, nice but comfy. I'll wear a long shirt and jeans, and my high-tops or Converse, and if I'm going out I'll just put wedges on. I like anything I can dress up quite quickly to look different."
Where do you buy your clothes? "I like H&M. And on Thursdays there's an antiques market and I get loads of shirts from one guy there. My dad bought me that kind of stuff in my last two years of high school, like shirts and my first pair of Doc Martens, and it just kind of rolled from there. I think that was the beginning of my super comfy style! I like being comfortable and shirts do that quite well."
If you could go anywhere in the world to shop for clothes, where would you go? "I really want to shop in Morocco – mostly because I really want to go to Morocco, but also because I really love the reds and oranges that they wear a lot. I love all their loose clothes and their accessories, so I'd want to get some handmade stuff."
Who is your style role model? "I don't want to say that I dress like my dad, but he has a way of reminding me who I am. He knows me really well and bought me clothes before I realized I liked them. Every time I see my dad I want to dress more like myself, in a way. I do have a lot of his shirts! He has a lot of really nice shirts and the habit of giving them to me, as well as big cashmere jumpers, and this scarf is from my dad!"
Do you follow any style bloggers? "I really like Instagram. I'm not good at checking blogs regularly. I got a lot of ideas from hijabis who post their style on Instagram, like Dina Tokio. It's nice to realize how much stuff you can pull off while wearing a headscarf, and that there aren't restrictions on what you can wear, so you can just be yourself. Modest style means something different to everyone, so some girls wear long skirts and look flawless, but I have to get on my bike every day and the amount of times I've got stuck in my bike chain while wearing a skirt is horrendous! It's nice to be able to see people dressing modestly and adapt that to your own style. The rise of modest fashion online has had a huge impact on how I see my own style."
What advice would you give to students looking to improve their style? "I would say just go for it! Don't worry about whether you can pull something off or not. If you see something that you really like, buy it, wear it if you're feeling brave, and enjoy it. Just do it!"
Elements of Nabila's Outfit
1. Shirt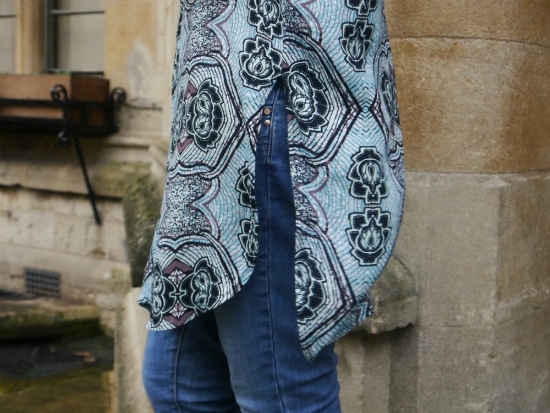 Nabila loves shirts and this H&M example is a beauty. The closed collar stops it from being too tunic-like. I love its longer hemline and lotus print. Also, the side slits are fun without being too revealing.
2. Necklace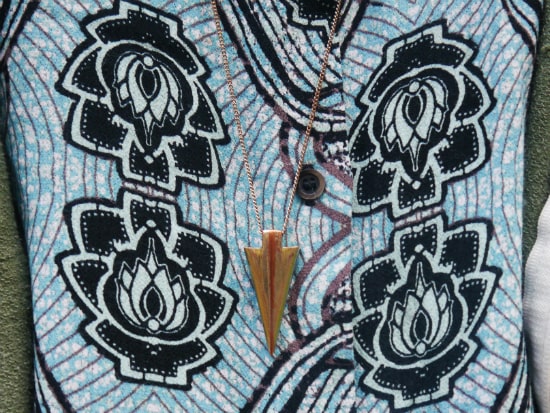 This gold pendant is simple but eye-catching, the sharp lines providing a gorgeous contrast to the floatiness of the shirt. Nabila is already wearing a lot of jewelery on her hands, so she is careful not to overdo the rest of her accessories.
3. Bag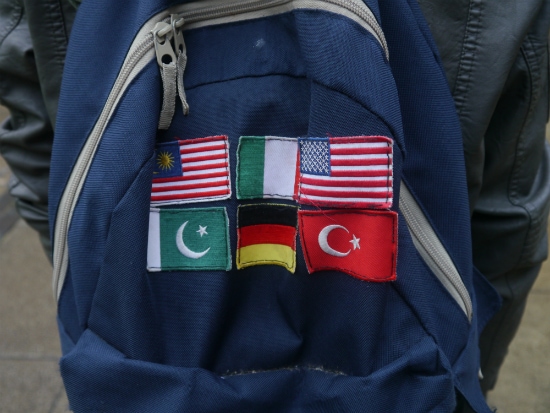 This backpack, with hand-sewn flag patches, was a present from friends and is Nabila's quirky way of letting her individuality shine. Customizing your own items, whether with badges or sewing, is a great and inexpensive way of making a standard piece something special.
4. Headscarf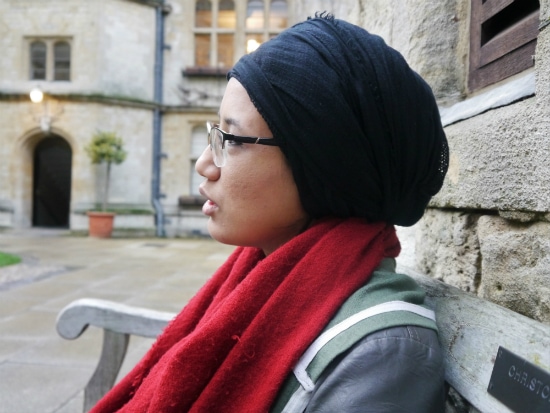 "I love bold plain colors. A lot of my shirts are patterned, so I'll wear a plain scarf and a patterned top, or a patterned scarf and a plain top. I go for black a lot because it's really simple to match with things, but I love plain colours, as they're easy to work with. It's a really nice way of adding something to an outfit, almost like an accessory! It's fun to play with different ways of tying it, too."
5. Glasses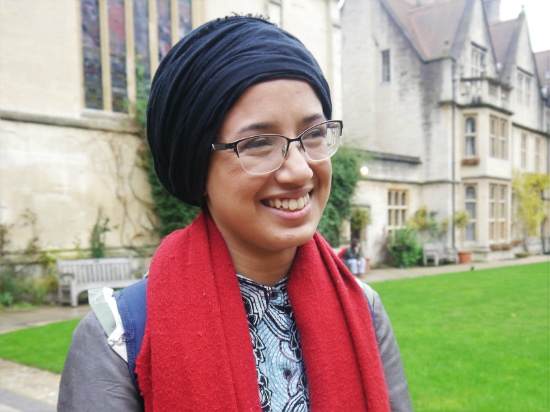 Nabila's glasses are frameless at the bottom, which really opens up her face. Glasses like hers are a great compromise for people who want to try out larger frames but are worried about their eyes looking too small.
6. Layered Bracelets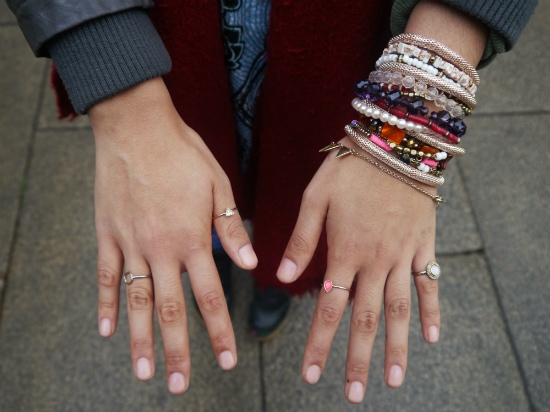 "I started wearing these bracelets years ago, as a kind of rebellious thing. My mum thought it was really tacky and I thought it was really cool, so I just did it anyway. I wear the same set of bracelets every day: lots of them are quite pretty and I've really enjoyed having this huge stack of bracelets since I was 16. I think it adds a little bit to an outfit, even something plain like a hoodie and jeans. It instantly makes you feel more ready for the day."
What do you think about Nabila's look?
Do you love her customized backpack and bracelet stacks? Have you ever been inspired by your father's style? Comment below and share your thoughts!