One thing I was excited about before moving to Nashville was the fashion that this city has to offer. There is an effortlessly cool style that many Nashvillians have down pat, and it's characterized by funky jewelry and hipster combat boots. When I saw Laura's outfit, I realized it was a perfect representation of this "Nashville look."
Laura also happens to be one of my closest friends at Belmont. We both moved here from California in August, so we constantly joke that it was a gift from above we found each other on orientation day (cheesy, I know). I love the way she always seems to keep a little bit of California in her outfits, plus she has the perfect beachy waves. When I saw this combination, I knew she needed to be on College Fashion, reppin' Belmont and Nashville.
Laura 101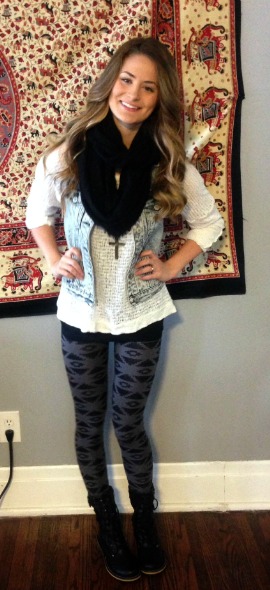 Name: Laura
College: Belmont University
Year: Junior
Hometown: Livermore, CA
Major: Communications with a minor in Music Business
Age: 21
Hobbies/Interests: Hanging out with friends, hiking, and just being outside
Let's Talk Fashion
Who or what inspires your style? "I love getting ideas from online boutique sites and applying that to a new outfit idea. I also follow a lot of Instagram pages that are centered on the latest trends. When they post an outfit I like, I will screen shot it and save it for when I go shopping."
Where do you like to shop? "I am definitely an online shopper. NastyGal, Tobi, and SaboSkirt are my top three go-to sites. I enjoy the pressure-free feeling of online shopping. If I do go to an actual store it will usually be Nordstrom, Urban Outfitters, or Brandy Melville."
How would you describe your sense of style? "I like to be pretty simple in the way that I dress, with a unique twist to it. I never wear many accessories, and I like to keep my color palette pretty neutral. But I try my best to keep updated with the latest trends and to purchase unique or different pieces to help my looks stand out."
Why did you choose this particular outfit? "It has been quite cold in Nashville and this has been a comfy-casual outfit that I feel cute in while staying warm. I love this jean vest because I can wear it with so much, and I feel it [makes my outfit stand out]."
What fashion advice would you give other college students?" A little can go a long way. Learn how to make more outfits out of what you already have before spending money on a new outfit. Being a broke college kid, this concept has helped me quite a lot."
What are your favorite trends? "I've been obsessed with leather leggings, but in particular leggings with leather accents. You can dress them up or wear them casually. I have also been really into the flared pattern pants [trend]. Match them with a cropped sweater and it's so unique and trendy!"
Who are your favorite fashion designers? "I'm honestly not too into major fashion designers. My favorite brands however are OneTeaspoon and For Love & Lemons."
What do you do for fun? "Going out with friends. Cooking. I love being outside and exploring new places!"
If you could raid anyone's closet who would it be and why? "Stephanie Smith! She is a model for Tiger Mist and SaboSkirt. I follow her Instagram and her casual beachy wardrobe is all I could ever want!"
Elements of Laura's Outfit
1. Patterned Leggings and Black Combat Boots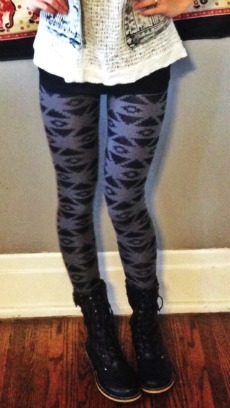 Laura's edgy printed leggings were what originally drew me to this look. It's so much fun to make bold outfit decisions and this loud print certainly makes a statement. These leggings are ideal for the current Nashville weather and are also majorly comfy for a long day of work, classes, and internships. College students are always busy, and these babies are great for a girl on the go.
The black combat boots are also a closet essential if you live in the city of Nashville. They can be worn with anything and always give off that effortlessly cool vibe. Here, they add some extra edge to Laura's on-trend leggings.
2. Cream Sweater and Distressed Denim Vest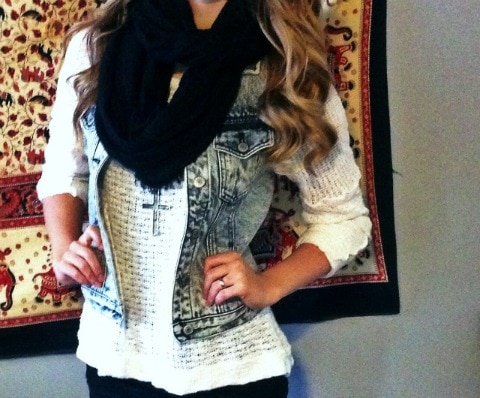 Whenever you can take a denim vest and make it work in the middle of winter, I have to applaud you. Like Laura said when I interviewed her, it is so important to reuse wardrobe staples when money is tight, and that's just what she is doing with this vest.
The light wash of this distressed denim vest from Brandy Melville pairs perfectly with Laura's open knit cream sweater. This vest is so versatile – once it gets warmer out, Laura can pay homage to her Cali roots by pairing it with a sundress and sandals.
3. Loose Beachy Curls and Black Infinity Scarf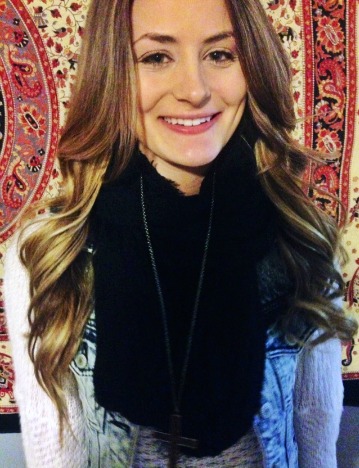 This black infinity scarf is another really awesome closet staple to own. Laura, always the resourceful college student, told me she highly recommends purchasing one nice scarf that you can wear with anything for the cold winters.
Laura is a huge believer in Kerastase hair products and attributes her fabulous and healthy locks to taking prenatal vitamins. While we don't recommend taking prenatal vitamins for hair growth, we do love Kerastase and think Laura's beachy waves are absolutely gorgeous!
What do you think of Laura's Nashville-meets-California look?
Do you love her laid back, effortless style? Are you a fan of combat boots and go-to scarves? What do you think of cropped denim vests and patterned leggings? Let us know what you think by leaving a comment below!