The weather in Wisconsin is very unpredictable this time of year. On some mornings, I wake up to the pouring rain and by midday there will be an inch of snow on the ground. Finicky weather makes outfit planning a difficult task!
When I was walking on Alverno's campus earlier this week, I spotted Jenny. She had the perfect fall-to-winter transition look to deal with unplanned weather changes. From her darling hat to an edgy detailed top and funky footwear, she inspired me to rethink my winter wardrobe.
Jenny 101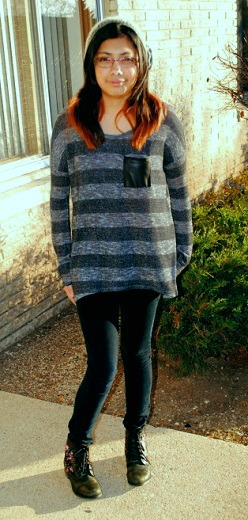 Name: Jenny
School: Alverno College
Major: Nursing
Year: Senior
Let's Talk Fashion
Where is your outfit from? "My shirt is from Macy's, my boots are from Steve Madden, and my hat is from Forever 21. Believe it or not, I can't remember where I got my skinny jeans, but I wear them like crazy!"
Where do you like to shop? "American Eagle, H&M, and Macy's are my go-to stores. Those stores are reasonably priced with really great pieces."
Describe your sense of style. "My style fluctuates from day-to-day from preppy to punk. I like to find pieces that are different than what is super popular at any given moment. I don't like to really follow the trends. I'm just me!"
Why did you choose this outfit? "I originally bought the shirt for the back detail, but it turns out it's comfy, too! The leather pocket and back panel make it different, and I'm really into things that are out of the ordinary. All of the other pieces just went well with it."
What fashion advice would you give to fellow college students? "Dress for your personality no matter what others will think of it."
What is your favorite trend right now? "I can't think of one trend in particular; I simply love dressing in fall because I can wear scarves, hats, and boots."
Do you have a favorite fashion designer? If so, who? "I like the brand American Rag because their clothes fit my personality. They have a grunge vibe, but everything is put together very stylishly."
If you could raid any celebrity's closet whose would it be? Why? "Avril Lavigne, hands down! I love the way that she dresses. She has a punk style that I really admire."
Elements of Jenny's Outfit
1. Floral Combat Boots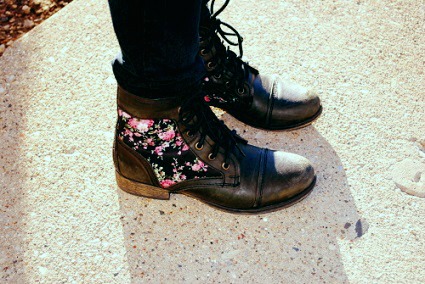 From the front, these shoes look like very traditional combat boots. However, when viewed from another angle, it's easy to see that the floral patches add some serious pop. These boots are girly and grungy at the same time.
It was clear in the interview that Jenny is very inspired by both punk and preppy styles, and these Steve Madden boots are a great happy medium between the two.
2. Knit Beanie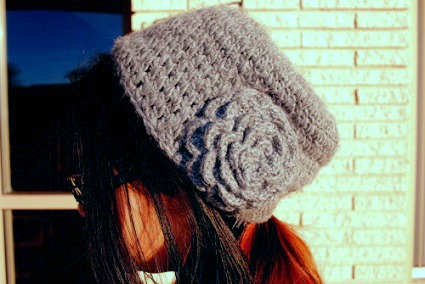 Form meets function with this adorable yet warm beanie. A hat is a great way to spice up an ensemble while keeping you warm for the upcoming winter months. The added crochet flower is a subtle and feminine touch.
3. Leather Back Detail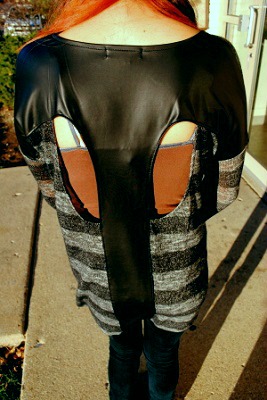 What initially caught by eye with Jenny's outfit was this insanely cool top. The back detail had me awestruck! She added a camisole underneath in order to not show too much skin during class, but it could easily be taken off for a night out.
Leather details are a top trend for fall and Jenny executed it perfectly; it's just the right amount of leather to play up that punk element that she loves.
Now we want to know what you think!
Do you think the back detail of Jenny's shirt is chic and cool? Do you have combat boots? How are you making the transition from fall to winter with your wardrobe? Let us know by leaving us a comment below.