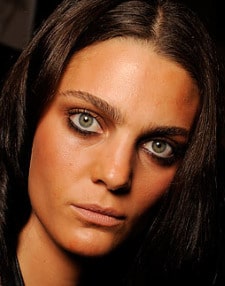 Photo Credit: Style.com
Here in NYC the city is abuzz with Fashion Week mania! Hipster-favorite Erin Wasson showed her Erin Wasson x RVCA collection this past week, and the fashion totally reminded me of what I see in my classes all the time. However, the makeup is what really caught my attention. Check out Marina's eye makeup here–she's rocking a smoky eye on the bottom, and a more neutral lid on the top!
To get this look: First, apply an eye primer on your lid and under your lower lashes like this cult fave from Urban Decay. Then, line top and bottom with a black eyeliner pencil. Next, use a slanted brush to apply a deep dark grayish black shadow like Sephora Colorful Mono Eyeshadow in Black Flame right on top of your lower liner. Be liberal with it, but clean up any stray powder so it doesn't look sloppy. Dust over your entire lid with a matte eyeshadow in taupe or brown like Revlon Matte Eyeshadow in Rich Sable, and finish the look with quick swipes of mascara on your upper and lower lashes.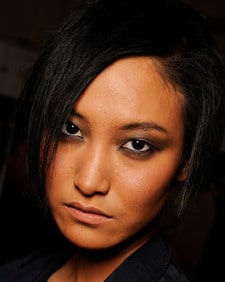 Photo Credit: Style.com
This look seems like it's almost ironic–it reminds me of the way that college students usually look: hip, but a little bit droopy eyed. 20-somethings could have been Wasson's inspiration, since Mary Kate Olsen has been spotted rocking a similar makeup style on the red carpet.
So what do you think? Would you wear a reverse smoky eye? Have you been following the Fashion Week beauty trends? Tell us in the comments!