As a beauty product junkie who's also environmentally conscious, I'm constantly at odds with myself when trying to purchase beauty products. For example, I want a moisturizer that works but doesn't contain stearic acid (animal fat), and a body wash that will get my skin clean but doesn't contain phosphates (chemicals that hurt the environment).
It's a constant dilemma – either I use a product that doesn't work well, or I use something that works but hurts my health, animals and the environment. It's a lose-lose.
That's why I was psyched to hear that Victoria's Secret just came out with an AMAZING new product line that combines the best of both worlds! Victoria's Secret PINK Body is a new bath and body line that's natural, organic, US sourced, 100% vegan, and is never tested on animals. Even the packaging is eco-friendly!
Even better? The products WORK. My friend Amanda hooked me up with some of the products to test out, and I had to share with you guys – I've never been this amazed with an organic beauty line before!
VS Pink Body Products – My Picks
Here are some of the new PINK Body products you've just got to try: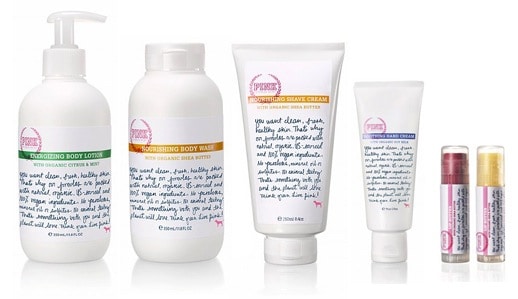 Energizing Body Lotionwith Organic Citrus & Mint – A light moisturizer with skin brighteners and a soft citrus scent. It's not too greasy or heavy, but gives your body the perfect amount of moisture. The scent is great and really did help wake me up this morning when I put it on.

Nourishing Body Washwith Organic Shea Butter – Mmm, this one smells amazing and works just as well. It's a creamy body wash that hydrates your skin and won't leave it feeling dry after a shower. Perfect if you get dry skin in the winter like I do!

Nourishing Shave Creamwith Organic Shea Butter – If I were to pick only one of the PINK Body products as a must-have, this would be it. It's one of the best shave creams I've ever used! The scent is amazing, and it reminds me of Bath & Body Works Warm Vanilla Sugar. So if you like that scent, you'll love this shave cream. It's ultra-moisturizing and luxurious, and left my legs super-smooth. Truly a must-buy.

Soothing Hand Creamwith Organic Oat Extract – This is a rich hand cream that isn't overly greasy with a fresh floral scent. If you get dry hands in the winter months, the Soothing Hand Cream is a product you'll want to try. Even better, it doesn't contain any parabens, sulfates, petrolatum, mineral oil, or paraffin. Just naturally-derived ingredients to soothe your skin.

Lip Butterwith Organic Shea Butter – Ah, this stuff is fabulous – a moisturizing lip balm with a hint of lip color. And unlike those other "tinted lip balms", this one actually has some color to it. It's almost like a sheer lipstick that softens your lips and adds shine. I have this in "Fresh" (a mid-tone pink), and "Bare" (a nude shade), and have received lots of compliments on my lip color when wearing either one. Highly recommended!
Where To Buy
If you want to pick up some VS PINK Body products for yourself, they're available at Victoria's Secret and Victoria's Secret PINK stores around the country, or at VictoriasSecret.com.
Your Thoughts?
How do you feel about natural, organic, and vegan beauty products? Do you believe in natural ingredients, or are you more concerned with a product that just WORKS? Are you as excited as I am that VS PINK is finally going organic? Leave a comment and discuss.
EDIT:
Here's a coupon you'll want to use if you wanna try a VS Body product: This coupon is good for a free 10 oz. Energizing Body Lotion. Just print the page out and bring it to a Victoria's Secret before March 2 to get your free lotion!