Traveling over spring break can present the hassle of figuring out what to bring in your carry-on to keep you fresh and looking fabulous. These beauty finds are awesome for travel or even just for your purse.
The TSA has become more strict with what you can and can't bring on airplanes. Currently you can't bring any liquids, gels, or aerosols that are over 3 oz. All of the beauty products below are flight-friendly, but are also great for any travel setting because of their smaller sizes.
Hair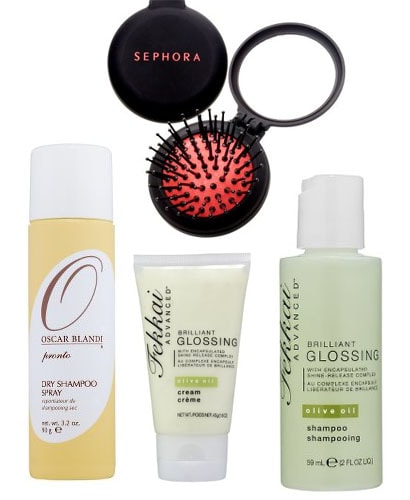 Product Information: Oscar Blandi dry shampoo-Sephora, Travel hairbrush- Sephora, Fekkai Brilliant Glossing Creme- Sephora, Fekkai Brilliant Glossing Shampoo- Sephora.
Packing smaller-sized beauty items saves you space in both a carry-on and in your luggage. Mini shampoos and conditioners are great for packing because they take up less space and are more practical. (Let's get real: Unless you're taking a very long trip, you probably won't use full-sized bottle of shampoo and conditioner on vacation.)
Dry shampoo is also great to bring with you in your carry-on, especially if you have long layovers. Oscar Blandi's dry shampoo does wonders for droopy, dirty hair and comes in a cute travel size. With a little spritz at the roots, your hair gets instant lift and smells and looks clean.
Makeup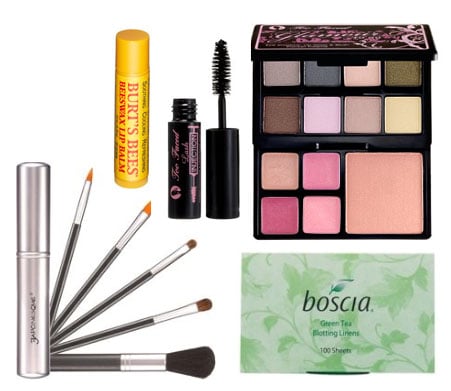 Product Information: 5 Piece Travel Brush Kit- Ulta, Burt's Bees Lip Balm- Burt's Bees, Too Faced Lash Injection Mini Mascara- Sephora, Too Faced Pocket Palette- Sephora, Boscia Green Tea Blotting Linens- Ulta.
When it comes to makeup while traveling, opt to keep it simple – don't bring everything you own because you probably won't use all of it. Instead, choose an all-in-one palette. This minimizes how many compacts and eyeshadows you have to bring with you. Mini mascaras are great as well because they take up less room in your bag. As for brushes, a great solution to an over-stuffed makeup bag is a travel kit with some basic brushes.
Lip balm is a must no matter where you go. Burt's Bees works wonders on chapped, dry lips. You can also find tinted lip balms for a little extra color.
Blotting linens and rice papers are great in any travel situation. They offer a little touch up by absorbing oil without disturbing your makeup.
The Extras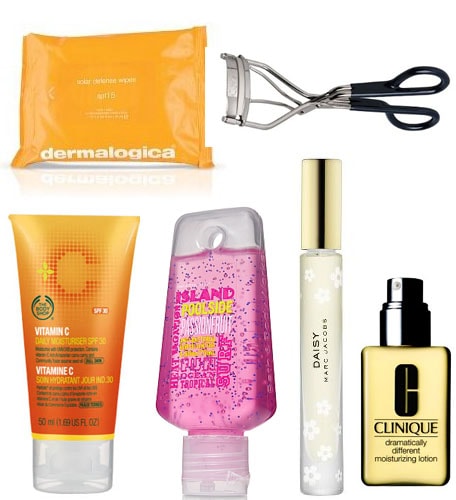 Product Information: Vitamin C Daily Moisturizer with SPF 30- The Body Shop, Hand Sanitizer- Bath and Body Works, Marc Jacobs Daisy Roll-On Perfume- Sephora, Clinique Moisturizing Lotion- Nordstrom, Eyelash Curler- Target, Dermalogica Solar Defense Wipes SPF 15- Amazon.
It's easy to become dehydrated on an airplane because of the low humidity in the air cabin. To combat dehydration, make sure to drink plenty of water before takeoff and while in the air. Moisturizing your skin will also help combat dry skin – lotions such as The Body Shop's Vitamin C Daily Moisturizer are ideal for this purchase and come in small sizes. This particular moisturizer has SPF 15 protection, which is also important on an airplane because you are still susceptible to sun damage and rays while flying. Dermalogica also has sunscreen wipes that are great for travel.
Roll-on perfumes are the perfect size for a purse or carry-on. While these adorable perfumes are great for a little fragrance, it's important to be courteous of others' sensitivities to scents and perfumes, so don't apply a lot before you fly.
An eyelash curler is a solid defense against tired-looking eyes. Curling your lashes can open up your eyes, giving them an instant lift and making your mascara look fresh all day.
Hand sanitizer may seem like an obvious pick, but fresh, clean hands on the go are important, especially while dealing with public restrooms and airports.
What Do You Think?
What beauty finds do you bring with you while you travel? What do you avoid? Would you ever use sunscreen wipes or dry shampoo? Let us know in a comment!