This post may contain affiliate links, which means we may receive a commission if you purchase through our links. Please
read our full disclosure here
.
While I love Sephora, MAC, and department store makeup counters, I don't love looking at my bank account after spending an afternoon there. While I do believe that "you get what you pay for," I know that there are some awesome drugstore products out there that work better than their expensive counterparts.
Last week, I filled you guys in on the Top 5 Beauty Products Worth Splurging On, and this week, I present to you the Top 5 Drugstore Beauty Steals:
1. Bonne Bell Lipsmackers

Bonne Bell Lipsmackers– $1.99 at drugstore.com
Back in our pre-adolescent days, these were just thought of as precursors to lipgloss and lipstick. I'm still snickered at when I pull a Dr. Pepper or watermelon flavor from out of my purse. But in all reality, Lipsmackers are a godsend. Not only are they seriously moisturizing and give the prettiest hint of color, but they smell incredibly good.
At $1.99 each, what's not to love? These might be the only item from my tween years that I'm willing to use again and again… and again!
2. Revlon Colorstay Liquid Eyeliner

Revlon Colorstay Liquid Eyeliner- $7.49 at drugstore.com
I've had a love-hate relationship with liquid eyeliner from the early age of 13. Love, because nothing can make me feel more glamorous than some of this on my lash line. Hate because it's incredibly difficult to apply, and, until recently, I hadn't found a formula that glided over my eyelids as if it were nothing and stayed put all day long.
Ladies, meet Revlon Colorstay Liquid Eyeliner. Its felt tip goes so close to my lash line that I don't have to spend an hour on each eye, and the color (I use black-brown, which is plenty dark) is unparalleled. MakeupGeek, my favorite YouTube makeup guru, also raves about this product. If you're the kind of girl who uses liquid liner every day or just wants to try liquid liner, this is definitely one to look for!
3.Neutrogena Body Clear Body Wash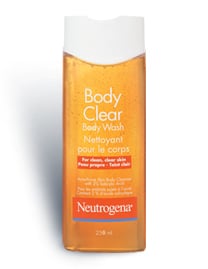 Neutrogena Body Clear Body Wash-$6.99 at drugstore.com
Back acne (bacne) sucks. It's uncomfortable, sometimes painful and, to be real, it's pretty gross… Worst of all, there seems to be little treatment available in stores for it, and I (and many of you, I'm sure) don't have a bad enough case that warrants an expensive dermatologist visit.
Neutrogena answered our prayers with its Body Clear Body Wash. This body wash contains 2% salicylic acid, the same ingredient that's in your usual acne-fighting face wash, which is what makes it so effective. This product is actually so effective at ridding my back of oil (and therefore, pimples/blemishes) that I only use it once or twice a week. If you have a mild case of bacne, this is definitely a must-buy!
Neutrogena also came out with a pink grapefruit version of this product. While I haven't tried it myself (my six month old bottle is still half-full!) I hear the results are very similar and the scent is great.
4.Olay Quench Body Lotion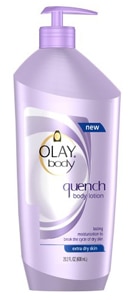 Olay Quench Body Lotion- $8.79 for 11.8 ounces at drugstore.com
I've mentioned it before, but I'm one of those girls that shaves every day. Consequently, I have extra-dry (but smooth!) legs that look scale-like without moisture. Most lotions that I've tried (and I've tried lots) aren't moisturizing and take too long to rub it and constantly feel greasy throughout the day.
Not this one! Olay Body Quench Body Lotion is a godsend – it completely fixes my dry, scaly winter skin. And, since it's so hydrating, the bottle lasts me forever! I find it to be pretty odorless, but it apparently has a vanilla smell to it that doesn't interfere with perfumes. It also won an Allure Reader's Choice Award- so what are you waiting for?
5. Neutrogena Ultra Sheer Dry-Touch Sunblock Lotion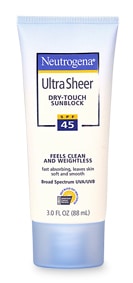 Neutrogena Ultra Sheer Dry-Touch Sunblock Lotion-$9.99 at drugstore.com
My house is filled with sunscreen-in the kitchen, in the bathroom, in the entryway, my parent's room… Why? Well, for one, my dad's been diagnosed with skin cancer multiple times, and he takes sunscreen seriously, which is why my family has used countless tubes of Neutrogena's Utra Sheer Dry-Touch Sunblock. It protects against UVA and UVB rays, is oil-free and does not feel greasy at all, yet rubs in incredibly fast. Also, it doesn't ever sweat off, even after five mile runs. We all have really dry skin in my family, and Neutrogena has never irritated any of it.
While daddy dearest uses SPF 85 (told you he's serious!), an SPF 30 or 45 gives one enough coverage for daily college activities-going to class, to the gym, to the bookstore, etc. Use some of this every morning and in 25 years, your future self will thank you.
What do you guys think?
Do you agree with these product recommendations? What other products are 'drugstore steals'? Tell me all that and more in the comments!