This post may contain affiliate links, which means we may receive a commission if you purchase through our links. Please
read our full disclosure here
.
By now, you've probably heard that you can receive a little box in the mail filled with adorable full-sized or miniature beauty products. Beauty subscription boxes are one of my absolute favorite things in the world! They make me endlessly happy, and they're a joy to get in the mail.
There are so many different boxes, and since I'm a bit obsessed, I've tried four of them: Ipsy, Glossybox, Birchbox, and Julep. I'm going to give you the scoop on all of them, so read on to learn the pros and cons of each beauty box.

Ipsy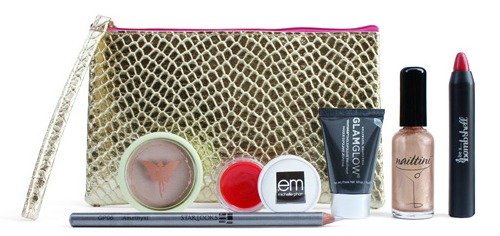 $10 per month at Ipsy.com
Ipsy was created by Michelle Phan, beauty YouTuber and blogger extraordinaire, so you know this box is going to have amazing products. In fact, her own line of makeup, Em-Cosmetics, is included in the bag!
To subscribe, you need to request an invitation on the Ipsy site. When you receive your invitation (sometimes up to a week later) you sign up for the monthly subscription. It's $10 a month, and you can cancel at anytime.
For $10, you receive a cute makeup bag and 5 to 6 "deluxe samples" or full-sized products. In mine, I received five products, including one full-sized eyeshadow palette by the brand Be A Bombshell. The palette retails for $16, so that was definitely worth it! I also received a mini Bare Escentuals lipstick, which was still a good size.
The downside to this box is that majority of the samples are not as "good" as what is pictured on the site. In the picture above, there's a mini Glam Glow mask and I would have LOVED to receive that. Also, you don't normally receive products from well-known brands. Otherwise, this beauty box is well-worth the price.

Glossybox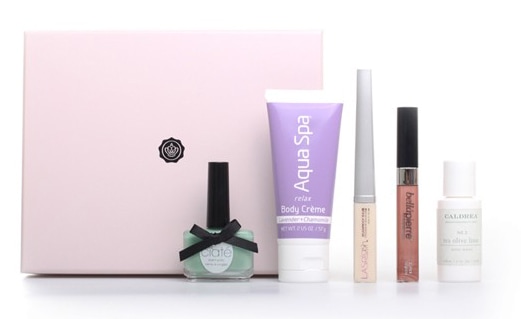 $21 a month at Glossybox.com
Glossybox is definitely the "luxury" monthly beauty box. At $21, it's double the price of most boxes, but the company does give out more full-size products. This month, I actually got a full-size Ciate nail polish, which retails for $15. I got it in lime green, which isn't exactly my favorite hue, but it's still a beautiful color and I like it for spring.
The box itself is stunning. It's very well made and because they're just so pretty to look at, I actually use my old boxes for presents and to store things! Everything comes perfectly wrapped, which is nice because I've received boxes from other companies with products that are opened or damaged.
I like to compare this box to Birchbox, which I'll talk about next, because Glossybox is almost like the luxury version of Birchbox. Overall, I think this box is a bit too expensive for the average college-girl-on-a-budget, but I might subscribe over the summer just to see if I get any fun products!
Birchbox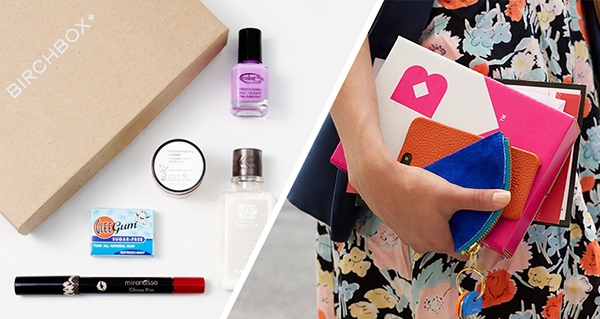 $10 per month at Birchbox.com
I have to admit, Birchbox is my favorite box out of all of these. The samples are amazing, and everything is just so cute! Sometimes they even send you tea, an energy bar, headphones, or even a cute leather keychain. I love that the boxes include more than just beauty products – it makes them less "boring."
For $10 a month, you get five deluxe samples of perfume, haircare, makeup, or any other beauty item. You can choose what you want to receive and what you don't. For example, I have a friend who hates perfume samples, so she opts out of those!
Two of my favorite samples from Birchbox are this Beauty Protector leave-in hair protectant and the Benefit Big Easy foundation. I actually still use those two products today, and I bought the full-size versions of both. As I mentioned, Birchbox is hands-down my favorite box. I like how unpredictable (in a good way!) it is!
Julep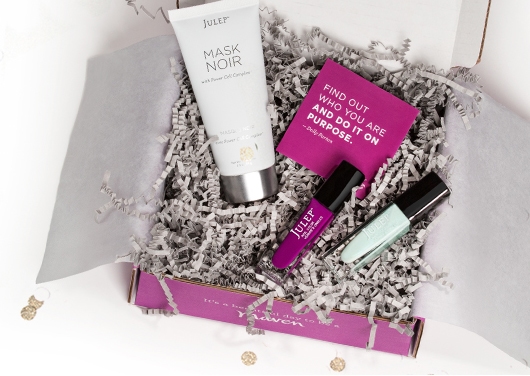 $24.99 a month at Julep.com
This box, called the Julep Maven box, is the most expensive of the bunch. For $24.99 a month, you receive two full-size nail polishes, and a full-size "other product." All products are from the Julep brand.
This box works differently than the other ones, because you customize your box by choosing what kind of nail polish colors you want. You don't choose the exact colors, but you choose colors you're into. The "other" full-size product is normally really neat; Julep gave me their Cleansing Oil, which is still one of my favorite cleansers today, and it came in a huge bottle! Mine has lasted me three months and counting.
Yes, this monthly subscription is super-expensive for the typical college girl, I know that. However, if you're looking for new, high-quality nail polishes, this Julep box is a good option.
What do you think?
What do you think of monthly beauty boxes? Do you think they're worth it? Have you tried any of these ones, or do you have favorites you want to share? Let me know in the comments!