This post may contain affiliate links, which means we may receive a commission if you purchase through our links. Please
read our full disclosure here
.
Summer is in full swing. While the weather is beautiful, the humidity that comes with it often leaves most of us in a hairstyle rut. Ponytails and buns are cute, but can become repetitive, so read below for some summer hairstyle inspiration.
1. Braids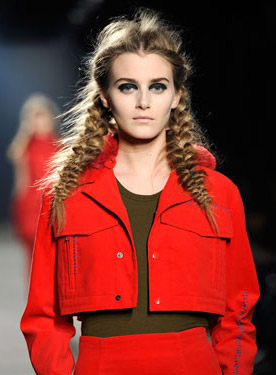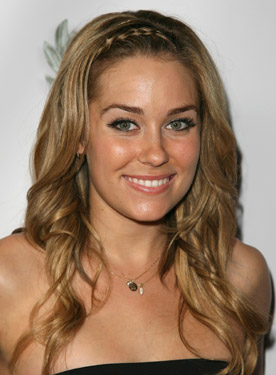 Braids are everywhere this season and for good reason – they work with any hair type or length, and are the perfect way to keep hair out of your face while participating in your favorite summer activities.
The latest braids trend is the fishtail style. The simplest explanation for a fishtail braid compared to a basic braid is that the hair is split into two sections instead of the traditional three sections. For tips, see this helpful tutorial: How to Fishtail Braid.
However, don't limit yourself to just the fishtail style this summer; consider braiding along your hairline a la Lauren Conrad above (great when growing out your bangs) or try adding a few thin braids using pieces from the underneath section of your hair so they peek out and add interest to a low ponytail or bun.
2. Beachy Waves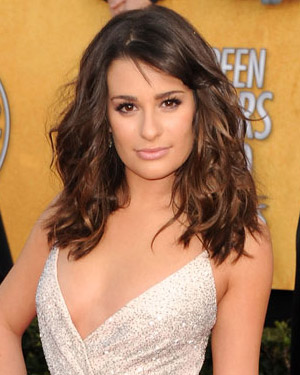 Curls and waves are always in for summer because they are a great way to work with the natural texture of your hair. The whole point of this hairstyle is not to overdo it. All summer hairstyles are about simplicity and staying away from blow dryers and heat styling tools.
For starters, apply mousse and a salt spray to freshly washed hair. (I recommend Garnier Fructis' Surf Hair and Herbal Essences' Tousle Me Softly products.) Scrunch the hair with your hands and let it air-dry. If you don't have the time – or patience – for air-drying, go ahead and blow dry, using a diffuser attachment.
For an in-depth guide with more tips for getting this style, see our post on how to create beachy waves.
3. Bright Highlights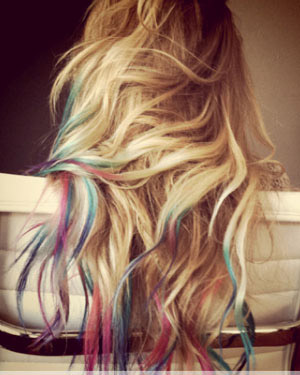 Color is in this season! From hot pink lips to neon nail polish and the mermaid-red hair dye trend, bright colors have been everywhere recently.
Instead of taking the plunge with an all-over permanent hair color, try adding bright highlights or streaks of color to your tresses. (If you have dark hair, you may need to bleach your hair first before coloring – see this post for tips!) I suggest shades of blue, purple, pink, and red to achieve an eye-catching look.
To keep the look from being overwhelming, only dye a few strands that frame your face, choose to dye strands in the mid-to-lower layer of your hair, or just dye some of the ends of your hair, like Lauren Conrad did in the picture above.
If you're going to try this trend, I recommend Manic Panic hair dyes because the colors are so bright and the products are animal-friendly.
4. Feathers + Flowers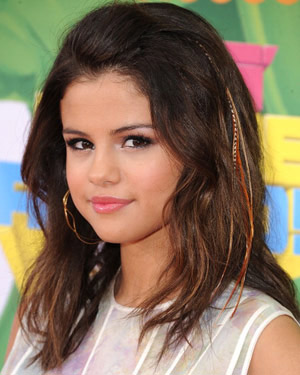 Feathers are a new hair trend, while flowers are a classic hair accessory – and both are super hot for summer. While the feather hair trend will likely continue to be popular throughout the fall and winter, flowers are most appropriate during the summer, so take full advantage of this look while you can.
Loving the feather hair trend as seen on Selena Gomez? Inexpensive feather hair extensions can be found online, or you can pick up a headband with feathers at Forever 21.
If you want to try the flower look, flower hair accessories are also available at retail stores, but it's so much easier to pick a fresh flower yourself. Flowers look adorable tucked behind your ear or placed in a side-bun.
What do you think?
What's your go-to summer hairstyle? Have you tried any of these trends recently? And which one is your favorite? Would you be bold enough to dye your hair a bright color? We love to hear from you, so be sure to leave a comment!