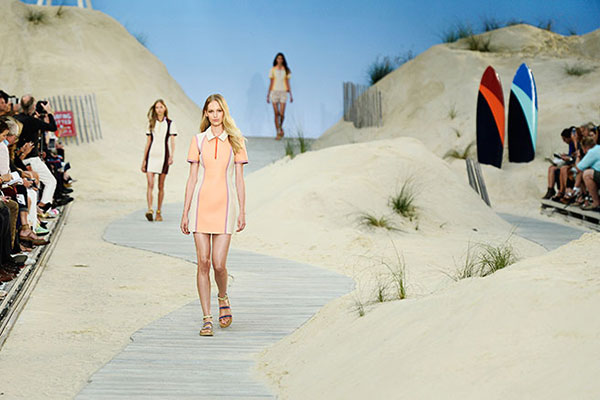 Models on the runway at Tommy Hilfiger SS 2014 | Photo Credit
Mercedes Benz Fashion Week a.k.a. New York Fashion Week, is easily the highlight of my September. NYFW is the event that brings all fashion obsessors together in one glorious city and I love every second of it. I even watched the live stream of about ten different shows and got progressively more sad with every show, because I wasn't there.
However, from my long hours of reading and watching and flipping through pictures, I noticed several amazing new beauty trends! I was beyond happy to see makeup that wasn't neon-toned, since we all know that isn't exactly wearable for every day, no matter what magazines say.
I'm lovingthe minimalistic makeup, textured hair, and nude nails that were prominent on the runways. Read on to learn how to recreate these hair and beauty trends at home:
1. Minimalist Makeup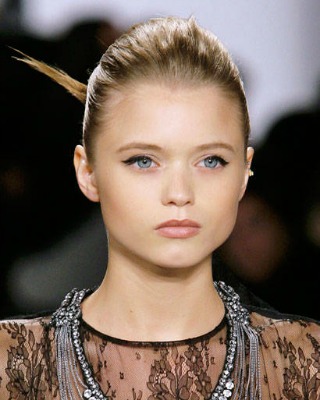 I love this trend simply because I can be on-trend while still feeling like I did nothing to my face, and that's an amazing feeling!
To achieve this look, use black eyeliner (gel, pencil, or liquid liner – whichever you prefer), and apply mascara only on your top lashes. If you'd like, fill in your brows, then apply tinted moisturizer. Finish the whole look with an "airbrush" powder, which makes skin look flawless.
Products I Suggest: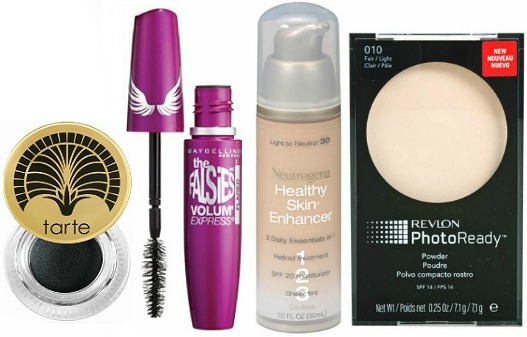 (L to R) Tarte Egyptian Black Kohl Waterproof Gel Liner, $22 at Tarte, Maybelline Volum'Express The Falsies Mascara, $6.99 at Ulta, Neutrogena Healthy Skin Enhancer Tinted Moisturizer, $9 at Drugstore.com, Revlon PhotoReady Face Powder, $12.99 at Ulta
2. Textured Hair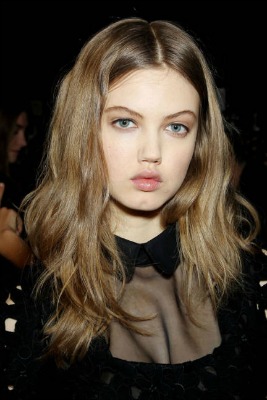 The trends at this month's fashion week were amazing, seriously. Not only did they go the "less is more" route when it came to makeup, but the natural hair look is going to be in next season too!
I love the rough, textured look that natural, air-dried hair has and that style was prominent on the runway this season. Adding any of the products below will give your hair that extra something that allows it to look put-together and polished, even though it's technically supposed to look messy.
Products I Suggest: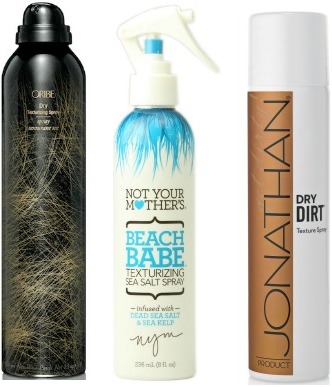 (L to R) Oribe Dry Texturing Hair Spray, $39 at Amazon, Not Your Mother's Beach Babe Texturing Hair Spray, $4.74 at Walmart, Jonathan Product Dry Dirt Texture Spray, $10.99 at Ulta
3. Beige Nails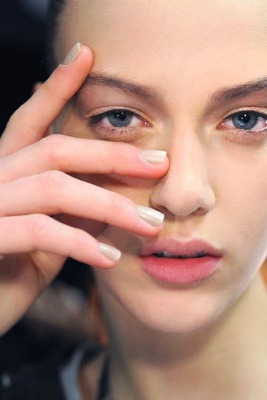 To me, cleanbeige nails are classy andsophisticated, and that's exactly what this fashion week was all about.
However, this was the year of matte nails, and that matte look definitely made it to the runway this season. A matte topcoat, like Essie's Matte About You, turns any nail polish into a matte one with just one coat! Layer that top coat over any of the nail polishes below to get a runway-ready look.
Products I Suggest: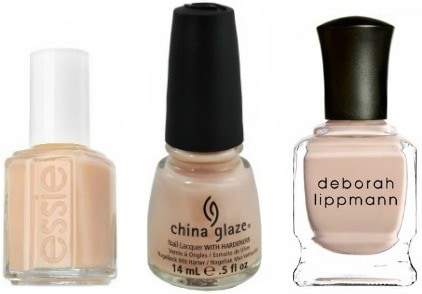 (L to R) Essie Nude Attitude, $9.95 at Amazon, China Glaze Nude Nail Polish, $5.78 at Amazon, Deborah Lippmann Naked Nail Varnish, $17 at Nordstrom
What do you think?
Are you loving these trends? What were some of your favorite trends from NYFW? Be sure to let me know what you think in the comments!