This post may contain affiliate links, which means we may receive a commission if you purchase through our links. Please
read our full disclosure here
.
Although it isn't officially summer yet, many college students are on break, and that typically means hopping into a car or plane and heading on vacation.
Packing your bags for vacation can be overwhelming, especially when it comes to makeup. Do you ever wonder "What do I bring?!" or "What if I REALLY need that palette?" I'm here to help!
In this post, I'll be breaking down the essential makeup products you should bring with you, along with two vacay-ready makeup looks. Let's get started:
The Tools
When it comes to beauty tools, it seems like everyone is on one of two sides: you either have way too many brushes or not many at all. Either way, here are my essential brushes and tools to bring on vacation:
1. Eyelash Curler (+ Mascara)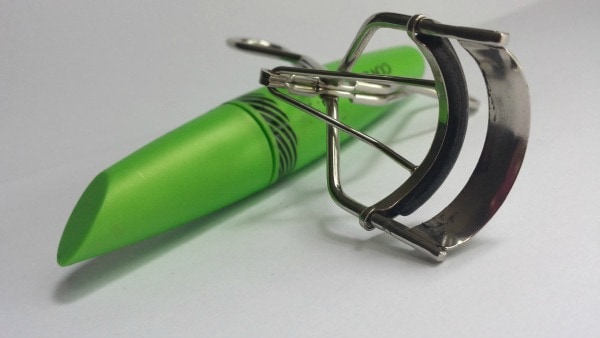 I really think an eyelash curler is a go-to item. It helps to elongate the eyelashes, which in turn helps your eyes look bigger and more wide awake (which you need after potentially feeling car/jet-lagged).
2. Mini Brushes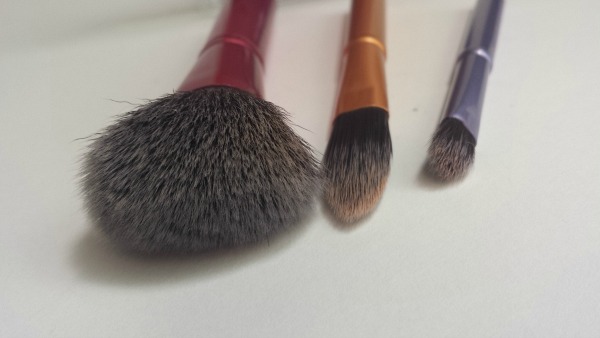 I'm all about mini versions of items. Not only are they cute, but they're extremely practical in situations like this. This is the Real Techniques Mini Brush Trio, which includes a mini buffing brush, a foundation brush, and an eye shadow brush.
These mini brushes make it super-easy to create a quick beauty look. I actually use the buffing brush to apply foundation, and the foundation brush to apply concealer. Also, the eye shadow brush works really well if you need to apply cream-based eye shadows.
3. More Brushes!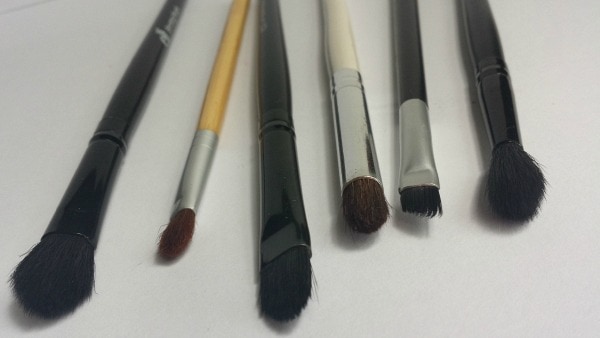 Can you tell that I love brushes? Here are some more brushes that I like to carry with me when traveling. Four are from e.l.f. and they're all inexpensive.
From left to right in the photo above: the e.l.f. Blending Brush, Eco Tools Smudge Brush from their Essential Eye Kit, e.l.f. Concealer Brush (great for packing on eye shadow), e.l.f. Essential Blending Brush (can't have too many blending brushes!), Maybelline Angled Definer Brush, and e.l.f. Studio Crease Brush.
I forgot to add a picture, but I would recommend bringing a blush brush. (My favorite is the e.l.f. Blush Brush.) You could use the mini buffing brush and very lightly apply blush, but it could easily get too heavy-handed.
Eyes and Face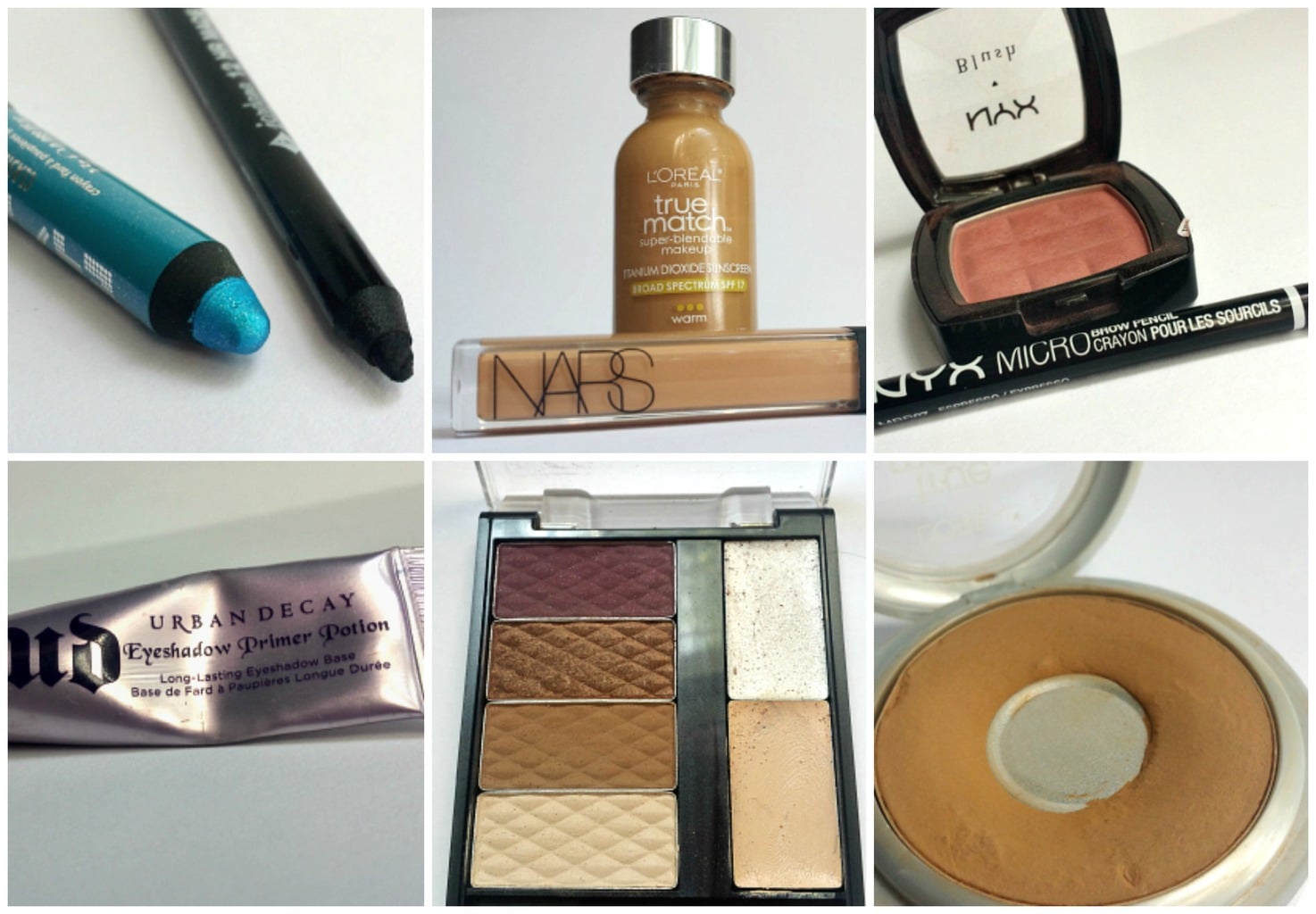 Space is limited when you travel, so all you really need to pack are the absolute essentials:
1. Eyeliner
Bring a basic black eyeliner (this one is Jordana's "Black Point"), plus a colorful pencil liner that you can use to add a fun pop of color to your beauty look. The blue eyeliner pictured above has been discontinued, but a good dupe is Urban Decay's "Electric".
2. Foundation and Concealer
If you feel like you probably won't be using foundation much on your trip, skip it and just carry concealer. Another option is to fill a small travel container with foundation so you don't have to haul the entire bottle around. My go-to products are L'Oreal's True Match foundation and NARS Radiant Concealer.
3. Blush and Brow Pencil
Choose a neutral and natural blush color, since you don't want to worry about whether or not the blush is too bright and bold. My favorite blush is NYX's "Dusty Rose".
For the brows, I would go for a pencil product, like NYX's Micro Brow Pencil, because it's easy to store and doesn't take up a lot of space.
4. Eye Shadow Primer
The last thing you want is for your eye makeup to smudge and fade away throughout the day. Urban Decay Primer Potion is the best, so I recommend investing in a tube if you haven't already.
5. Neutral Eye Shadow Palette
Bring your favorite neutral palette and for some added color, take one with a purple shade. If you want to dress up for night and wear something more sultry, then a purple shadow will work. As a bonus, purple eye shadow is universally flattering on every skin tone and eye color.
If you don't have a palette with purple in it, then you can go to your local drugstore and pick up a single shadow, such as L'Oreal Infallible Shadow in "Perpetual Purple". (The palette pictured above is NYC Individual Eyes in "Union Square".)
6. Face Powder
This is a must-have for touch-ups throughout the day. L'Oreal's True Match powder is inexpensive and comes in a wide variety of shades.
Lips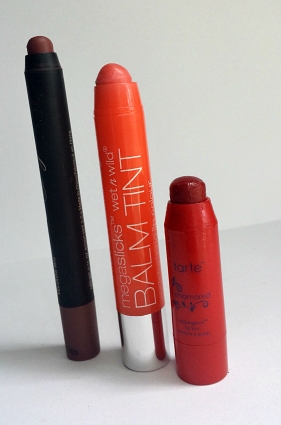 No makeup bag is complete without a few lip options. I didn't intentionally choose all jumbo lip pencils, but they actually work really well since they are slender and don't take up much room.
A lip tint pencil is a great way to add just a hint of color, and they also tend to be moisturizing. I'd recommend bringing something neutral, along with either a red or a brighter pink.
In the photo above, the left product is the Fergie Velvet Matte Lip Color in "Timeless Chick", which is available exclusively at Walgreens stores. The closest dupe I could find online was the NARS Velvet Matte Lip Pencil in "Bahama".
The next color is a limited-edition one from Wet 'n' Wild called Megaslicks Balm Tint in "Smooth Operator" (you might still be able to find it at your local Walgreens), but a good dupe is the NYX Chunky Dunk Hydrating Lippie in "Orange Splash".
The last color, from Tarte, is another limited-edition product that came in a holiday set last year. However, NYX Simply Red Lip Cream in "Russian Roulette" is a pretty close match.
Vacation-Ready Makeup Looks
I created two looks to show you how to wear the products listed above. These looks are fun for summer, but are also easy to apply if you're short on time.
Beachside Beauty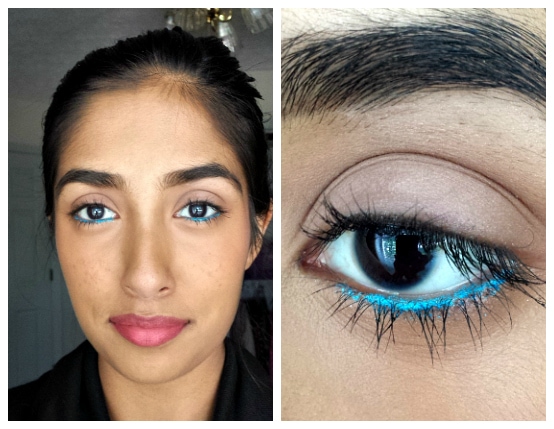 This first look essentially is a "no makeup" makeup, with the exception of the colored liner on the bottom. I feel like it'd be a look great for the beach, but I could be getting that vibe from the eyeliner, which reminds me of the ocean.
First, apply your typical base makeup, including your blush and brows. Apply the eye shadow primer, too. I used the e.l.f. blending brush to apply the cream-colored eye shadow from the NYX Individual Eyes palette all over my eyelid and up to my brow bone.
I then used the e.l.f. crease brush to apply the mid-tone brown from the same palette. I blended it out, then curled my lashes and applied mascara.
Time for some color! I applied my bright blue eyeliner to my lower lashline. Just a heads up: this particular product has shimmer to it and may cause sensitivity to some. If that applies to you, then I'd recommend choosing a cream or matte liner, aka one that has no shimmer.
Since the blue eyeliner is bold, I topped off the look with a neutral lip color.
Nighttime Glam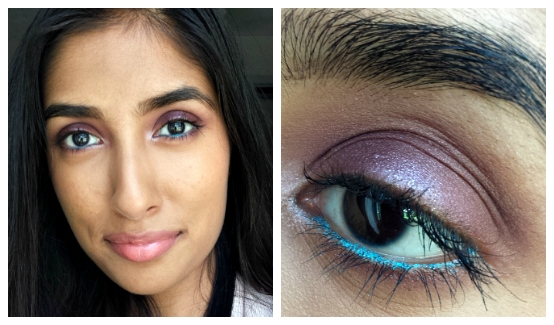 This makeup look is slightly harder, but not by much. If you wore the first look during the day, you can simply add on more product to get this nighttime-appropriate look.
I took the matte purple shade from the eye shadow palette and applied it all over my eyes with the e.l.f. concealer brush. I then used the crease brush and the same matte purple and slightly worked the color into my crease to blend out the edge. Build up the shadow as much as you'd like.
To get the "pop of shine" in the middle and inner corner, I took the shimmery cream product on the top right-hand side of the palette, dabbed it into the center of my lid with the Eco Tools smudge brush, then carefully blended it out.
Next, I added the smallest amount of product onto the concealer brush. I packed it over the shimmery area in the middle of my eyes to help blend it even more and to continue with the purple theme.
I again used the smudge brush to apply the shimmery shade onto the inner corner of my eyes, then went over it with the lightest shadow in the palette to set it.
I also touched up the blue eyeliner to make sure it maintained its intensity. Finally, I applied a lip gloss: NYX Butter Gloss in Creme Brulee.
Final Advice:
Try and find mini versions of your favorite items, whether it's your favorite primer, mascara, or even eyeliner. Not only does it save space, but if you were to accidentally lose it, you won't be as bummed out.
Figure out what's really worth taking. Do you wear winged eyeliner every day? Then bring a liquid liner, but skip a red lip color if you feel like you'd never pull that out. Prioritize and minimize. You won't want to spend a lot of your vacation time applying makeup anyway.
If you forgot to pack something, relax. You'll be fine without it, and I promise it is not the end of the world.
What do you think?
I hope this helped you decide what beauty products to bring with you on your travels. What makeup do you bring with you on vacation? Will you be trying any of these beauty looks? Leave your comments and suggestions below!