This post may contain affiliate links, which means we may receive a commission if you purchase through our links. Please
read our full disclosure here
.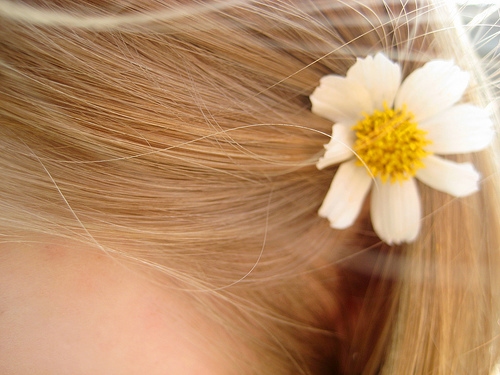 Happy first day of summer! With the official start of the season finally here, it's time for beach parties, cookouts, and sitting poolside with a stack of your favorite magazines. However, these fun activities have a downside: Salt water, chlorine, and sun can wreak havoc on your hair, leaving you feeling less than goddess-y.
To help keep your locks looking gorgeous all season long, below, I'll show you three ways to take care of your hair this summer.
1. Try a DIY Treatment
DIY conditioning treatments are usually less expensive than treatments you can buy at the store or salon. You can also find most of the ingredients you'll need in your kitchen!
Super Duper DIY Deep Conditioning Treatment
We've talked about DIY hair treatments, and summer DIY treatments before, but I just found an amazing new at-home treatment in an unusual place, Food.com. While this recipe is something you'd never want to eat, it worked like a charm on restoring the moisture and shine to my hair!
You'll need:
1 cup of room-temperature mayonnaise
1/2 cup of olive oil
3 egg yolks
Instructions:
Mix all of the ingredients in a bowl then work into your hair, focusing on the ends. For the best results, wrap your hair in a towel to retain heat and leave the treatment in for 10-20 minutes. Rinse out the treatment and don't use shampoo, according to the website. The recipe says to not do this on a day you're going out because there will probably be excess oil that stays in your hair and keeps conditioning it.
Personally, mayo creeps me out a little bit, so I like to use:
1/2 of an avocado, mashed up
1 egg
1 tablespoon of olive oil
Again, focus on the ends of your hair and leave this mask on for 15-20 minutes. Then rinse it out with cool water and shampoo, if you'd like.
2. Store Treatments
If you don't have time to put together a DIY hair treatment, there are lots and lots of store-bought hair treatments out there that promise to give you shiny, moisturized hair. Here are a few favorites: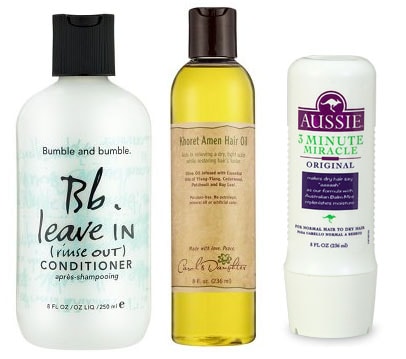 Bumble and Bumble Leave In Conditioner, Carol's Daughter Khoret Amen Hair Oil, Aussie 3 Minute Miracle Mask.
Bumble and Bumble's Leave In Conditioner moisturizes while helping to control frizz, though it is on the expensive side. Carol's Daughter Khoret Amen Hair Oil has no parabens or sulfates in it, and is pretty affordable. Aussie's 3 Minute Miracle is an awesome, inexpensive treatment that you can find at the grocery or drug store.
3. Protect Your Hair from the Sun
Finally, if you're heading out in the sun all day, know that your hair can become just as dehydrated as your skin. Sunscreen for hair? It exists! Aveda has a Sun Care line for protecting your hair with a "water-resistant UV defense".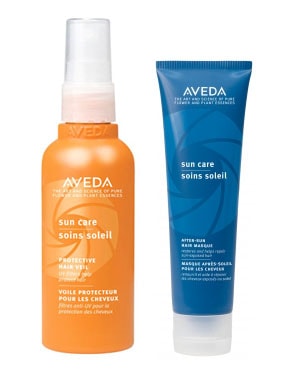 Aveda Sun Care Protective Hair Veil, Aveda After-Sun Hair Masque
A true lifesaver if your hair is already damaged or color-treated, this line helps to protect your hair from the sun's rays while preventing dryness, further damage, and even color fading.
What Do You Think?
How do you protect and treat your hair during the summer? Do you have a favorite product? Let us know in a comment!