This post may contain affiliate links, which means we may receive a commission if you purchase through our links. Please
read our full disclosure here
.
Summer is the perfect time to change up your look, and one of the season's hottest beauty trends is short hair. With celebs like Karlie Kloss, Taylor Swift, and Kim Kardashian all debuting shorter, choppier locks, there's no shortage of inspiration for your own cut.
Chopping off your long locks can be intimidating, but thanks to the long bob trend, you can keep it as short or long as you like while still getting that bob look. I chopped off my own waist-length hair to a shoulder-length bob a year ago to donate to Locks of Love and consider it to be the best haircut decision I ever made!
My short, piecey bob felt so much edgier and, since I couldn't hide behind a curtain of hair anymore, it upped my confidence. If you're thinking about cutting your hair for summer, I would highly encourage you to give it a try. Another added benefit of a short haircut? It's perfect for showing off fun strappy dresses and trendy cut-out backs!
Worried about being able to style your new 'do? I've tried and loved both of these short hairupdos from The Beauty Department Also, check out these styling ideas for a long bob from Gal Meets Glam.
Here are some short hair styling tips:
A chin-length haircut is nearly impossible to pull back into a ponytail, so braids and bobby pins were my biggest ally in keeping hair off my face. The bonus? No more ponytail headaches!
I bought a mini curling wand when I cut my hair, and it was the perfect size for creating messy curls with my super short strands. When my hair outgrew that, I continued to use my 1/2 inch curling iron as a wand by wrapping pieces of hair around it and ignoring the clip.
My favorite product for short hair is Bumble and Bumble's Texture. I would run a pea-sized amount through my hair after I curled it to break up the curls and keep it looking piecy all day long.
I noticed my hair started feeling greasy a lot faster after I cut it short, so having a good dry shampoo on hand was super helpful.
A long bob is the best option if you like the look of shorter hair but still want to be able to pull it into a top knot, which has always been my go-to hairstyle for lazy days.
Lastly, just for fun, I thought I'd show you guys my own before and after: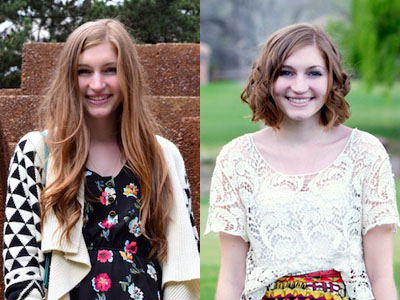 What do you think?
Have you or would you consider a shorter hairstyle? What do you think of the long bob trend? Let me know by leaving a comment below.