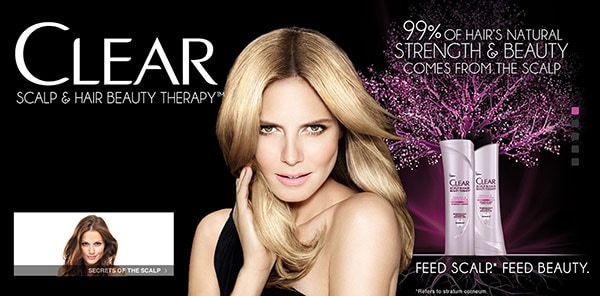 With the new year upon us, it's prime season for revamping and making over all aspects of your life.
While you may be hitting the gym or reorganizing your closet, if your tresses have seen better days, why not give your hair a new year's makeover, too? Our friends at CLEAR Scalp & Hair Beauty Therapy want to help you do just that.
What is CLEAR Scalp & Hair Beauty Therapy?
In case you haven't heard of CLEAR, here's the deal on their products, from the company themselves:
For years, women have been working at the ends of hair, rather than the foundation — the scalp. Now it is time to start working at the right end. 99% of hair's natural strength and beauty comes from the scalp. CLEAR SCALP & HAIR BEAUTY THERAPY™ goes deeper to nourish the scalp and create the right foundation for strong, beautiful hair from root to tip.

CLEAR SCALP & HAIR BEAUTY THERAPY™ is a breakthrough line of shampoos, conditioners and treatments that feed the scalp* and give women stronger, more beautiful hair in just 7 days**.

* Refers to stratum corneum. ** Less breakage when combing vs. non-conditioning shampoo
The CLEAR 7-Day Challenge
If that all sounds good, it gets better: CF readers have the chance to try the product for free! Visit the Clear Scalp & Hair Beauty Therapy Facebook page for the chance to win free product samples and to take the 7-day challenge. CLEAR is so confident you'll be amazed by the results after 7 days, they're offering a money-back guarantee***! (***Applies to 12.9 oz products only.)
So what are you waiting for? Take the 7-day challenge and tell us how it goes! Here's to 2013 being your best hair year ever…
Are you in for the 7-Day Challenge?
Could your hair use a New Year's makeover? Are you going to take the CLEAR 7-Day Challenge? Have you tried CLEAR yet? Tell us in a comment!
Disclosure: This post was sponsored by CLEAR and Style Coalition. The opinions, as always, are our own. For more information, please see our Disclosure page.