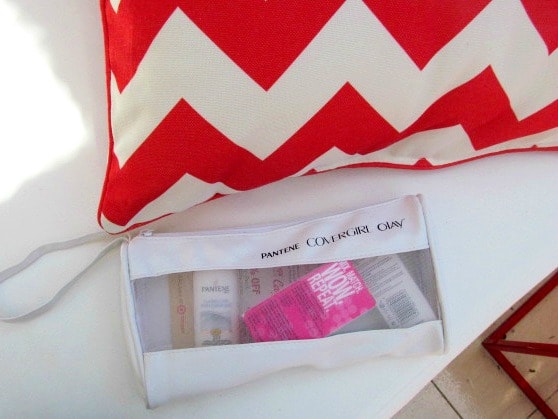 Summer has officially arrived, and there are so many fun beauty trends that we are excited to try out. To get the scoop on what's going to be hot when it comes to skin care, nails, hair, and makeup this season, we went to the pros: COVERGIRL, Olay, and Pantene.
I was invited to the #SummerGlowSalon, sponsored by Pantene, COVERGIRL and Olay, in NYC last week, and had a blast at the beauty lounge they created right in the middle of the urban jungle! Located in Flatiron Plaza, it was an oasis away from the hustle and bustle of the city, and gave city dwellers a sneak peak at Target's new, renovated beauty department: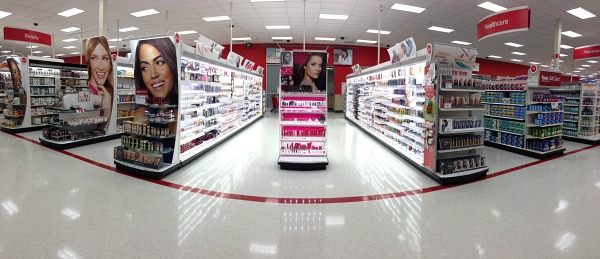 Target's revamped cosmetics aisles. (Click image to enlarge.)
Featuring upscale lighting and a luxe new look, Target's beauty aisles have gotten a fresh makeover for summer. Target has completely revamped their cosmetic aisles to provide a more premium experience for shoppers that feels high-end, but is totally accessible to everyone.
In addition, Target Beauty Concierges will now be available to answer any questions and provide shoppers with advice on beauty products right on the spot. The service is free of charge with no appointment needed! And of course, the beauty aisles will be filled with awesome products to help us achieve the coolest summer beauty looks.
First stop at the #SummerGlowSalon: Olay's Hydration Bar, where guests had their pick of refreshing, healthy juices to keep us cool on the scorching hot day. I picked up a Go Green Rejuvenator drink (yum!) and then focused on my skin.
There is nothing fun about wrinkles, which is why protecting your skin from the sun's harmful rays is a total summer must. Olay had my back covered though, with their Complete All Day Moisturizer, featuring broad spectrum SPF 15 with SolaSheer Technology. It's even recommended for use by the Skin Cancer Foundation! Hydration is key in the coming dry months, and this moisturizer conditions the skin with antioxidants and provides a full 48 hours of moisture, which is perfect for girls on-the-go.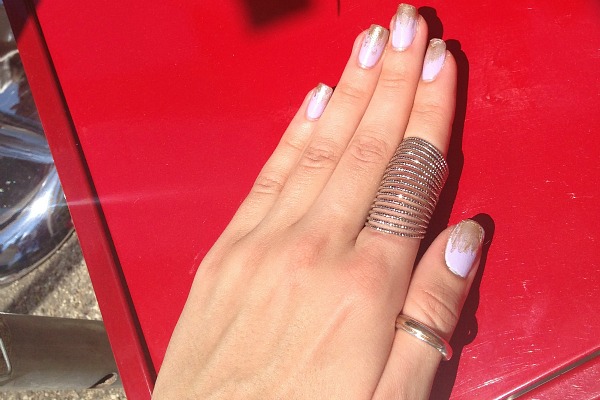 Once hydrated, both thirst-wise and skin-wise, I got to try out one of the most fab trends in nail art: a glitter gradient manicure, which gives your nails an ombré look that's achieved by wearing a glitter polish over a solid-colored one. Why stick with a traditional one-tone manicure when you can have a dual-tone creation that makes a statement?
Nail artists used COVERGIRL's Outlast Stay Brilliant Glossy Color, which is awesome because it's a one-step product. This two-in-one polish includes a built-in topcoat and delivers a glossy, long-lasting color. The polish dries pretty quickly too, which was a definite bonus.
I chose "Lav-endure," a pretty lavender hue, and "Seared Bronze" for my glitter gradient overlay, and the combination looked beautiful. My nail artist, Felicia, was super-skilled, but I felt confident that I could re-create the look at home; all it takes are some random, artful strokes of the nail polish brush with the glitter hue to make my nails pop. This is one nail art trend that I'll be rocking all summer long.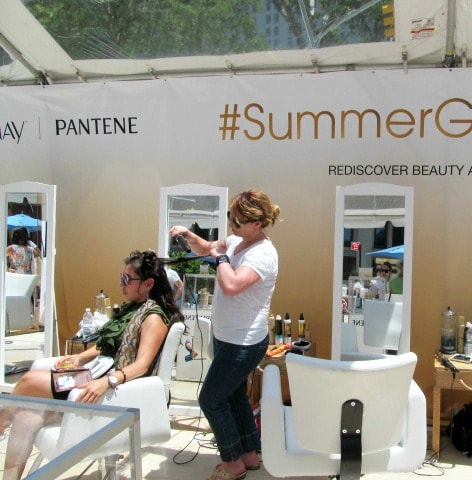 Did I mention it was a scorching hot day? The summer heat can be brutal on your locks, and we can all agree that enviable summer hair usually doesn't involve sweat, grease, or frizz!
I'm so glad that I was introduced to Pantene ProV Blowout Extend Dry Shampoo, an instant fix for sweaty or greasy hair. Spritzing your hair with the Blowout Extend Dry Shampoo eliminates that greasy look, gives your hair more texture, and helps your hairstyle last longer.
It also creates a base to help you style your hair in tousled, beachy curls – the ultimate summer hair look. I will be trying the trick that stylists at the Pantene hair salon station used: spritzing dry shampoo on the hair prior to curling it with a curling iron to give curls a textured look.
Once you've styled your hair with a curling iron, keep those beachy curls intact by using hairspray to hold them in place. Pantene's Anti-Humidity Maximum Hold Hairspray is a summer staple for any hair look, because it combats the dreaded summer humidity – a.k.a. FRIZZ. Those beachy waves will look smooth and shiny with a hint of texture when finished with this awesome product.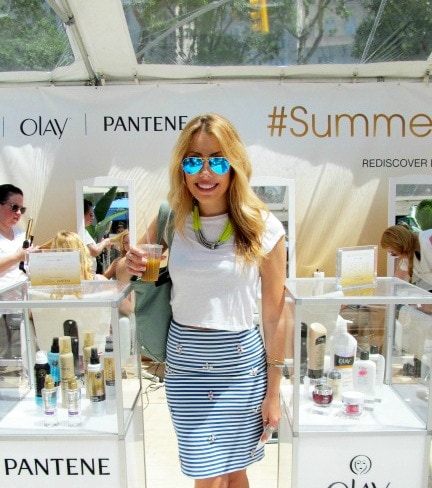 In the summer, I'm all about being tan – let's be real, most of us are. But with busy work and internship schedules, sometimes achieving that perfectly bronzed look can be difficult, and not to mention, bad for your skin. That's where makeup comes in.
A healthy, sun-kissed glow is synonymous with summertime, and COVERGIRL'S Cheekers Bronzer will instantly give you the look of a natural tan. Also, with some strategic placement of the bronzer, you can accentuate your cheekbones and do a bit of contouring, which is a big makeup trend at the moment. Paired with COVERGIRL'S Cheekers Blush, my cheeks popped and gave my face a more defined look.
Another summertime beauty trend must is infusing your makeup look with a bold pop of color. Whether it's a fun shade of lip color or eyeliner, don't be afraid to step outside of your comfort zone and try something eye-catching! COVERGIRL's Outlast All Day Lip Color has a ton of different shades to choose from, ranging from neutral to bold, and is resilient enough to last throughout a hot summer day. This product will give you up to 16 hours of color without any feathering, bleeding, or sweating off.
After the long day, I wanted to give my skin one more pick-me-up and keep the hydration going, so I tried Olay's Fresh Effects Dew Over Hydrating Gel Moisturizer, a lightweight concoction that revitalized my face, and gave it a soft, clean feeling. This product is non-comedogenic, so it doesn't block pores, which is fantastic if you have acne-prone skin. The scent was fresh and summery, and felt so smooth going on. It's the perfect moisturizer to add to my daily skincare routine.
Save on Your Favorite Beauty Brands with Cartwheel by Target!
To celebrate summer and their redesigned beauty aisles, Target has several upcoming deals that will be available exclusively on their Cartwheel app, including 10% off Olay ProX skin care items and 5% off Herbal Essences and COVERGIRL products. Plus, if you buy any 3 COVERGIRL mascara and/or Olay Fresh Effects items, you'll receive a $5 Target gift card.
What do you think?
Overall, I am pumped for summer and its beauty trends; from glitter gradient nails to beachy waves to sun-kissed skin… all trends that are easy to achieve with products available at your local Target. Bring on the summer styling!
Have you seen Target's new beauty aisles? What are your favorite summer beauty trends? Have you tried any of these products? Let us know with a comment.
Disclosure: This post was sponsored by P&G. The opinions, as always, are our own. For more information, please see our Disclosure page.