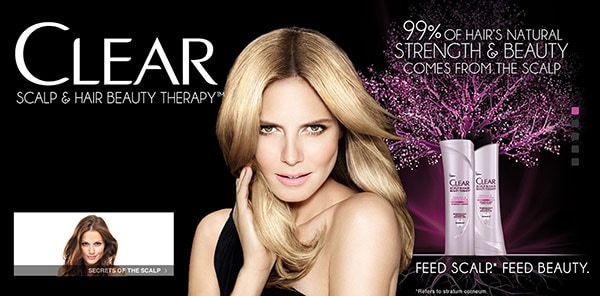 A couple weeks ago, we told you all about the CLEAR Scalp & Hair Beauty Therapy 7-Day Challenge, and now we want to hear from you. Have you taken the challenge yet? If so, what did you think?
To Recap, Here's the Deal on the 7-Day Challenge:
In case you missed our first post, here's a recap on CLEAR and the challenge:
CLEAR SCALP & HAIR BEAUTY THERAPY™ is a breakthrough line of shampoos, conditioners and treatments that feed the scalp* and give women stronger, more beautiful hair in just 7 days**.

* Refers to stratum corneum. ** Less breakage when combing vs. non-conditioning shampoo
Our friends at CLEAR are committed to helping you make 2013 your best hair year ever, so they're challenging CF readers to take their 7-Day Challenge: Try the products for a week and if you aren't amazed by the results, CLEAR will give you your money back*! (*Applies to 12.9 oz products only.)
Plus, CF readers can visit the Clear Scalp & Hair Beauty Therapy Facebook page for the chance to win free product samples and try the product for $0 – pretty cool, right?
Your thoughts?
We hope you guys will take the 7-Day challenge and let us know how it goes. Have you taken the CLEAR 7-Day Challenge yet? If so, how did it go for you? We want to hear all about it, so leave a comment below!
Disclosure: This post was sponsored by CLEAR and Style Coalition. The opinions, as always, are our own. For more information, see our Disclosure page.